Brands that care about straps: NOMOS Glashütte
At first glance, the Nomos package might look minimalistic to some people. But it is far from that. The company has paid a lot of attention to its selection of straps and that nothing has been overlooked. Let's see why Nomos is one of the kings when it comes to strap pairings.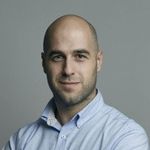 Nenad Pantelic • June 15, 2023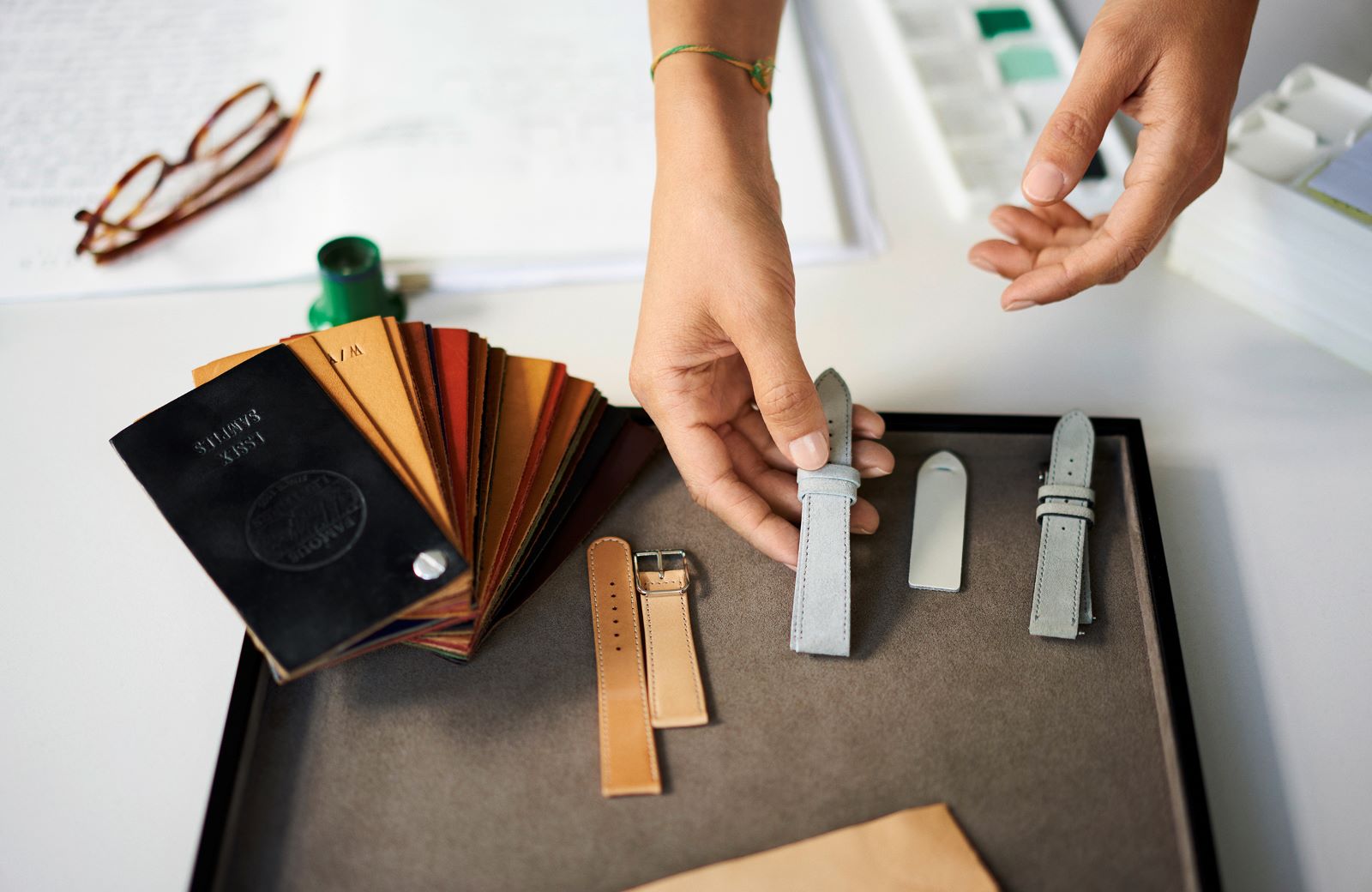 Brands that care is a series of articles about watch companies that really pay attention to straps. It's simply lazy just to put on some generic strap, and it's a completely different thing to think and put effort into the straps the brand is pairing with their watches.
Brands that care about straps - hats off to you.
NOMOS Glashütte
It would not be fair to start this series without mentioning Nomos. The perfect design is not achieved when you have nothing left to add, but when you have nothing left to take away. At first glance, the Nomos package might appear minimalistic to some people, but it is far from that. The company has paid a lot of attention to its selection of straps and that nothing has been overlooked.
Nomos designs and creates a complete package. The brand understands that for a successful product, the dial, case, movement, and strap must be in symbiosis. In the price range in which the brand operates, all four elements are perfectly covered.
The dials are legible, functional, and made with attention to detail.
The cases have excellent proportions and lovely finishing. Also, cases are not excessively thick. They really provide a good wearing experience. One complaint is the length of the lugs, but that is another topic.
The movements are in-house, decorated, and have a good power reserve.
And now the straps, my favorite topic.
Their watch straps have a suitable thickness, appropriate tapering, beautiful colors, and are literally a perfect fit for the watches they are paired with.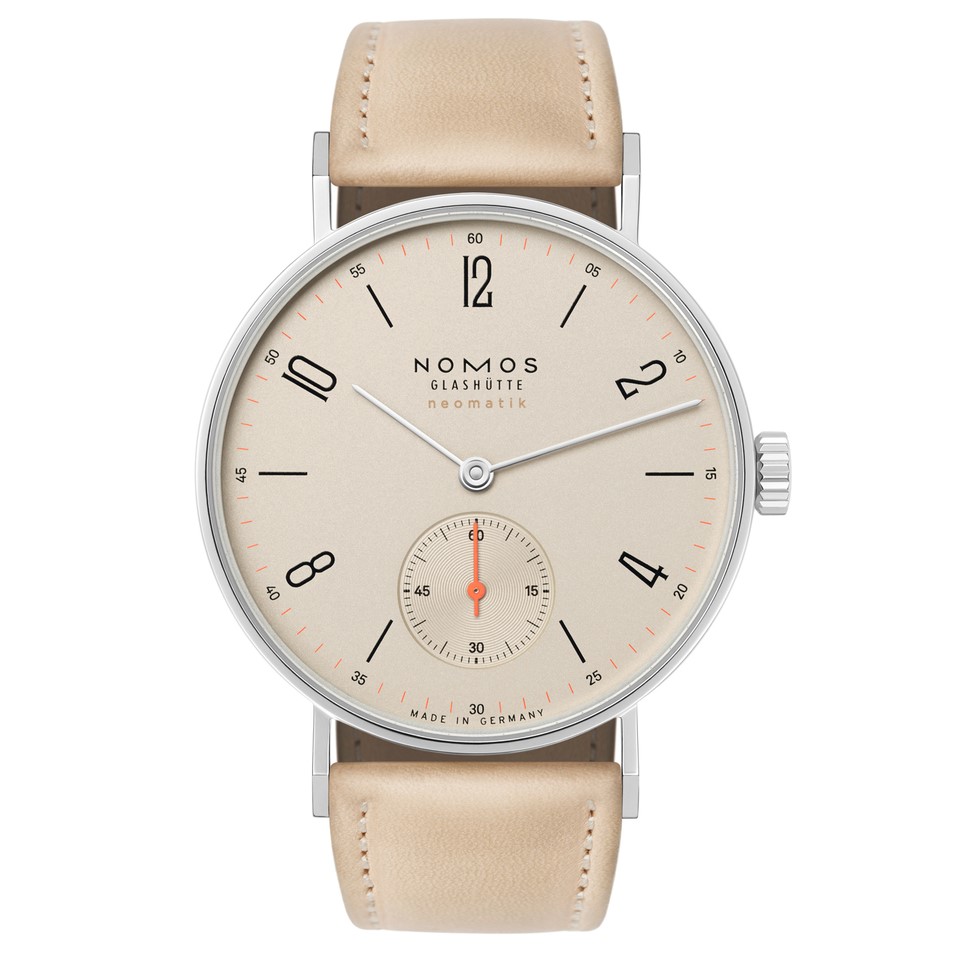 And here lies an important disclaimer: straps perfectly complement a Nomos watch they are paired with. I am not claiming that you can take any of these straps and put them on your Tudor, Seiko, or Longines and expect to achieve the perfect pairing.
Let's talk about Nomos straps.
What does Nomos do well?
In my opinion, experts from Nomos paid a lot of attention to:
Color
Strap color complements the dial and the case, creating a unified product. Nomos mostly uses pastel colors like beige and grey, but they also offer brown and black straps.
They do not typically use dark chocolate brown, except for few models, for example the Ludwig Gold 33, where that particular shade of brown perfectly complements the gold case and white dial.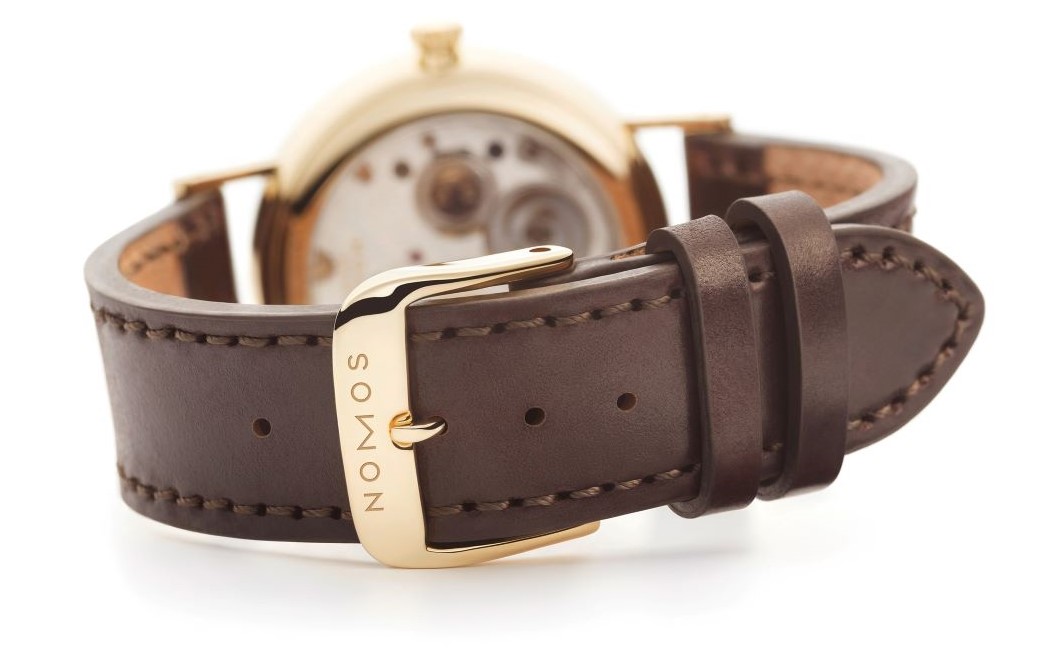 Nomos pays attention not to overwhelm the design with too many colors. The more colors introduced, the harder it can be to balance things and achieve visual hierarchy.
Color interacts with surfaces, and the strap color may affect the color of other nearby objects such as the dial and case, creating an unpleasant color mix. This is not the situation with Nomos.
Texture
Texture is the way a surface feels. It has the power to attract or detract a viewer's attention. Texture helps achieving visual hierarchy in design.
Visual hierarchy is simply an arrangement of elements within a product, which can be achieved through variations in size, color, contrast, and texture.
If textures clash then it can create confusion and undermine the intended hierarchy. For example, if a bold and prominent texture is used on a strap, it may compete with other important design elements, such as the dial, causing it to be overlooked or difficult to read.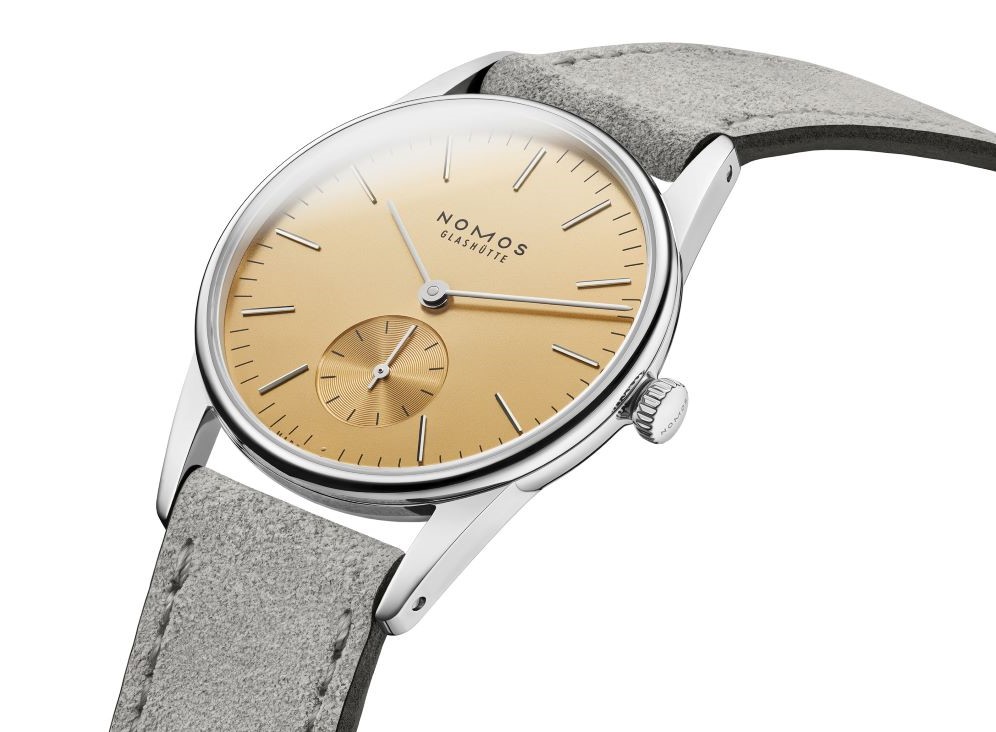 Nomos uses smooth and suede leather. Both materials have quite uniform surfaces without the presence of asymmetrical ridges and bumps that alligator or pebbled calfskin might have.
Stitching
Nomos does not use contrast-color stitching. To me, that is the most important quality of their stitching.
If they were to use white color (or other high contrast) for the stitching thread, then the strap would attract too much attention to itself. By using the same colors for the leather and thread, they manage to maintain the harmony of colors.
They do not use side stitches (vintage two-stitch style of stitching) because that kind of design breaks the visual flow. Nomos watches usually have thin, long lugs, and the presence of side stitching would interrupt the balance.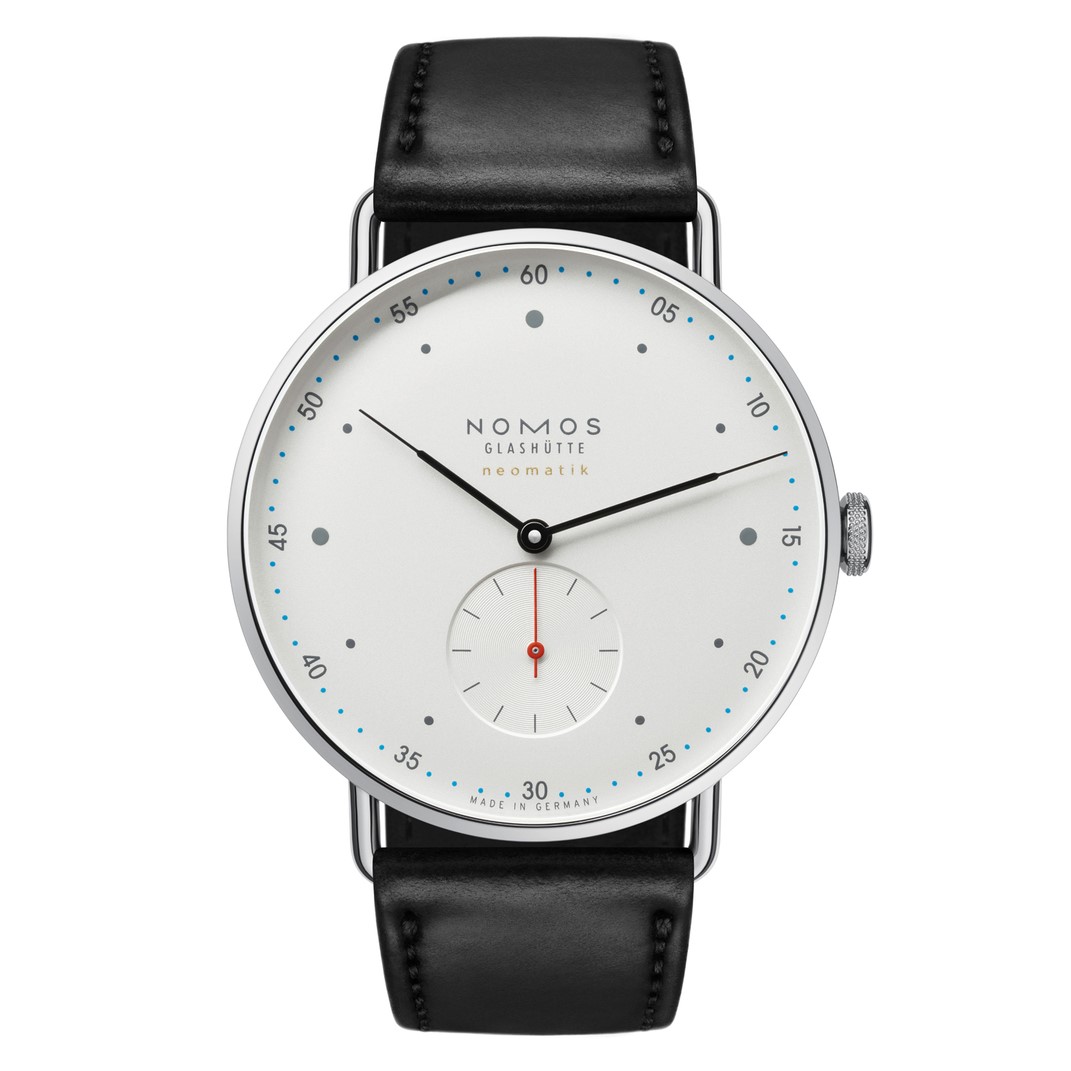 Also, all Nomos straps are fully stitched across the edges, and the thread used is thin and unobtrusive.
Examples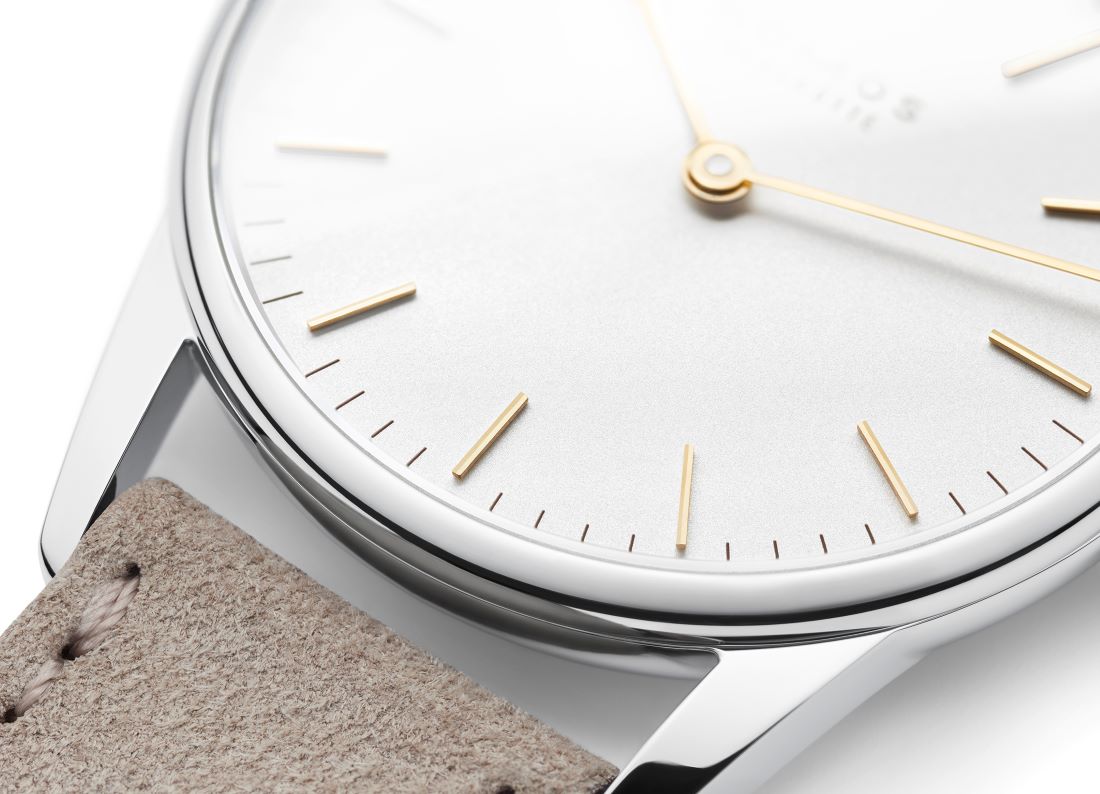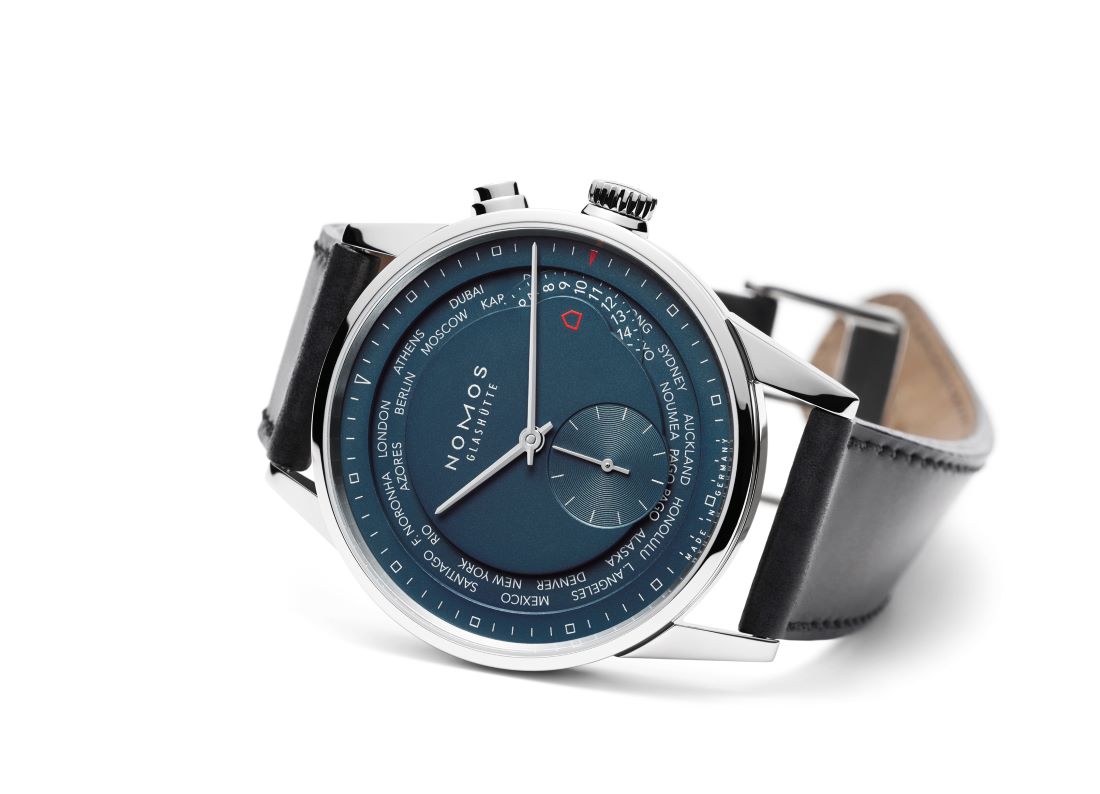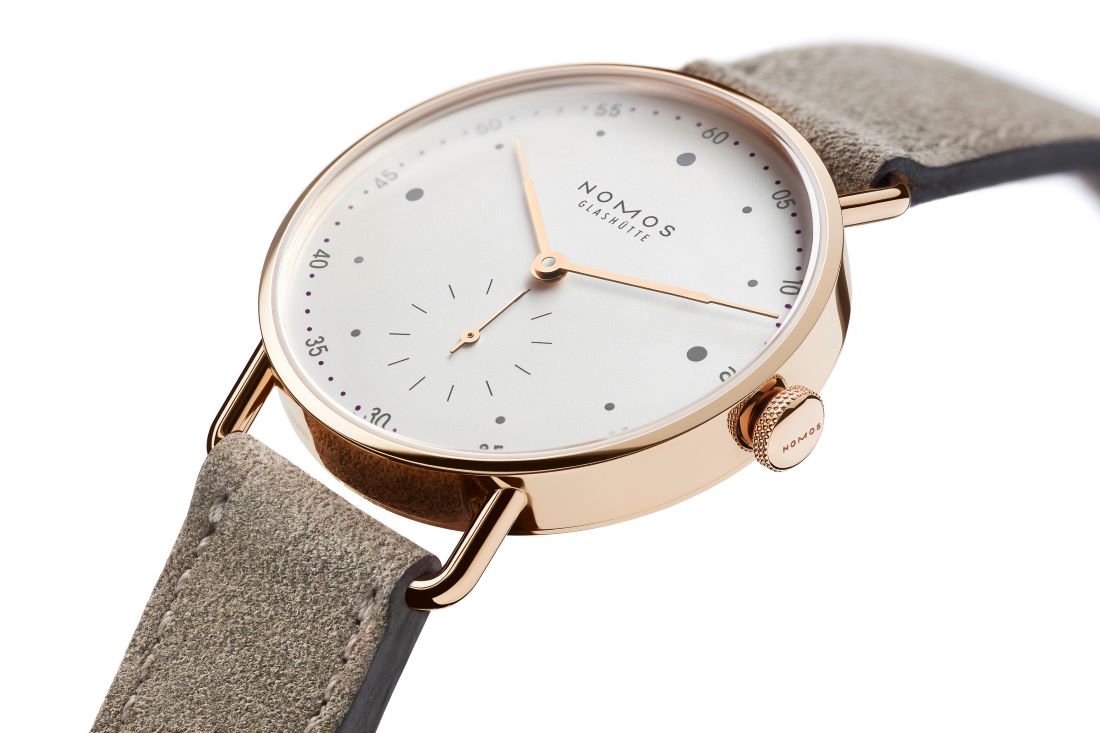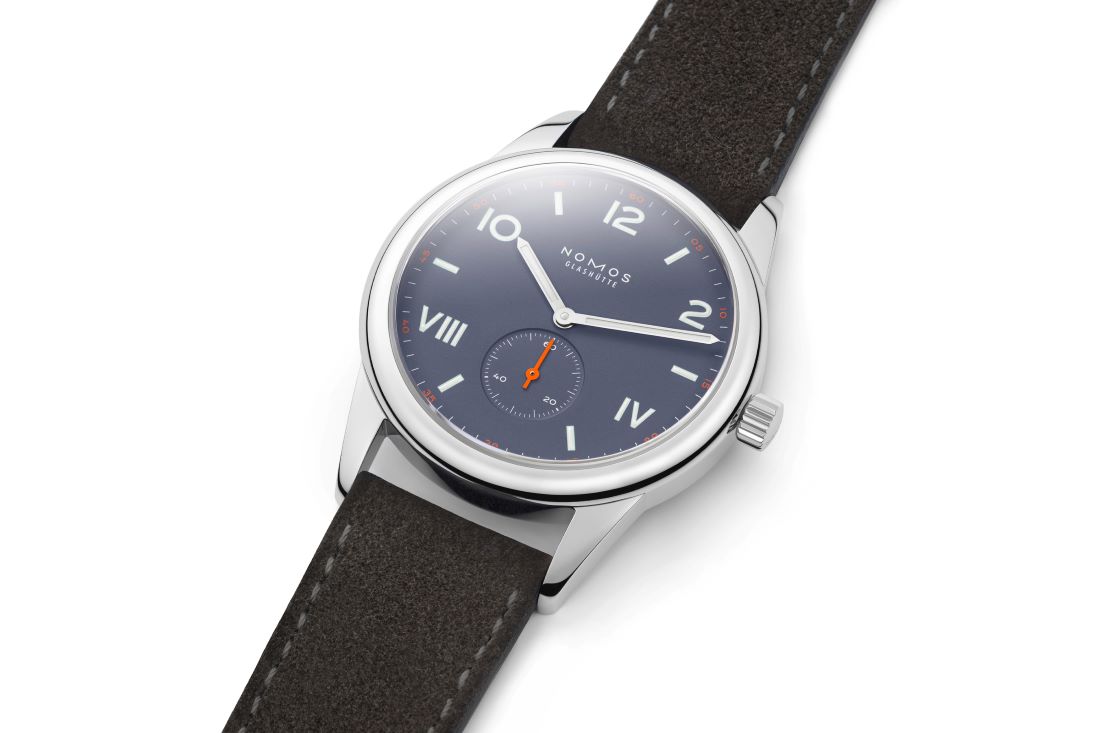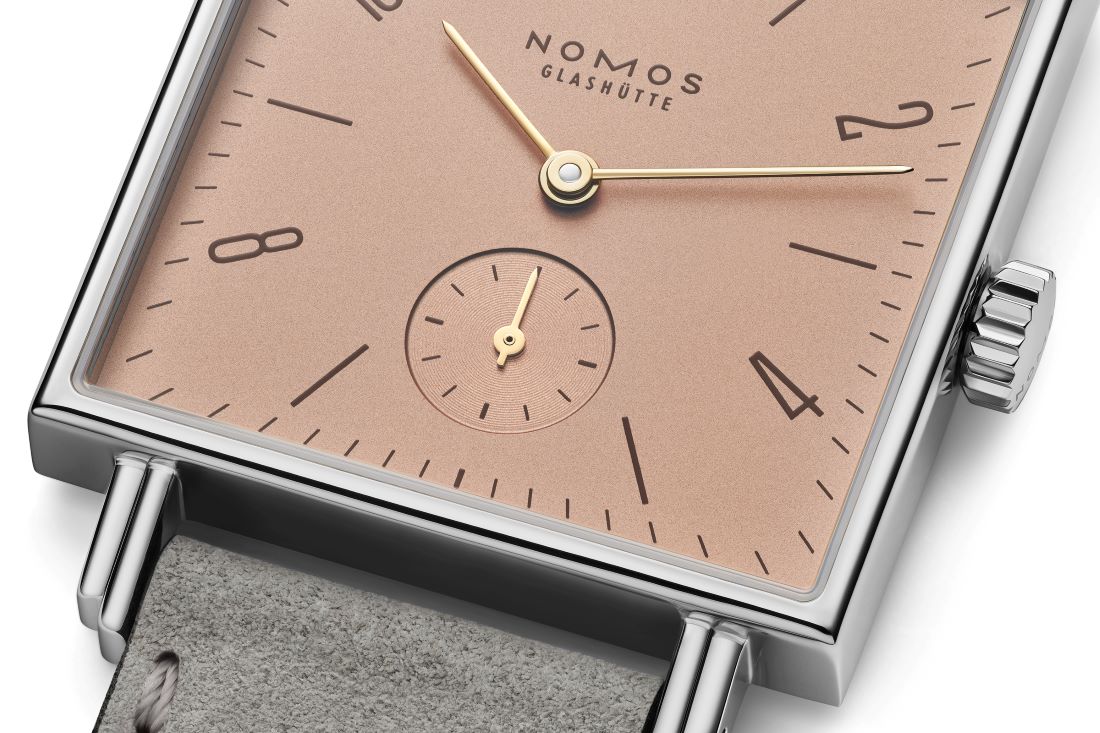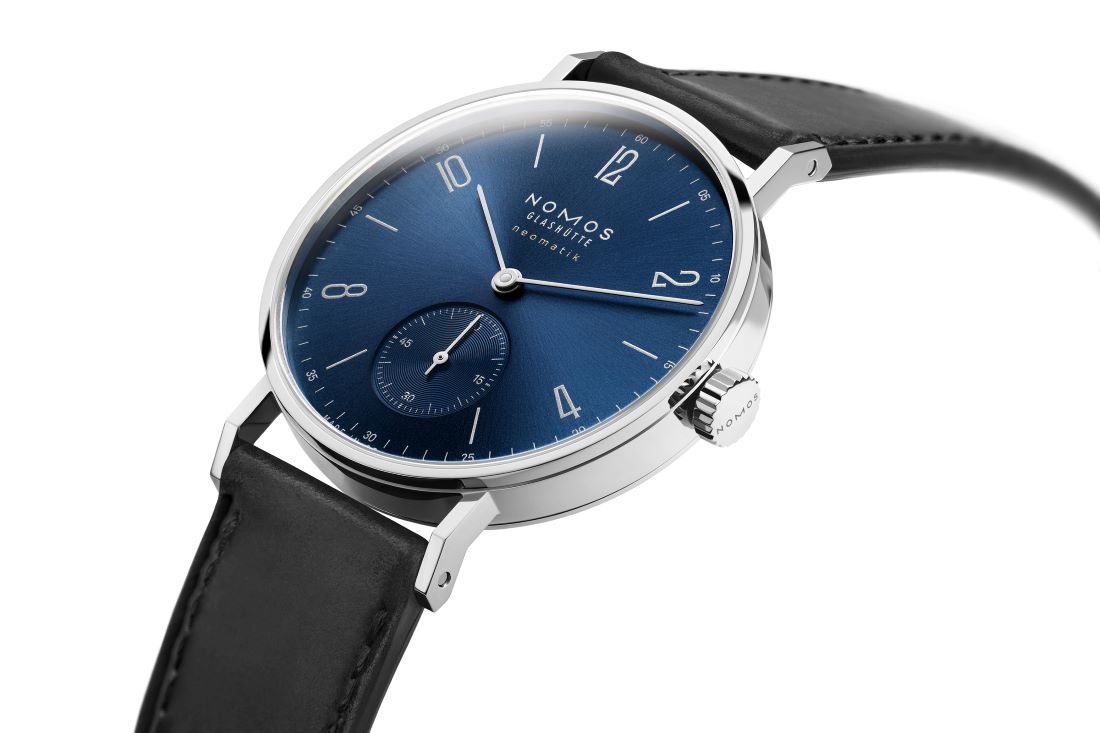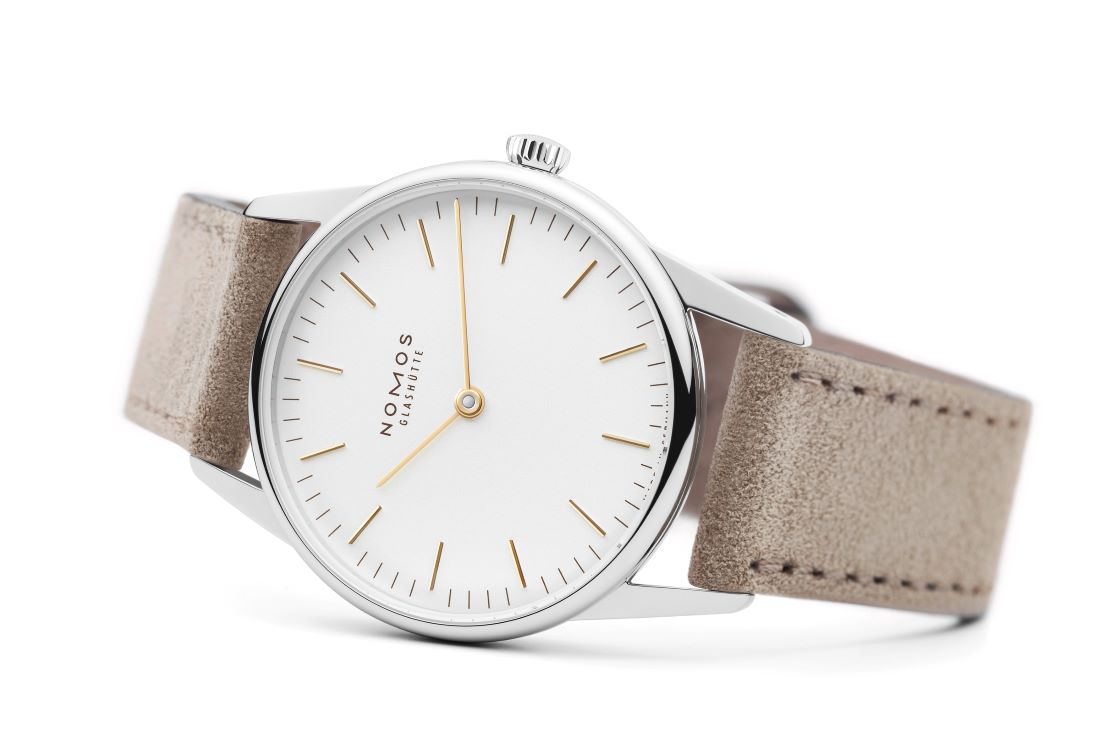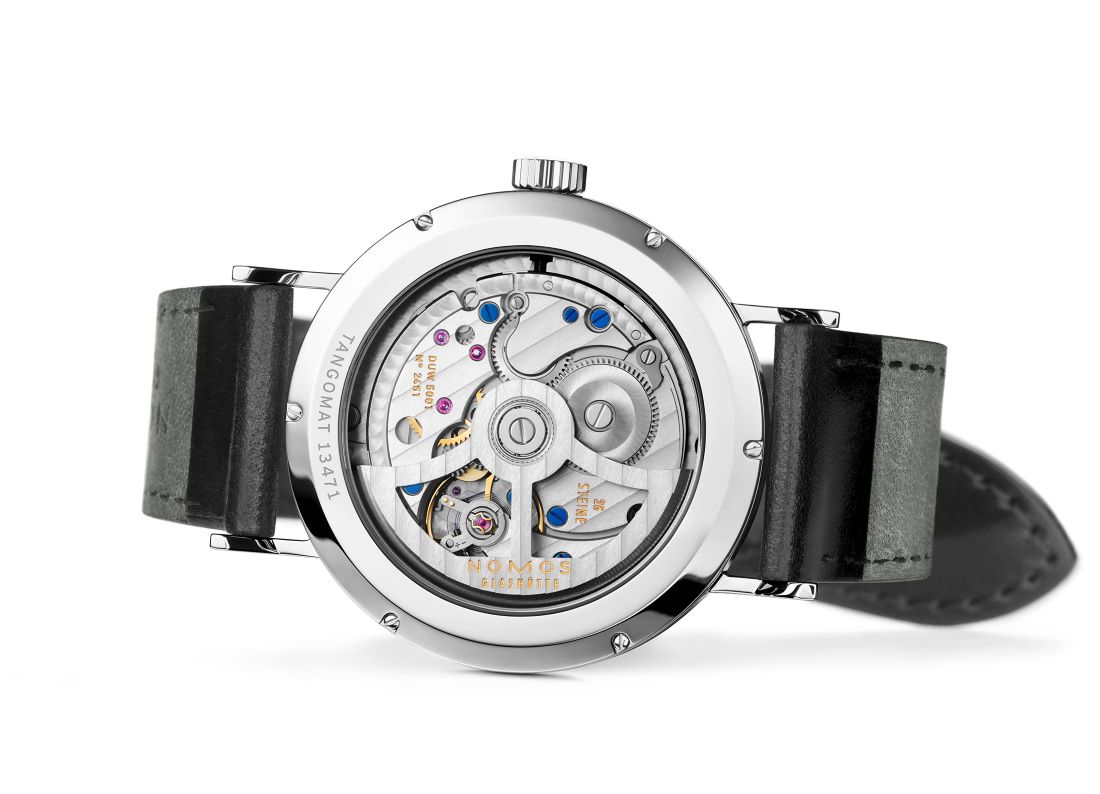 Conclusion
Put a Nomos watch on a pass-through strap, and it probably will not look harmonious. Put it on alligator or crocodile, and suddenly the package looks too busy. If you try contrasting stitching, the thread will take over the visual interest away from the dial.
Of course, you can wear whatever you want, and no one is stopping you from doing so. The goal of the article is to showcase the effort that they have put in and to give them recognition for the work they have done.
Congratulations, Nomos.