What types of straps does BARTON Watch Bands sell?
Here is the list of strap types they offer:
Width: Their most popular straps, Elite silicone and Canvas quick release, are offered in 18mm, 19mm, 20mm, 21mm, 22mm, 23mm or 24mm.
Leather quick release straps offer even more by including the 16mm option.
Furthermore, BARTON carries straps that are suitable for watches with 12mm or 14mm lug spacing.
All in all, BARTON has everything.
Material: BARTON's collections are named after the material used to produce the strap, so it is quite easy to navigate through their catalog.
Collections
Click on the link to visit a relevant collection:
What makes them special?
You can really feel that the straps are designed by a watch person.
Annoying loose keeper? Well not with BARTON bands, they have a clever locking system. You dislike a sticky leather underside on canvas straps? BARTON's canvas quick release is 100% cotton, which makes it super comfortable.
This is something only a watch person knows, and it is super cool to see a company doing its best to solve these and other WIS-related pet-peeves.
Our reviews
Read the comprehensive reviews of the straps that have been tested by our team in real-world use.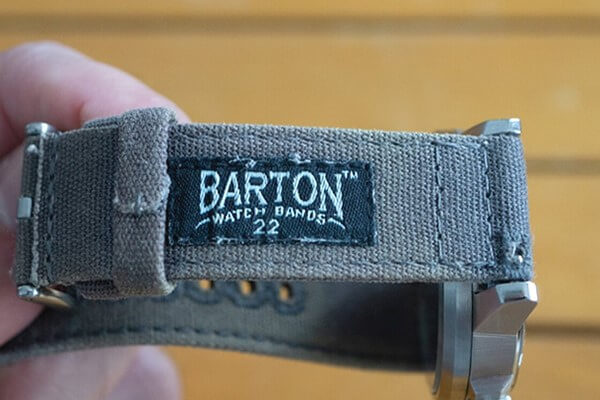 About BARTON Watch Bands
BARTON Watch Bands was created by a mechanical engineer who was frustrated with poorly designed watch straps. The company's mission is to deliver high quality bands at a reasonable price with excellent customer service. They believe that watches are an expression of personal style, that wearing the same watch strap every day is boring, and that customer needs are the top priority.
They also support non-profits that are making a global impact, such as Well Aware which provides clean water solutions in Africa. Proceeds from certain products go towards supporting these organizations.
Deals, coupon codes, and promotions
They often roll out promotions and discounts, with the discount ranging between 15% and 25%. They also provide promo packages for purchases of multiple straps. Below is a thorough breakdown of both their past and current promotions, including coupon codes.
Current deal: new
Get 25% off all orders with code SALE25.
Previous deals:
Black Friday 2023: Get 25% off all orders with code SALE25.
Father's Day: Buy 2 get 1 free. Use code DADSTIME at checkout.
Summer 2023: Buy 3 bands & save 15% with code SAVE15
Shipping & delivery
BARTON Watch Bands ships worldwide.
Free US shipping
International Economy shipping - only $5.99
See the complete shipping policy.
---
Note: Cordura® is a registered trademark of INVISTA.