Review of the Canvas Quick Release Strap by BARTON Watch Bands
With this canvas strap, BARTON has managed to squeeze a variety of features and options into a reasonably priced product. It may not be making waves, but it certainly gets the job done.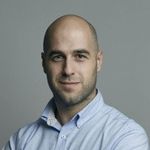 Nenad Pantelic • July 22, 2023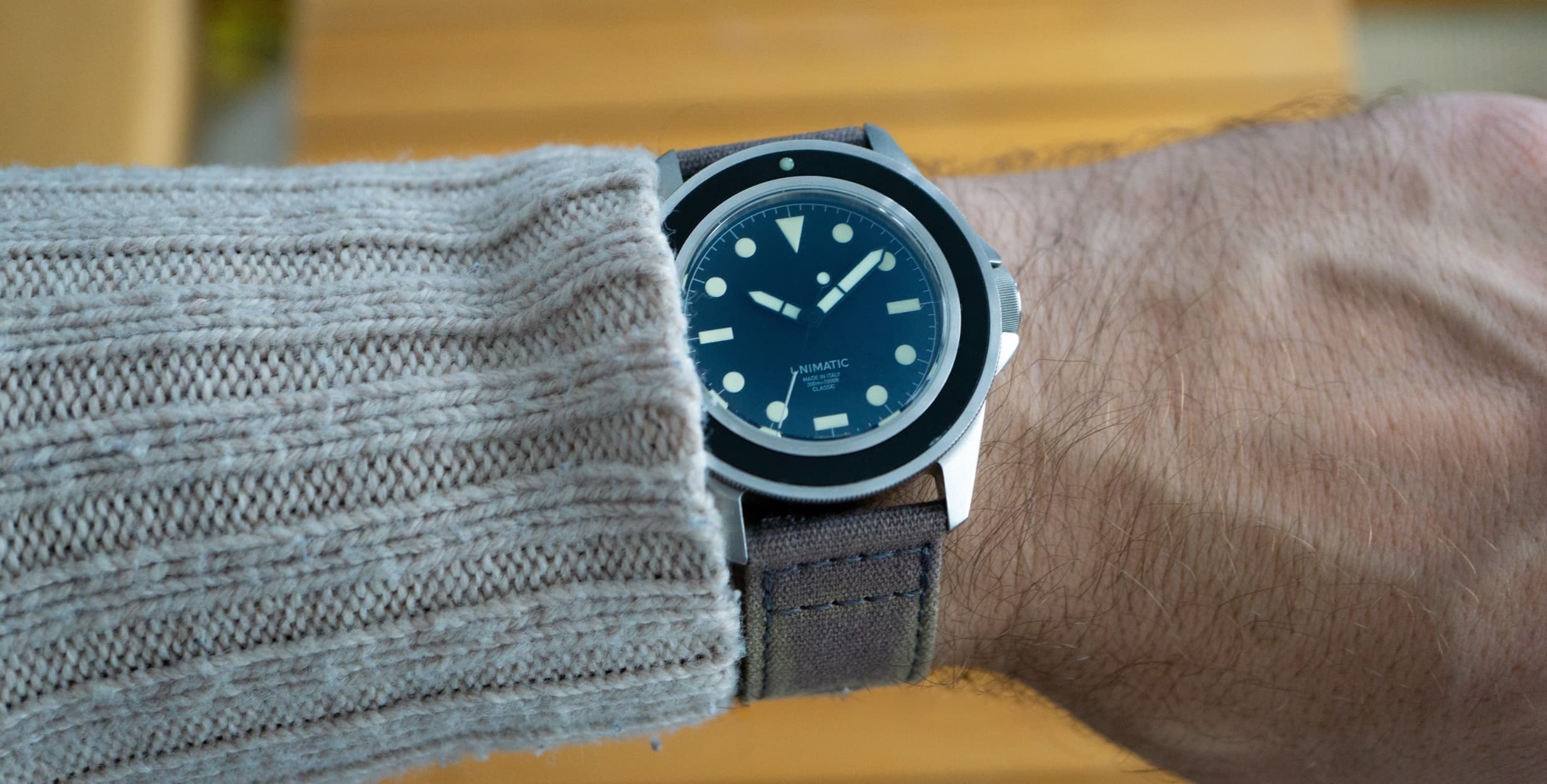 76
Canvas Quick Release Strap by BARTON Watch Bands
StrapHunter rating 76 out of 100
| | |
| --- | --- |
| Quality | |
| Comfort | |
| Design | |
| Durability | |
The verdict: This strap proves you don't have to spend a fortune for a good canvas strap. It's a timeless classic we recommend, though it has a few downsides.
What we like?
100% canvas material
Does not require break-in time
Fully stitched construction
Quick-release spring bars
Reinforced holes
Affordable price
What we don't like?
Strap does not taper
Color easily fades
Distance between holes
Full review
I learned about BARTON through the TGN podcast during their early episodes when they discussed the Silicon Quick Release and this Canvas strap. After doing a bit of research on forums and Reddit, I noticed that there were many positive reactions from other watch people, so I decided to buy a canvas strap.
I have worn it extensively, not sparing it from trips to the beach, hikes, and weekends away from home. Today, it is not as good as new, but I still occasionally put it on.
Before I jump into describing all its advantages and disadvantages, here is a table with the specifications.
Technical details
| | |
| --- | --- |
| Brand | BARTON Watch Bands |
| Width | 22mm |
| Tapering | None |
| Length | 120mm + 75mm |
| Material | High durability canvas |
| Color | Smoke grey |
| Finishing | Matte |
| Buckle | Brushed 316L stainless steel |
| Spring bars | Integrated quick-release spring bars |
BARTON offers this strap in widths of 18mm, 19mm, 20mm, 21mm, 22mm, 23mm, or 24mm.
Additionally, the strap is available in over 10 colors.
It doesn't stop there: you can choose a buckle in up to five colors: brushed stainless steel, black PVD, gunmetal PVD, rose gold, and gold.
Lastly, you can purchase a strap in either "standard" or "long" length. The standard length fits wrists from 5" to 8", while the long length is recommended for wrists from 7" to 9".
Kudos to BARTON for offering such a variety.
Design and Materials
The strap is made of high durability canvas. The underside is not lined with leather material, but it is also made of canvas. Honestly, I like this setup.
A cool touch is that the longer piece has a sewn-on patch with the BARTON branding.
The entire length of the strap is stitched, and there are two lines of cross-stitching on the lug side, which gives the strap its recognizable look.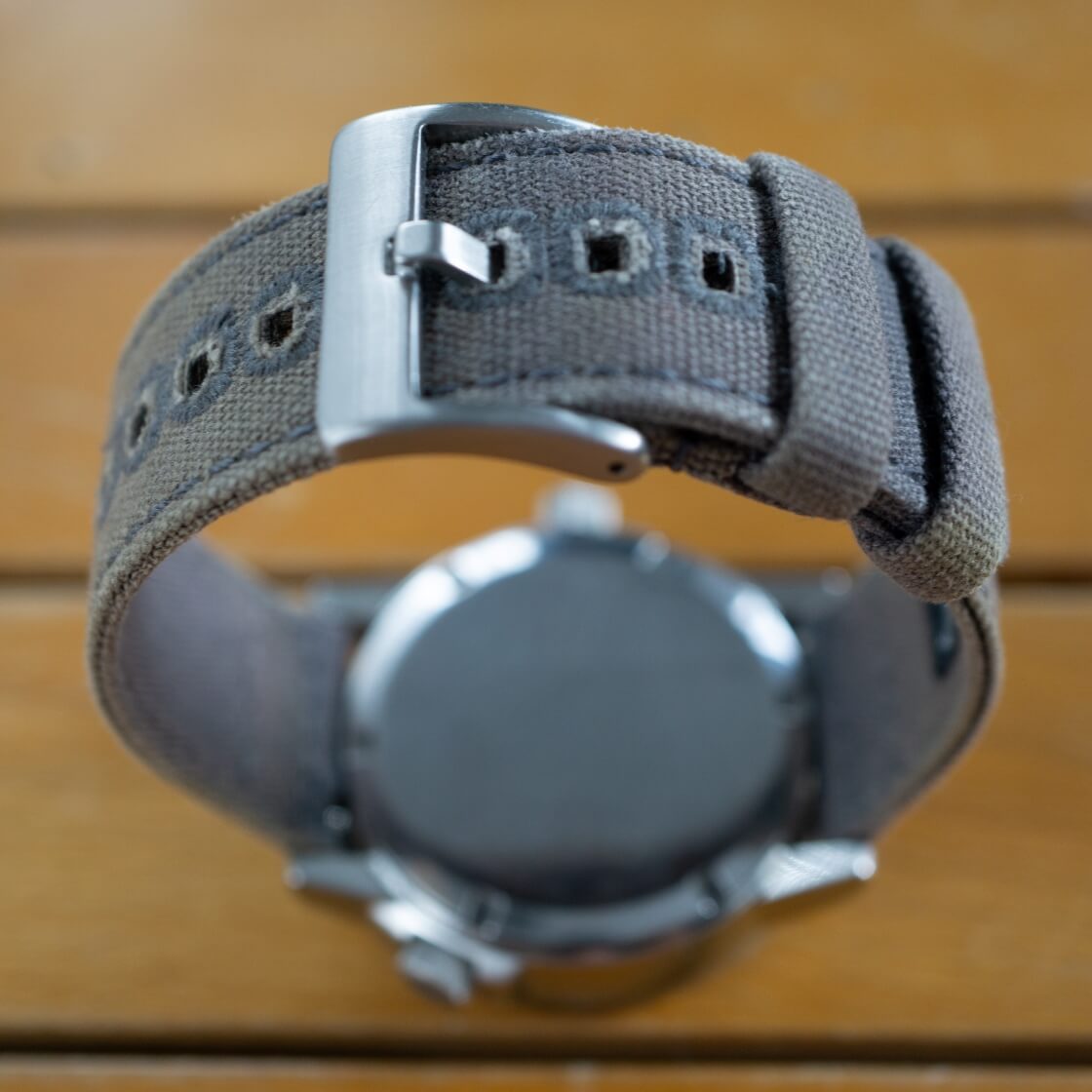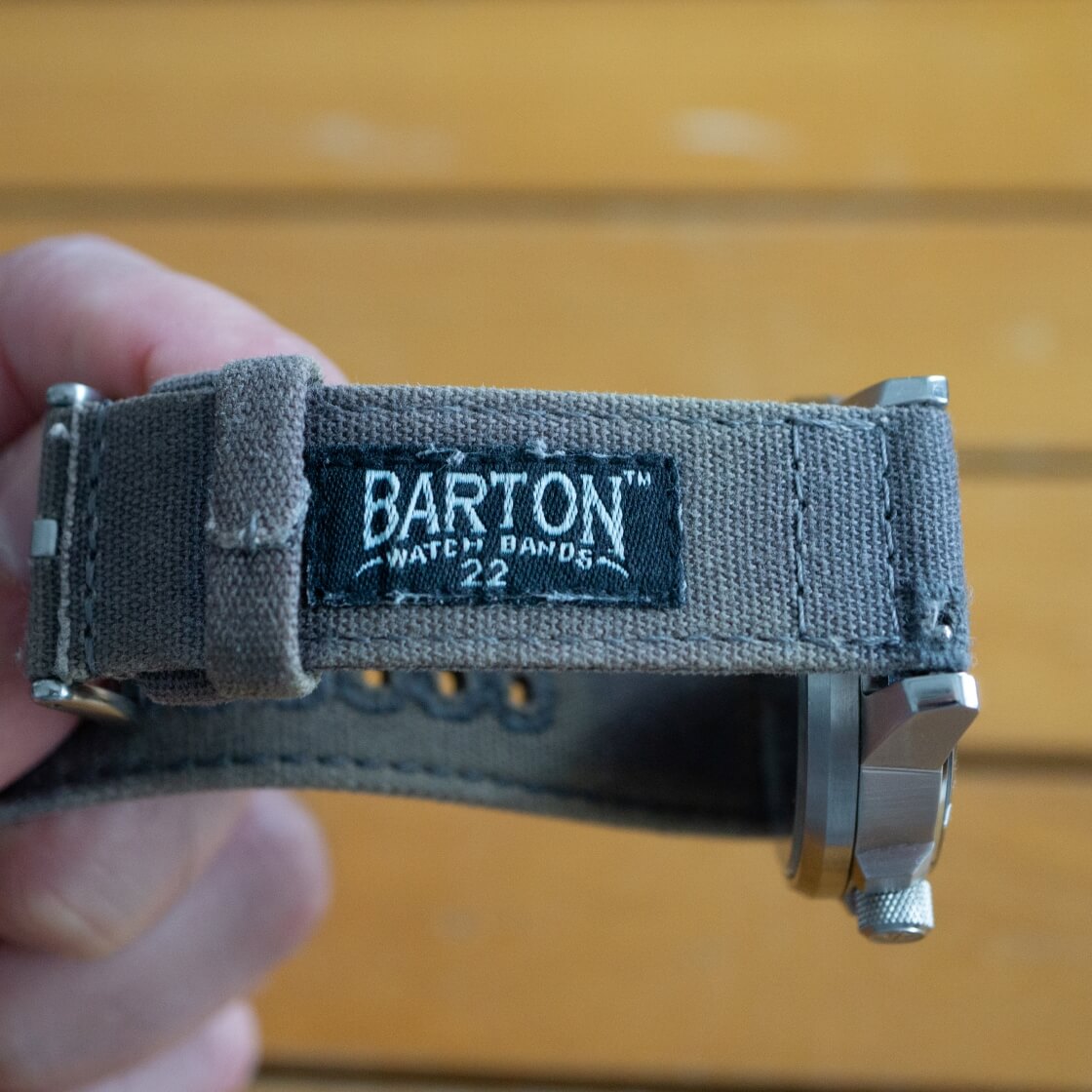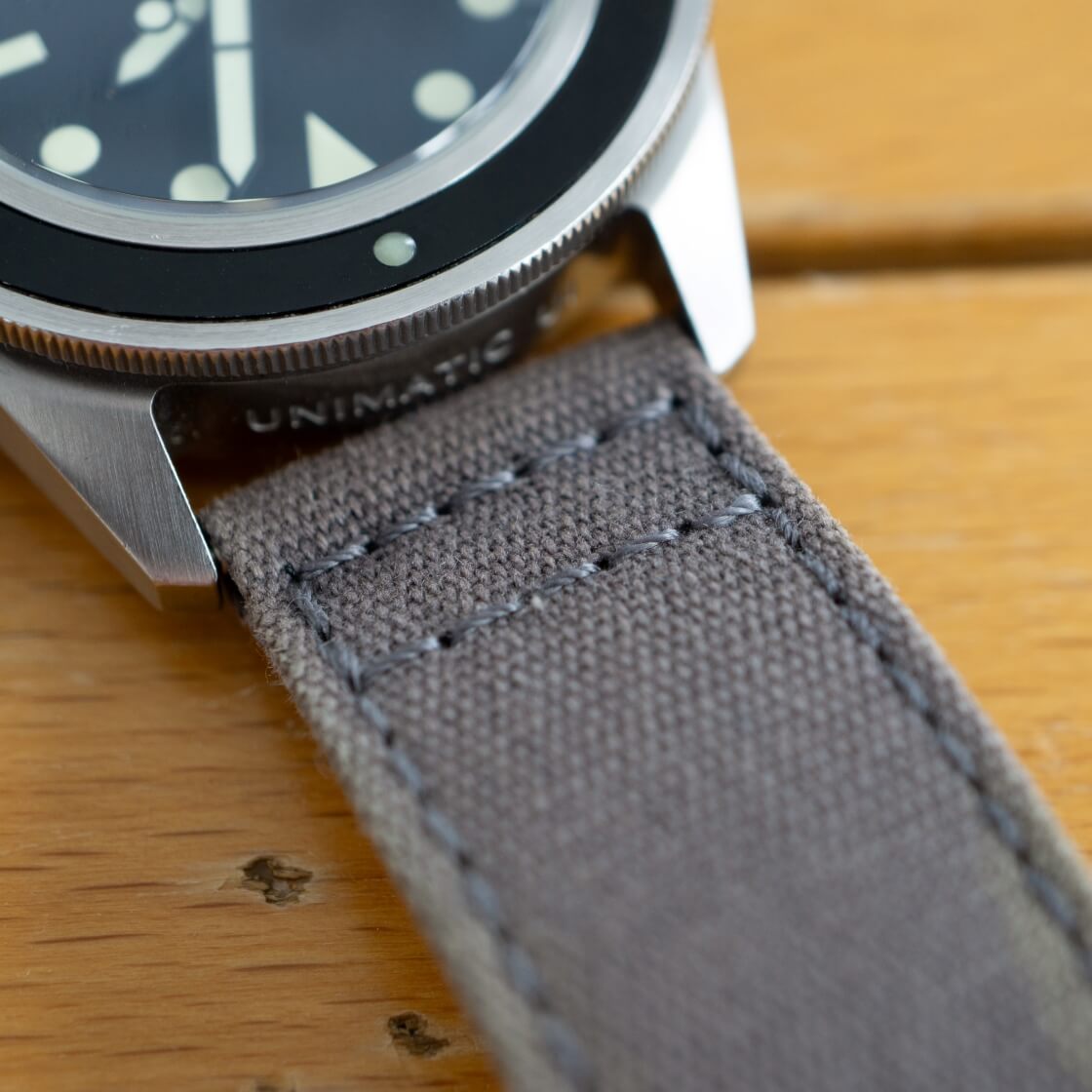 The pieces have straight ends, but threading the long side through the keepers is not an issue.
And finally, a very important piece of information: the strap does not taper. In the case of my variant, the spring bar and buckle side dimensions are the same (being 22mm).
The strap has integrated quick-release spring bars. They are of good quality and last me a long time.
The holes for the buckle are reinforced.
The buckle is made of Brushed 316L stainless steel. The keepers are made of canvas, they are durable and hold well.
Comfort and Durability
I have been wearing the strap for two years, and I can confidently say that there is no physical damage. I mention this because I have read online reviews in which some people reported material fraying, tearing, and spring bar failures, among other issues.
Since there is no leather underlining, the strap is exceptionally comfortable. Canvas conforms beautifully to the shape of the wrist. An added advantage is that the strap is ultra-light. I can hardly feel it when I'm wearing it.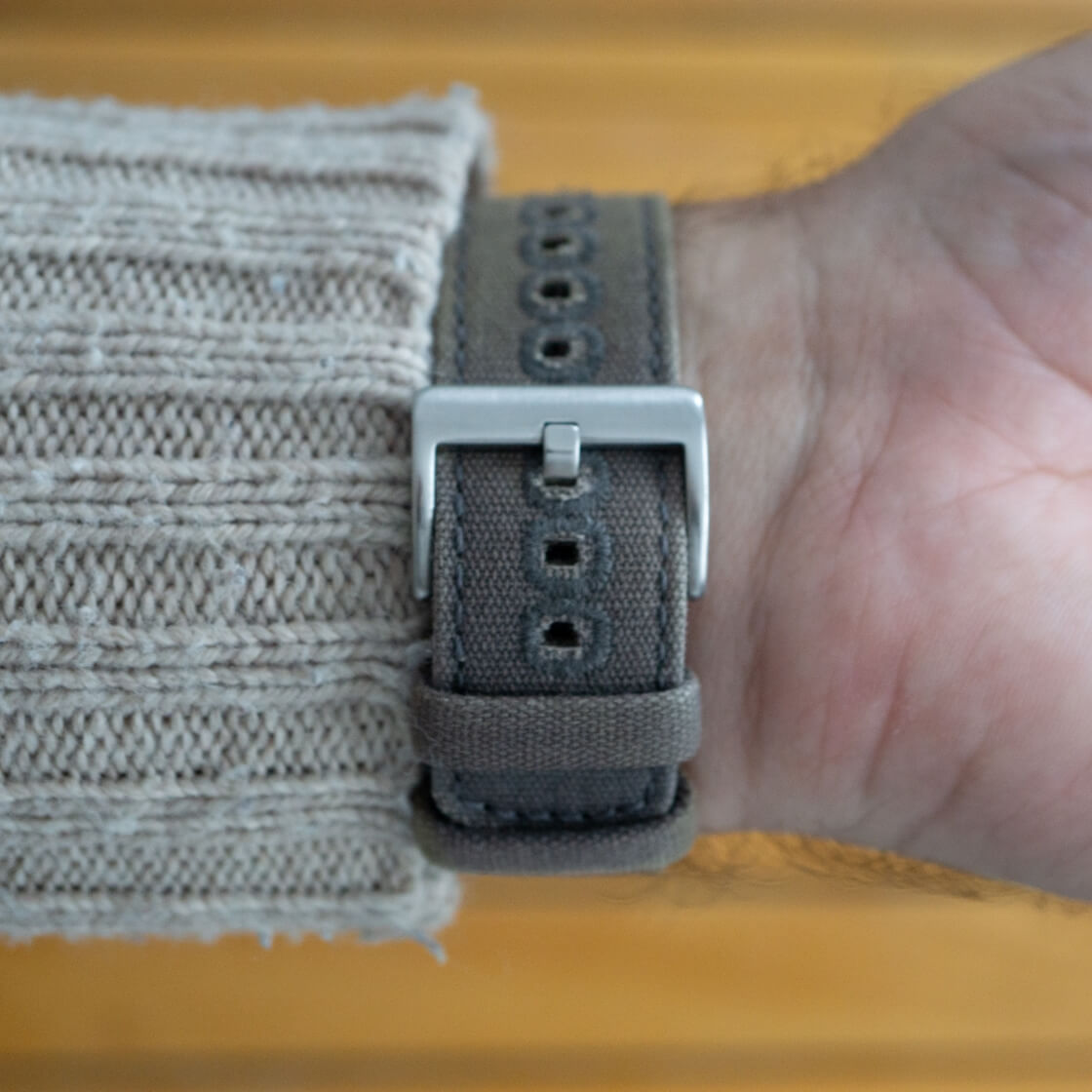 However, I did notice that for me, the distance between the holes is a bit large, making it a bit challenging to achieve the perfect fit. When I fasten the strap in one position, it feels a bit tight, but when I move up by one hole, it becomes looser than I'd prefer.
Remember when I mentioned that there's no leather underlining? Well, this does have one drawback. There's no barrier between your skin and the material, so sweat is easily absorbed into the strap. The result: the strap becomes moist. As it dries, it can become discolored, appearing paler and brighter.
Another useful info is that the strap doesn't taper. This is why the strap wears larger when worn. With the 22mm wide strap that I have, I sometimes experience slight discomfort because of this.
Initial Usage The strap is not stiff but conforms easily. It is comfortable from the get-go. Quick-release spring bars work well, and they are joy to use.
Six months of use There are no physical damages; the material has become a bit softer than it was initially, which is a plus.
One year of use The strap got wet a couple of times during the first year of wear, and the color became discolored. The areas that came into contact with water and sweat have turned pale and faded. Physically, the strap doesn't have any other damage.
Compatibility and Pairing Recommendation
This is a highly versatile canvas strap that can be paired with almost all dive, field, pilot, and sports watches. It also complements other types of watches that have a brushed finish on the case. Here, I showcase four sports models from my collection with this Canvas Quick Release strap.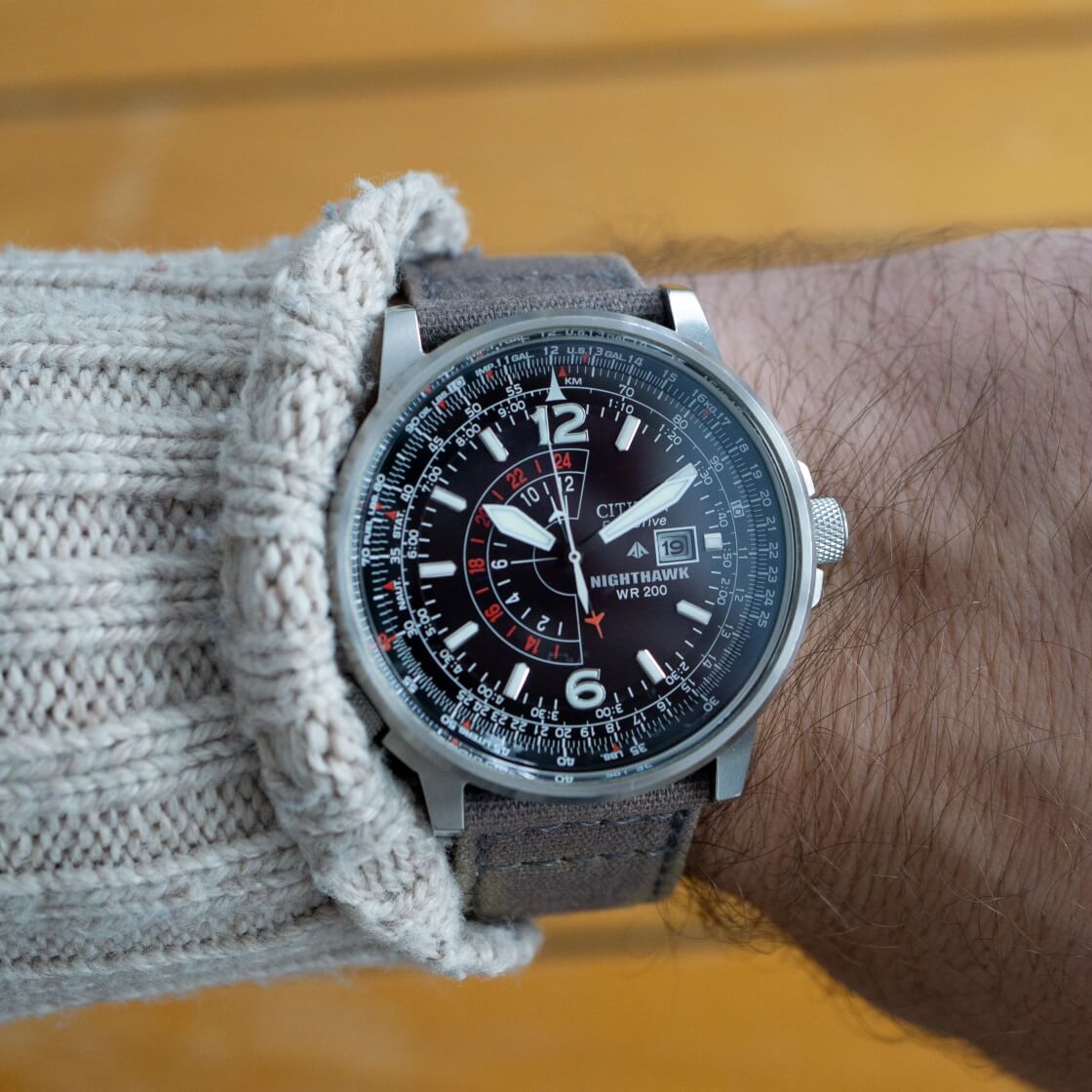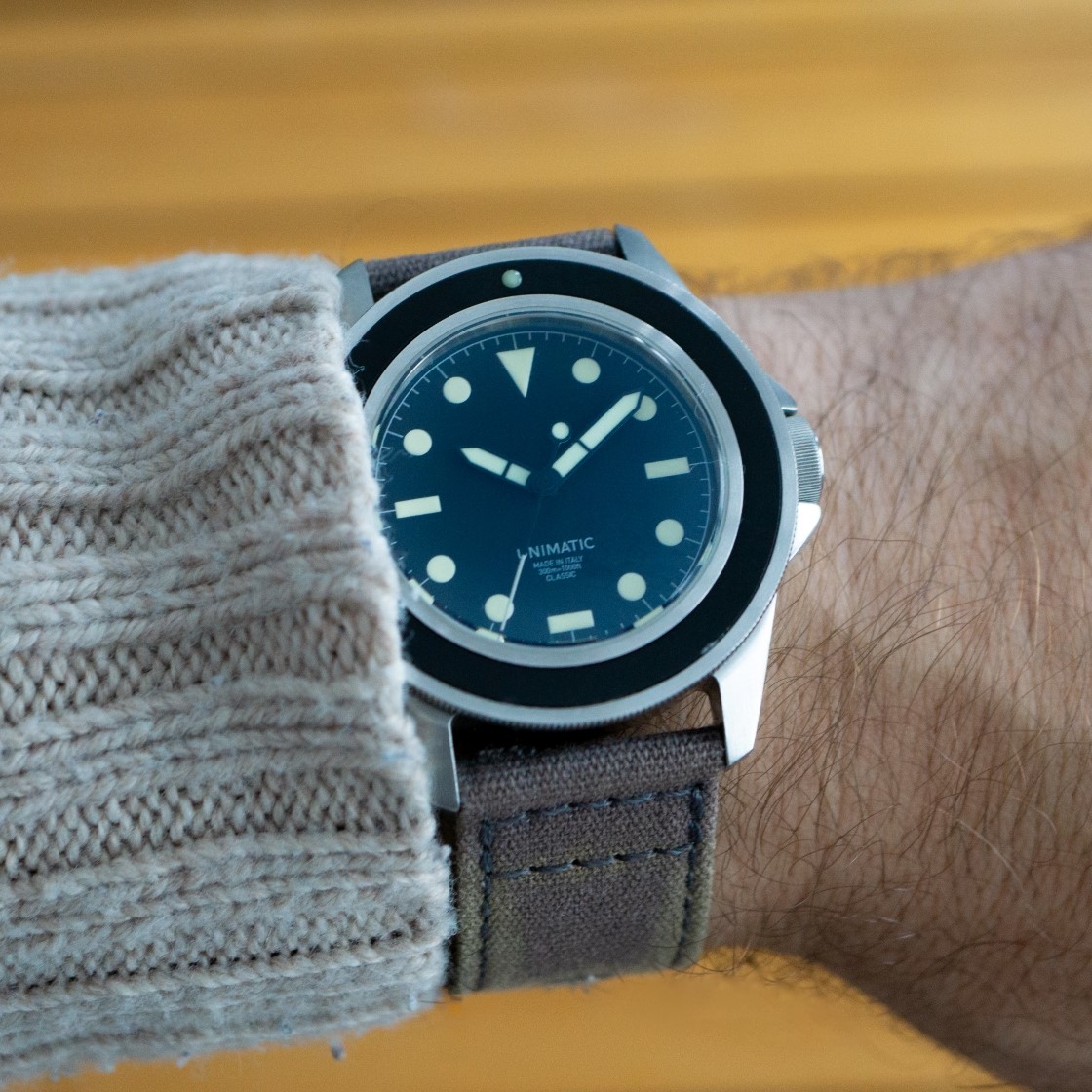 Where to buy?
This strap can be purchased directly from the BARTON website or their Amazon catalog.
The advantage of Amazon is fast shipping, and the advantage of shopping through the site is the possibility of applying deals and coupons. BARTON always has a few active deals.
Price and Value
The price at the time of writing this review is $25 before any deals and coupon codes. That's a great price. Of course, at that price, it's a good value.
If you catch some deals, then buy a few pieces in different colors.
Just be careful not to get the strap wet, and it will last you several years.
Conclusion
BARTON has been one of the pioneers of the affordable replacement strap industry. They offer a wide selection of models and materials, a solid reputation and proven products.
You can really feel that their straps were designed by a watch people.
Annoyed by a loose keeper? Well, that's not the case with BARTON silicone bands; they feature a clever locking system. Do you dislike a sticky leather underside on canvas straps? BARTON's Canvas Quick Release strap is made of 100% cotton, which makes it very comfortable.
It's super cool to see a company that's doing its best to address many of the pet peeves only watch enthusiasts are aware of.
This reviewed Quick Release Canvas strap has all the qualities of a good strap, with a few minor drawbacks. It's a true classic that we happily recommend to everyone.
76
Canvas Quick Release Strap by BARTON Watch Bands
StrapHunter rating 76 out of 100