Review of the Unimatic Solid Stainless Steel Bracelet
After much anticipation, Unimatic has responded to demands by releasing the highly-awaited solid steel bracelet collection. We got a robust and well constructed bracelet with modern features that is comfortable and will last a long time. But it comes at a cost. Is it worth the price tag? Find out in our review.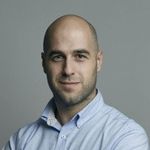 Nenad Pantelic • August 24, 2023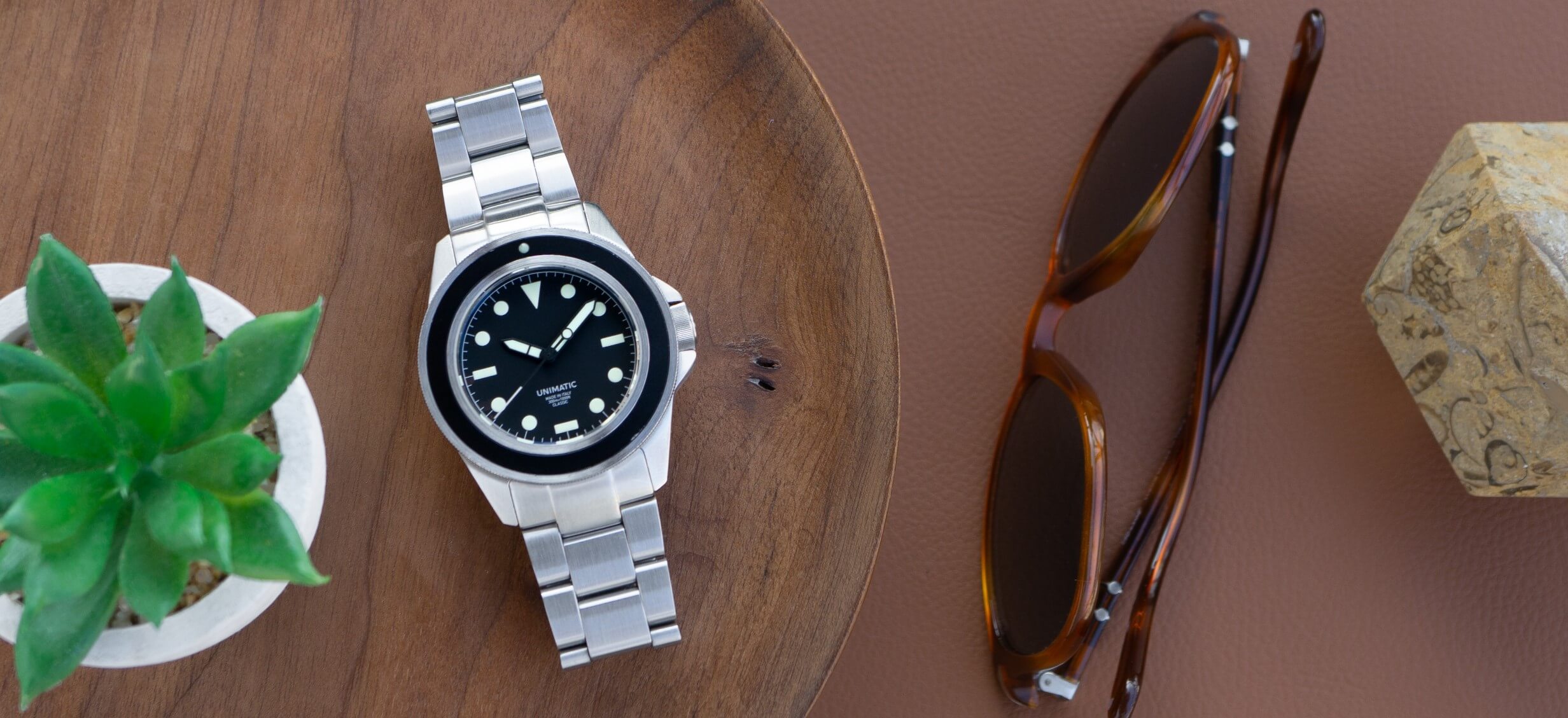 85
Unimatic Stainless Steel Bracelet
StrapHunter rating 85 out of 100
| | |
| --- | --- |
| Quality | |
| Comfort | |
| Design | |
| Durability | |
The verdict: With a rich set of features, solid construction, and a great fit, this stainless steel bracelet is an obvious choice for every Unimatic enthusiast, assuming the person can handle its heft and weight.
What we like?
Super tight tolerances
Construction of the clasp
On-the-fly adjustment system
Solid endlinks
Tapering to 18mm
Build quality
Screws for links
What we don't like?
Weight
Lack of spring bars in the package
Full review
If you are reading this review, chances are you are already familiar with the Unimatic brand. As you can see by yourself, the brand continuously evolves, matures, and improves its core platforms (Uno, Due, Tre, Quattro) over time.
From collaborations with other brands to introducing new collections and variations, Unimatic is gradually expanding its reach to a broader audience, and offering bracelets has become a necessity.
Many new customers consider the bracelet a "must-have," and even existing Unimatic watch owners were very vocal and they have been asking for the option of purchasing one.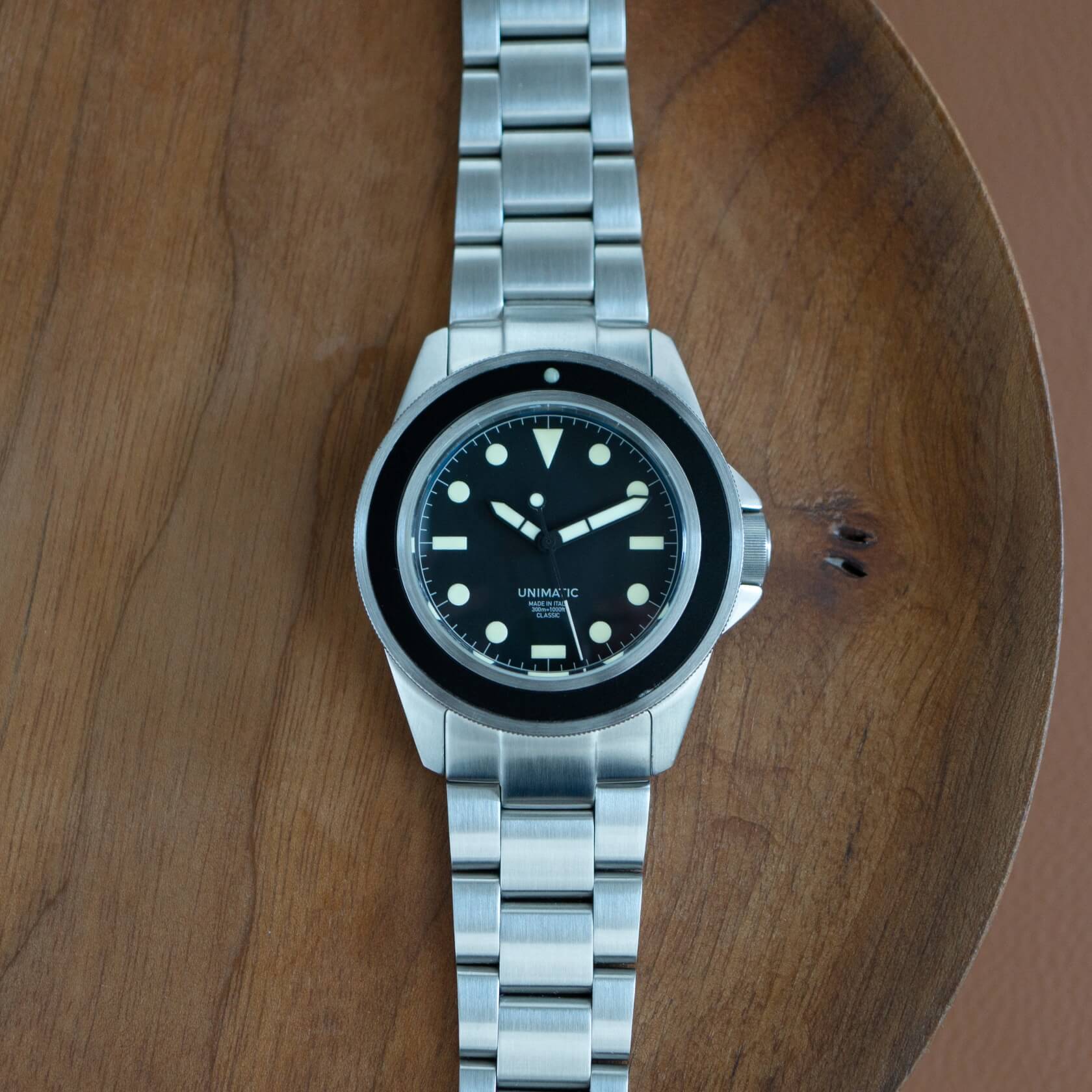 I am happy to see the brand's commitment to meeting the desires of its loyal fans and appealing to an even larger audience by investing resources in these kinds of developments.
I think the Unimatic team was not lazy to just give us any bracelet. They invested time and resources into R&D to create a respectable product. Kudos to Giovani, Simone, and the rest of the crew for their efforts.
Before diving into the finer details, let's begin by looking at the bracelet's tech specs in a table overview.
Technical details
| | |
| --- | --- |
| Brand | Unimatic |
| Width | 22mm |
| Tapering | 4mm (22mm/18mm) |
| Length | from 140mm to 230mm |
| Material | Stainless steel |
| Endlinks | Solid / double lug holes |
| Link connections | Screws / one-sided |
| Clasp | Folding clasp / double button release |
| Clasp lenght | Midsize / 30mm |
| Clasp width | Narrow / 20mm |
| Extension | Ratcheting diving extension |
| Max extension | 15mm |
| Adjustments | On-the-fly / 2.5mm increments |
| Finishing | Fully brushed |
It useful to mention that Unimatic provides bracelets for all available series (Uno, Due, Tre, Quattro). The distinction is in the endlink design. I recommend that you thoroughly review the product comparison table on their website.
Also, please pay attention to the lug hole positions on different Uno models, like U1 and U1S. To prevent fitting problems, please order the exact product SKU that corresponds with your watch.
Purchasing from Unimatic
The ordering process is simple and intuitive. Everything is super straightforward and secure. Shipping is done via DHL. The price of the bracelet automatically qualifies you for free express shipping. In case of my order the package arrived in my country within three days.
Unimatic will send you an email with tracking information and a link to a page where you can track the progress of your shipment. Everything is neat, tidy, and works quite well.
The cool thing is, now on the Unimatic site, I have a purchase history with saved billing and shipping addresses to make future purchases easier.
Unboxing
The bracelet came nicely packaged in a narrow plastic box. Bracelet itself was covered in plastic protection stickers and then wrapped in branded parchment paper.
Sizing was simple; I just used an optician's flat-head screwdriver and easily removed one link from each side.
By the way, keep the box. It's great for traveling when you want to store another strap, a spring bar tool, and some other small items.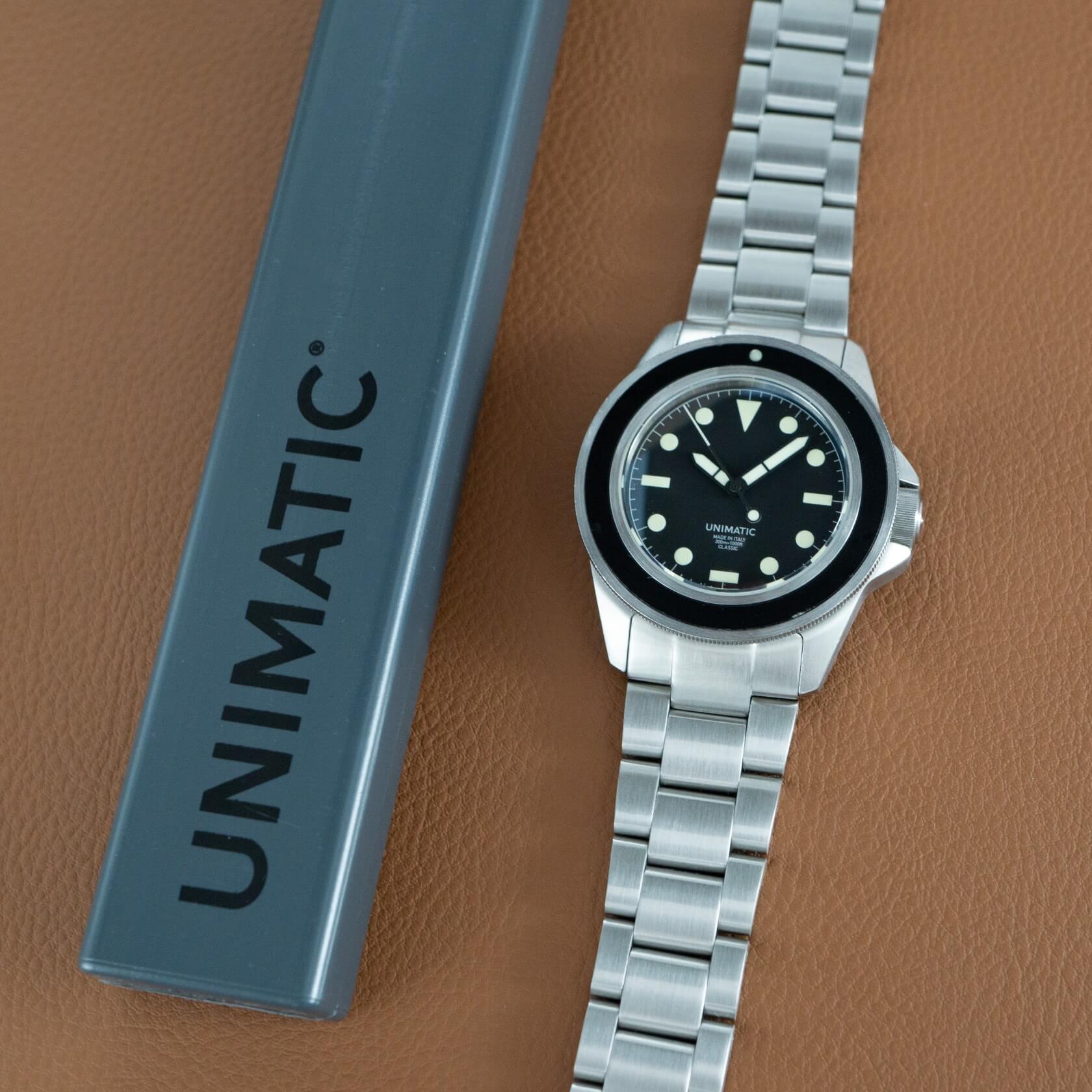 Also, this box can be used to store the bracelet when you remove it, and decide to put a strap on your Unimatic.
I use it to keep those two extra links that I removed when I was sizing the bracelet.
One small objection: I expected to receive a few spring bars in the package, but that didn't happen. I have a box full of quality spring bars, but not everyone has, so I recommend that the Unimatic crew considers putting a pair of spring bars in the packaging.
Design and Materials
As the product name says, this is a solid stainless steel bracelet. All links are solid. The thickness of the individual link is 4mm, which is substantial.
The endlinks are very well engineered and fit perfectly between the lugs. They have spring bar holes on both sides, making it easy to access the spring bars. I would recommended you to use spring bar pliers to avoid scratching the case or endlinks.
However, I managed to fit a bracelet with a standard spring bar tool after a bit of effort.
The bracelet has a uniform brushed finish that matches the watch case. The construction of the bracelet follows a three-link design, also known as the O-style in the watch community. It works perfectly with the DNA of Unimatic watches.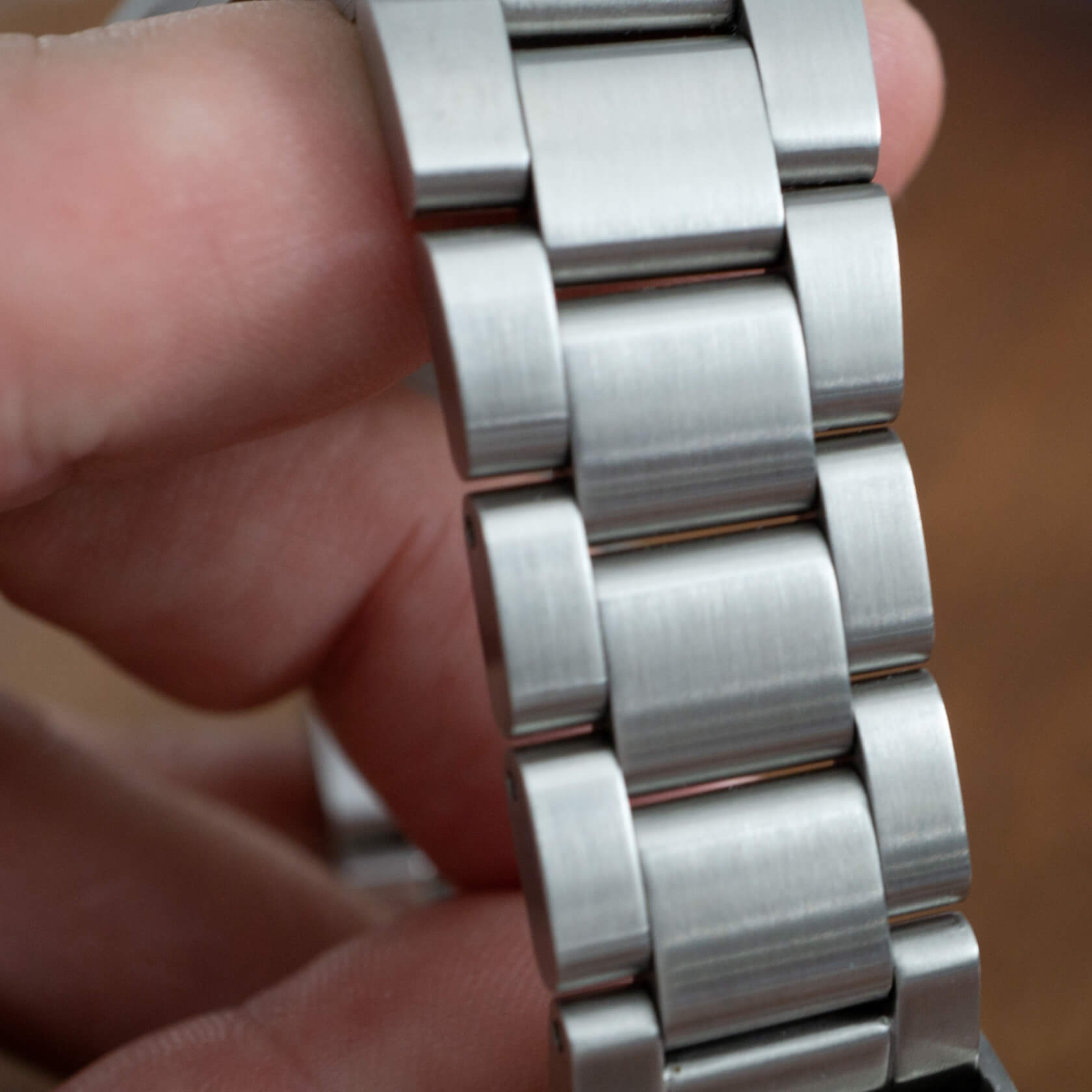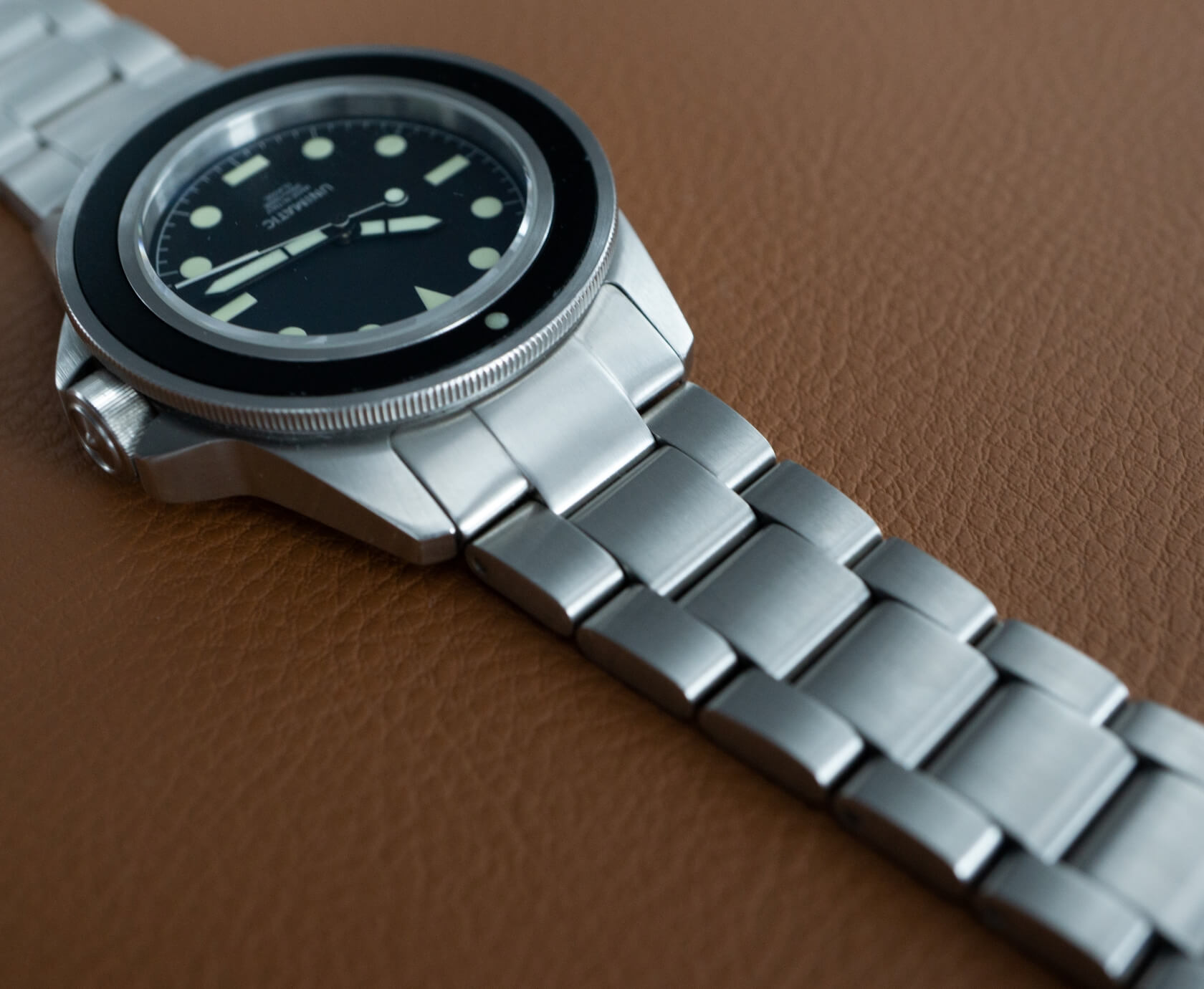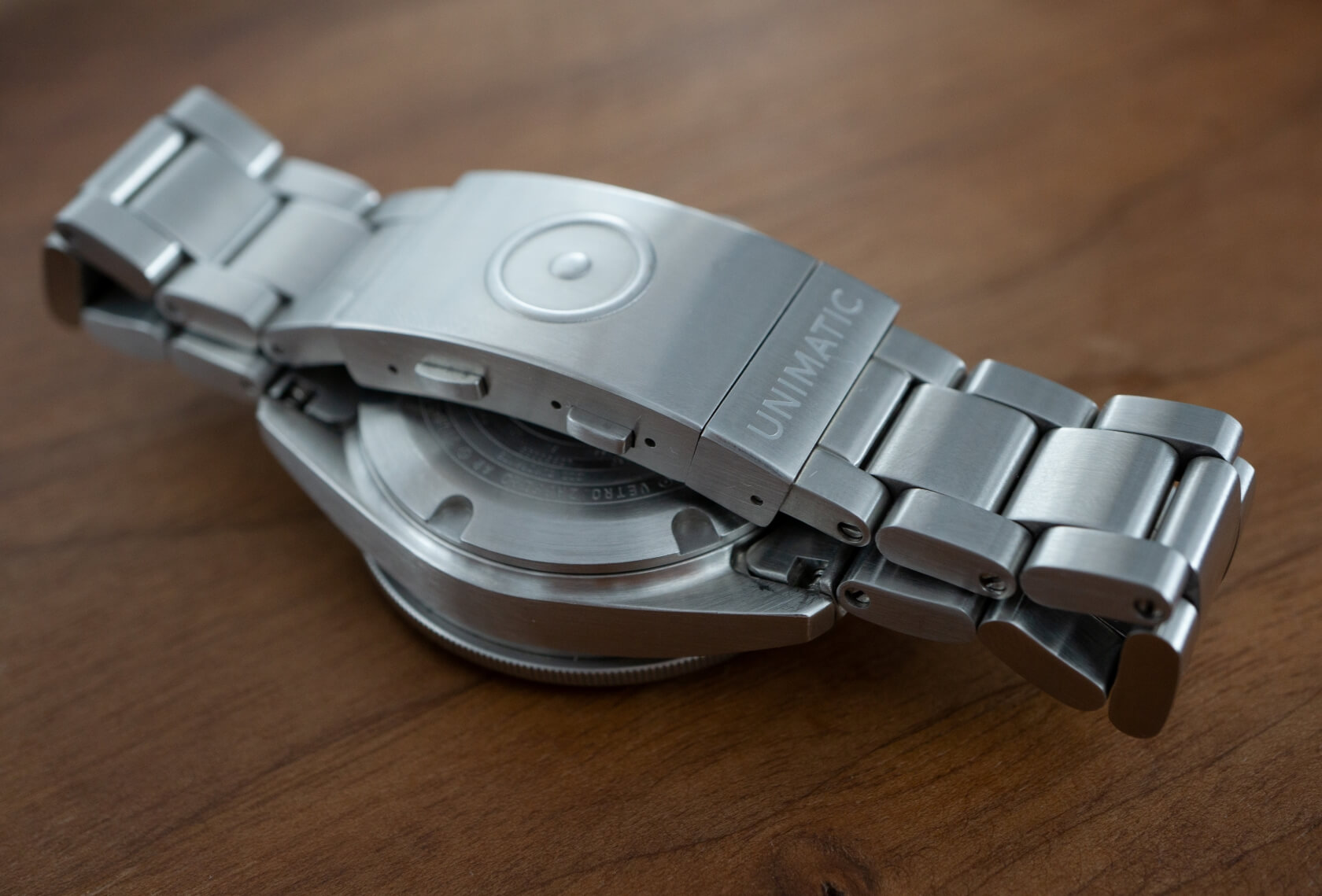 The links are connected by screws, and the screw heads are only on one side, making the sizing process easier.
According to the documentation, the length of the bracelet can be adjusted from 140mm to 230mm. In my case, I removed one link on each side, and the bracelet fits me perfectly.
The clasp is, without a doubt, overengineered. The folding element is made of solid metal, and it features a twin button release system. When closing, you can hear a satisfying click.
The clasp has a midsize length of 30mm, which is not too long.
There is a second pair of buttons for the on-the-fly adjustment system, or the divers extension, as Unimatic calls it. Pressing these buttons allows you to extend the clasp in 2.5mm increments, up to 15mm. This provides six positions for adjusting the size.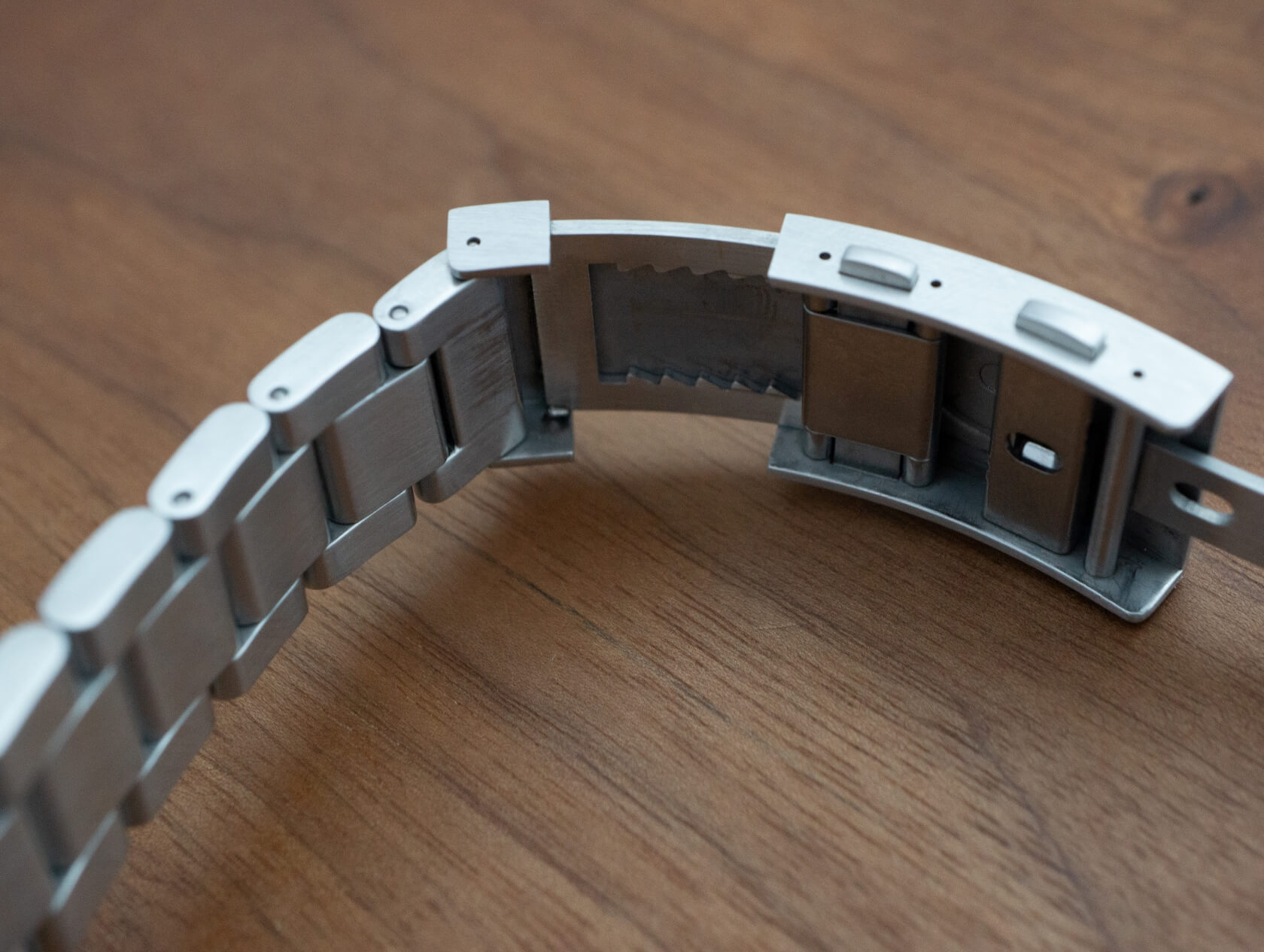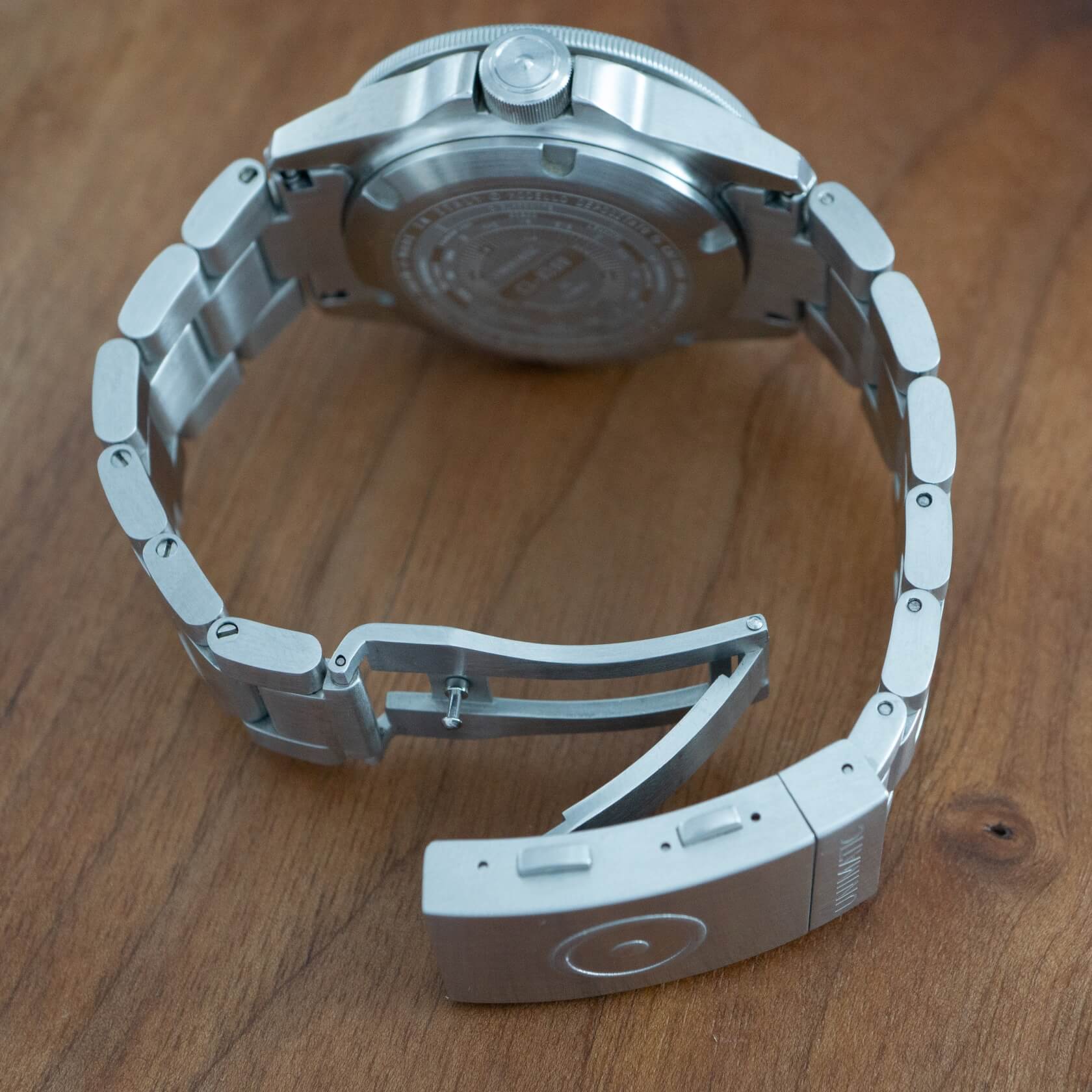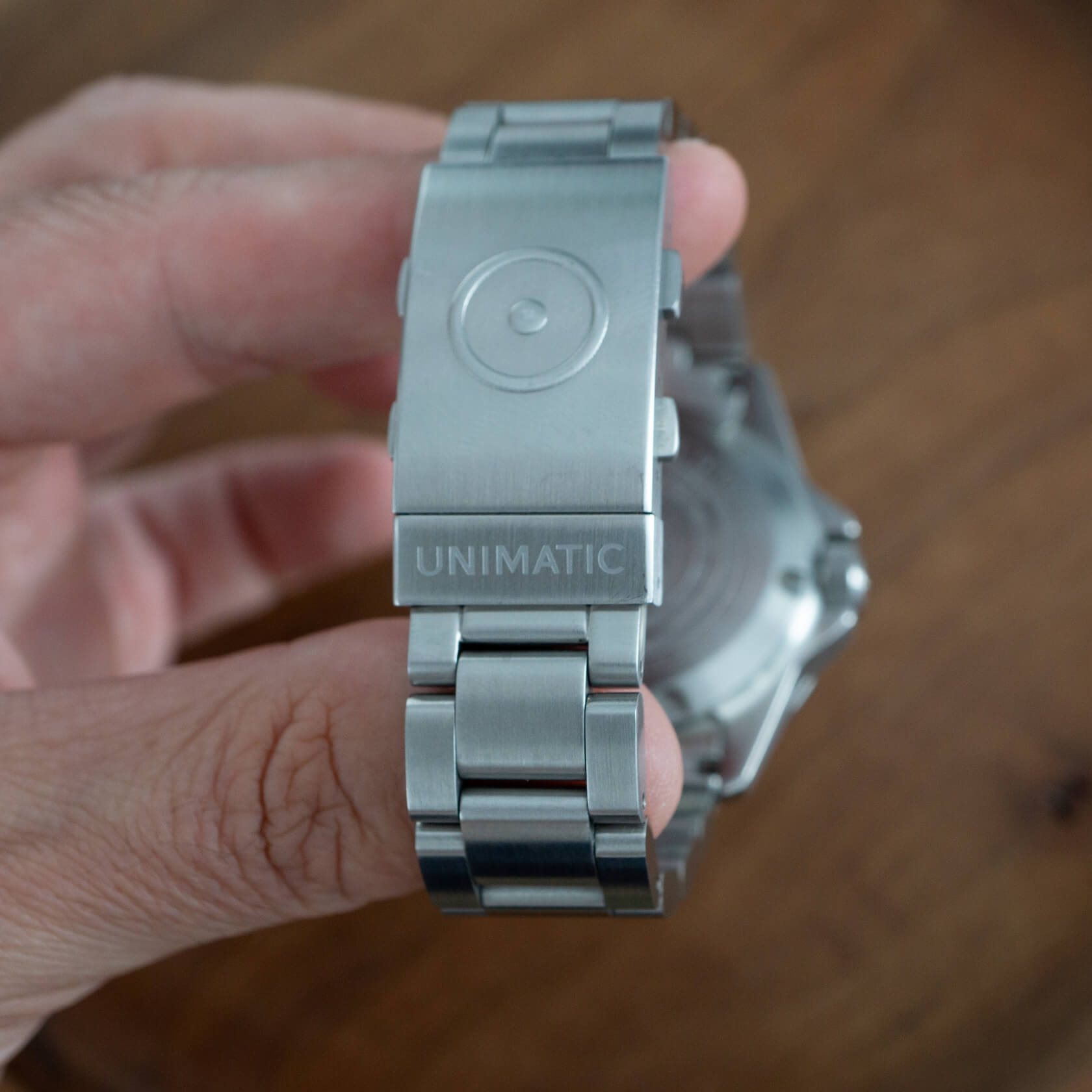 To reduce the extension you don't need to remove the watch from the wrist. Simply click-in the extension, for an increment or two.
To sum it up: this is a very robust and well constructed bracelet with modern features that is comfortable and will last a long time.
Comfort and Durability
The bracelet is incredibly comfortable. It has excellent ergonomics and easily supports my U1 Classic watch. The clasp is not bulky, and the links do not pull arm hair.
I would note that the bracelet wears true to its size. It is a 22mm wide bracelet after all. I applaud the Unimatic team for reducing the clasp width to 18mm, which significantly contributes to a more comfortable wearing experience.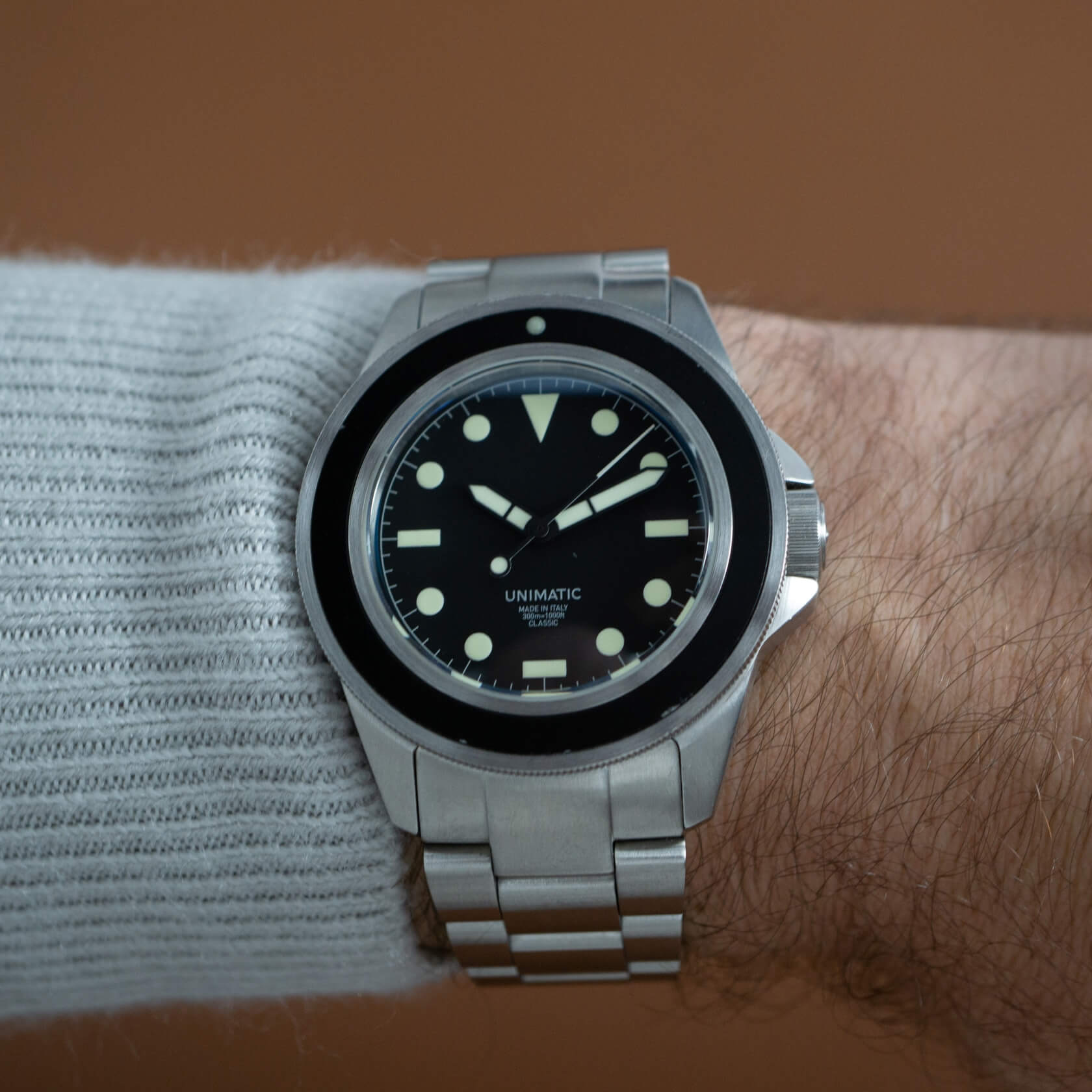 The biggest con for me is the weight. With two links removed the total weight of a watch + bracelet is 190g. You can feel it. You will feel the heft as soon as you put the watch on your wrist and it will follow you throughout the day. You'll never forget that you're wearing a watch.
Some people may find the "male endlinks" to be an issue. This increases the effective lug-to-lug dimensions because the bracelet starts to drape after the lugs, not below them. In my case, having a 7.5-inch wrist, I find the bracelet quite wearable and enjoyable.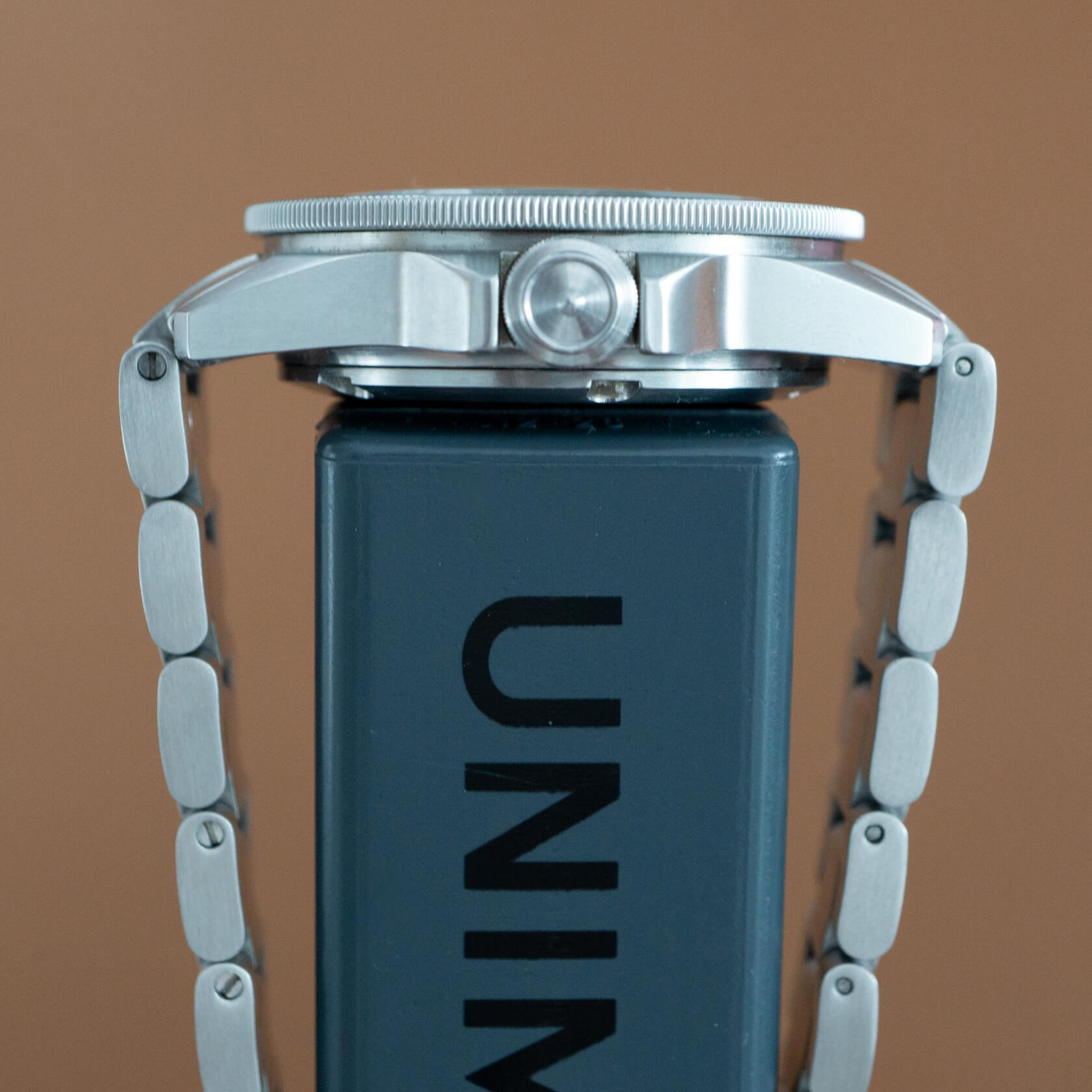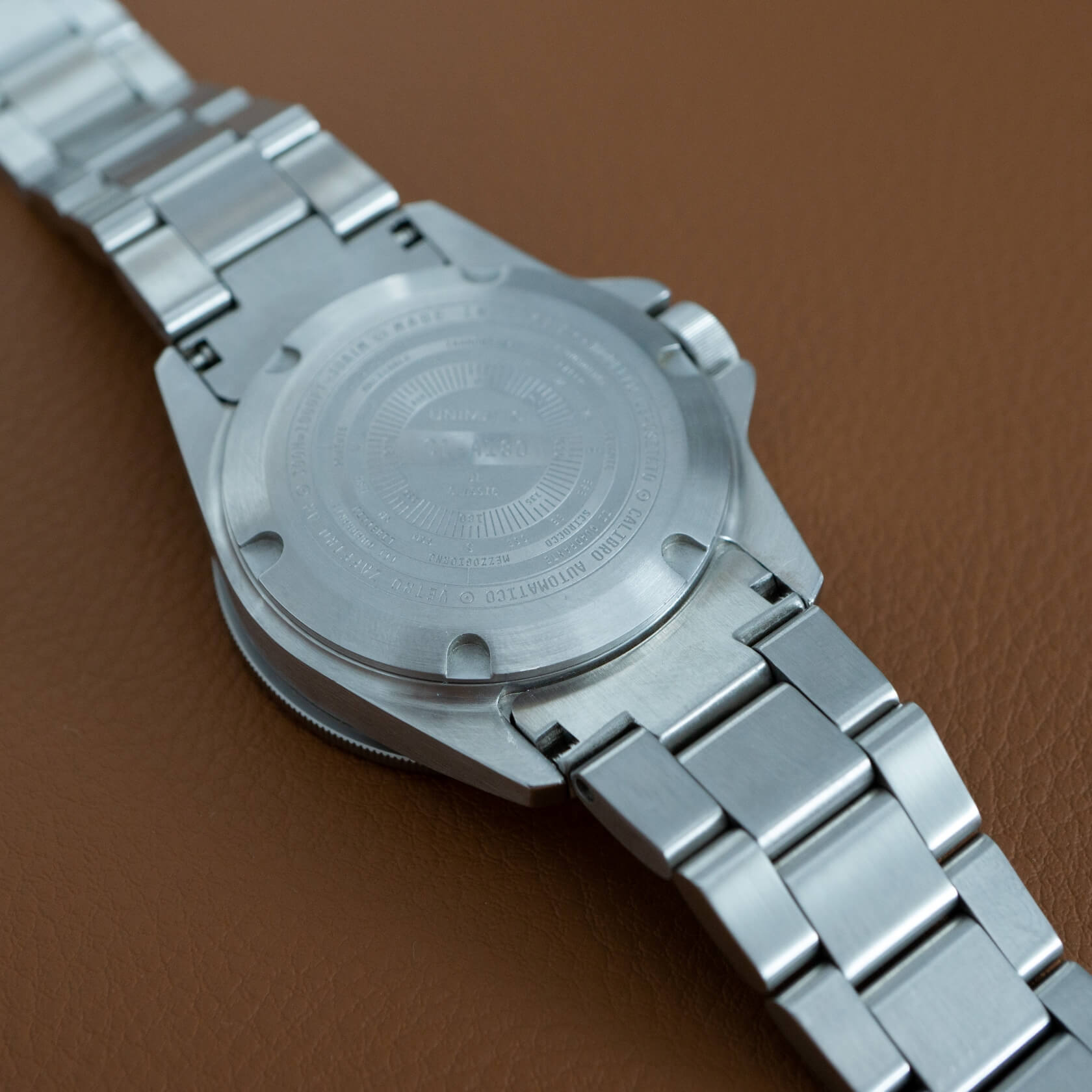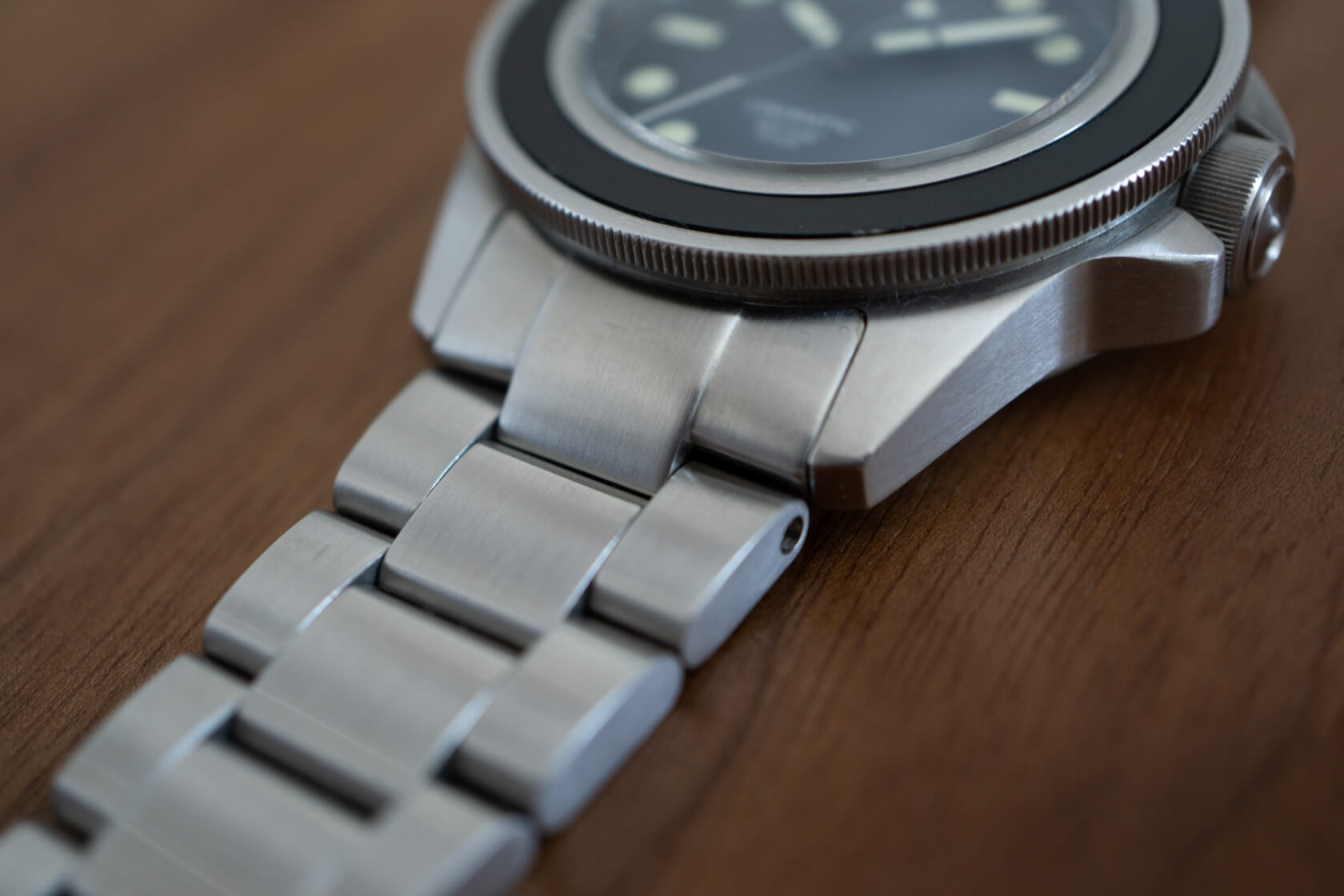 I'm writing this review after few weeks of use, so I can't write much about durability. At first glance, it seems that the bracelet is very well constructed and that there are no weak points that will wear out over time.
I believe it will last a long time. The following is a timeline report that I will update regularly.
Initial Usage It was an easy task to size the bracelet. It was comfortable from the first time it was put on the wrist. I noticed a slightly bigger weight and heft. Adjustment system worked well, but what I noticed is that it is easier to take off the watch and extend the adjustment than fiddling with everything on the wrist. Ratcheting-in does not require removing the watch.
Two weeks of use There are a few minor desk-diving surface scratches, but nothing worth complaining about. The bracelet works great during the hot summer days. I love the on-the-fly adjustment system; it is super handy and well-constructed.
Compatibility and Pairing Recommendation
This is not a universal bracelet but it is custom made exclusively for Unimatic models. The option I bought pairs perfectly with the U1, U4, and U4S models.
Of course, Unimatic offers bracelet options for all its other models.
Simply navigate go to the product page and in the comparison table find which bracelet corresponds to your Unimatic watch.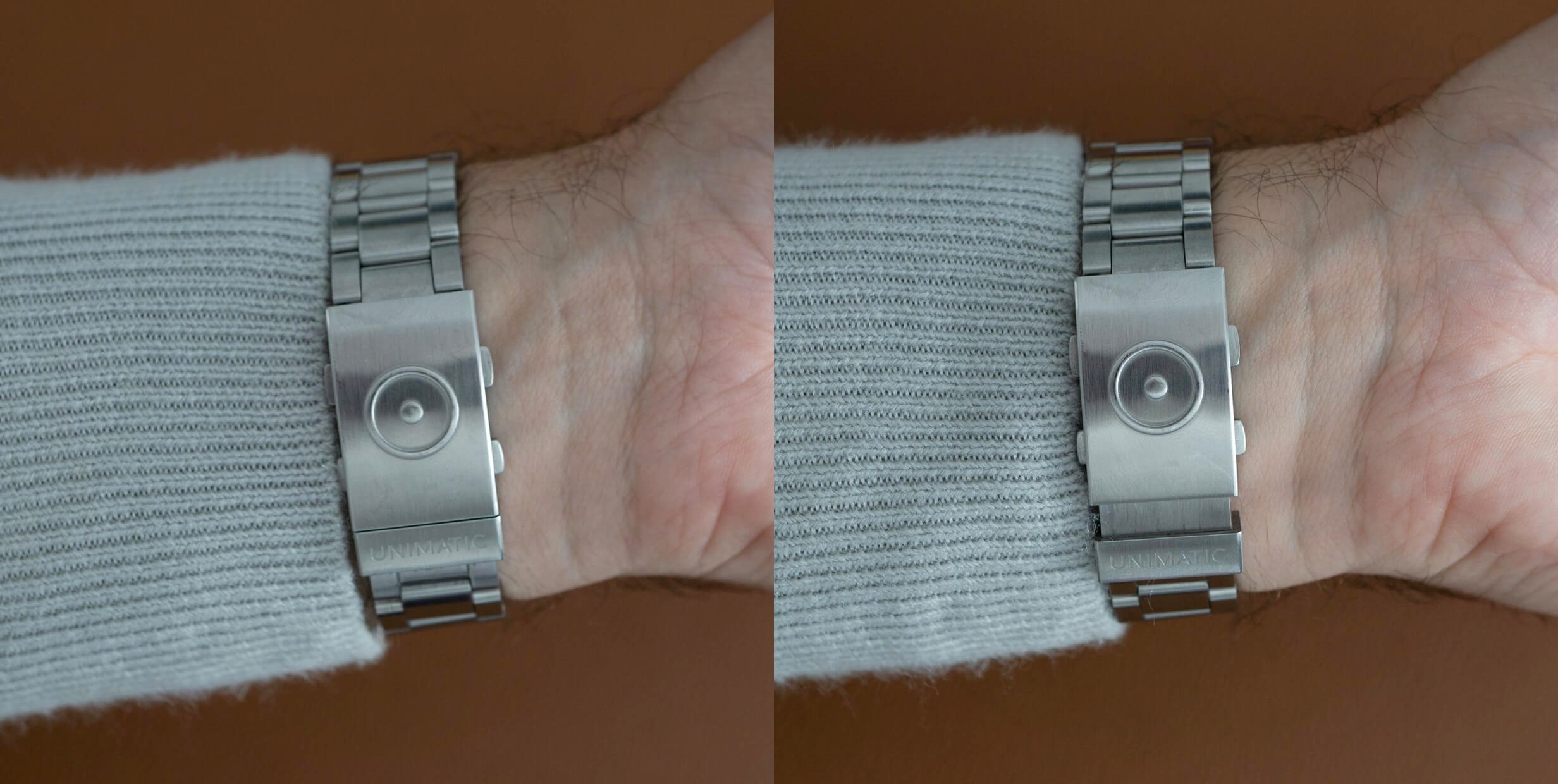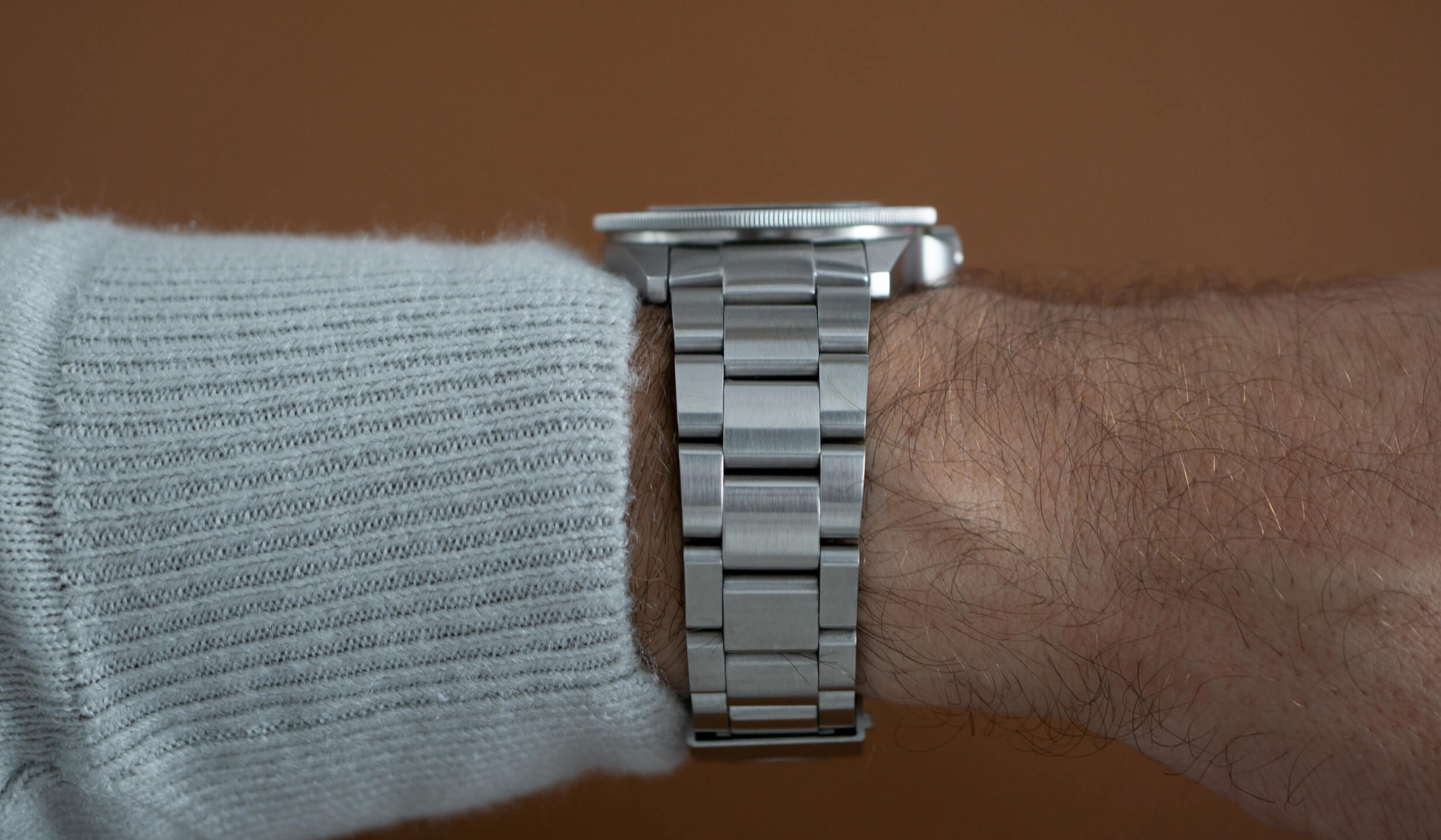 Where to buy?
I bought directly from the Unimatic website. Here is the link to the product page.
It arrived in my country in three days, but unfortunately, it had to pass through customs inspection, and I had to pay custom duties.
That is why I recommend that you check if any of the Unimatic retailers in your country offer this bracelet.
You have a list of all distributors on the Unimatic website.
By the way, the price of a bracelet already qualifies you to receive free express shipping.
Price and Value
This solid steel bracelet comes with a price tag of 180 EUR or $200, placing it outside the affordable category.
While it may be more budget-friendly compared to Tudor, Omega, Oris, and Sinn's OEM products, some may find those bracelets to be more refined than the Unimatic v2 from 2023.
If we step away from factory products and take a look at the 3rd party watch bracelet market, prices range from $80 to $140 (UncleStraps, Forstner, StrapCode, etc.).
Simply, recommending to buy this bracelet to every Unimatic owner is not as straightforward as one might think.
Here are my recommendations:
If your Unimatic watch wears large and you're concerned about weight and "male endlink" fit, then please try before buying and be careful with this bracelet.
If you comfortably wear Modello Uno or Quattro sizes and truly need a bracelet, then go for it. This is right choice for you.
Don't worry about the build quality and feature set, everything is great.
Speaking of value, this bracelet is super durable and likely to outlast any canvas, rubber, leather, or nylon strap. You could easily replace numerous straps before wearing out this bracelet.
In conclusion, if the Unimatic watch fits you well and feels comfortable, then the value of this bracelet is there at 180EUR and you should considering getting one.
Closing words
Unimatic's commitment to satisfying loyal fans and reaching a broader audience is obvious through this new stainless steel bracelet. It's an overkill in all aspects: it's well-made, has perfectly fitting endlinks, and an overengineered clasp with adjustment system for easy resizing in six positions.
While priced at 180 EUR, the bracelet's modern features and durability make it a no-brainer investment. If your current Unimatic watch fits well and feels comfortable, this bracelet is worth considering for a long-lasting, enjoyable experience.
I'll deffinitely keep in on my UC1 during the summer.
85
Unimatic Stainless Steel Bracelet
StrapHunter rating 85 out of 100