What types of straps does Haveston sell?
Haveston produces two-piece bands and pass-through straps made from nylon, canvas, or leather. Some of their pass-through straps are single-layered, meaning they do not have a second under-keeper.
Width: Their most popular models are made in 18mm, 20mm, or 22mm widths. They also have one product line available in 16mm.
Material: Haveston straps are either made from leather, nylon, or canvas.
Collections
Click on the link to visit a relevant collection:
Our reviews
Read the comprehensive reviews of the straps that have been tested by our team in real-world use.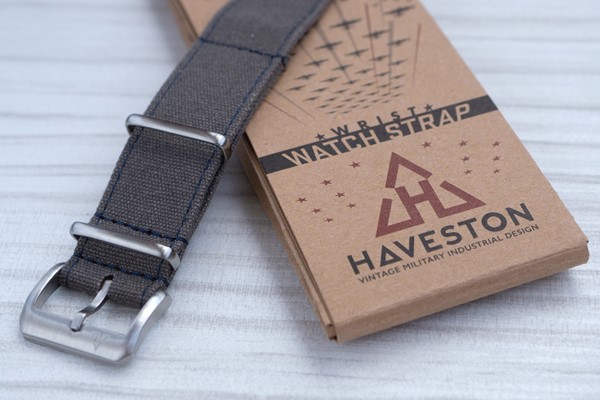 About Haveston
Haveston designs and produces straps, rolls, and accessories for tool watches with a focus on original historical, horological, and aesthetic engineered design. They believe that their products should be synchronized to the historical aesthetic and service-driven character of tool watches.
Haveston designs products to enhance the horological experience that they wish already existed. The inspiration for their products comes from vintage military themes, which represent a refined utilitarianism and focused service-driven character.
Deals, coupon codes, and promotions
Haveston has an ongoing deal for the purchase of multiple straps. Additionally, they announce special deals and packages, including gifts, to their email subscribers. Here is an overview of the promotions that we have encountered.
Current deal: new
Use code FIELDSET for 10% off two or more straps.
Previous deals:
Late 2023: Claim a free Playing Card Set, plus 10% off your order with the code STACKED when you spend $39 or more.
Shipping & delivery
Haveston ships worldwide.
Free shipping on all orders above $39
See the complete shipping policy.