Review: The Forecastle Canvas Single Pass Strap by Haveston
The Forecastle was Haveston's first big swing at vintage-inspired military issue strap design. With a solid featureset and affordable price, how does it compete in today's strap market?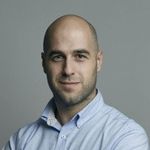 Nenad Pantelic • May 28, 2023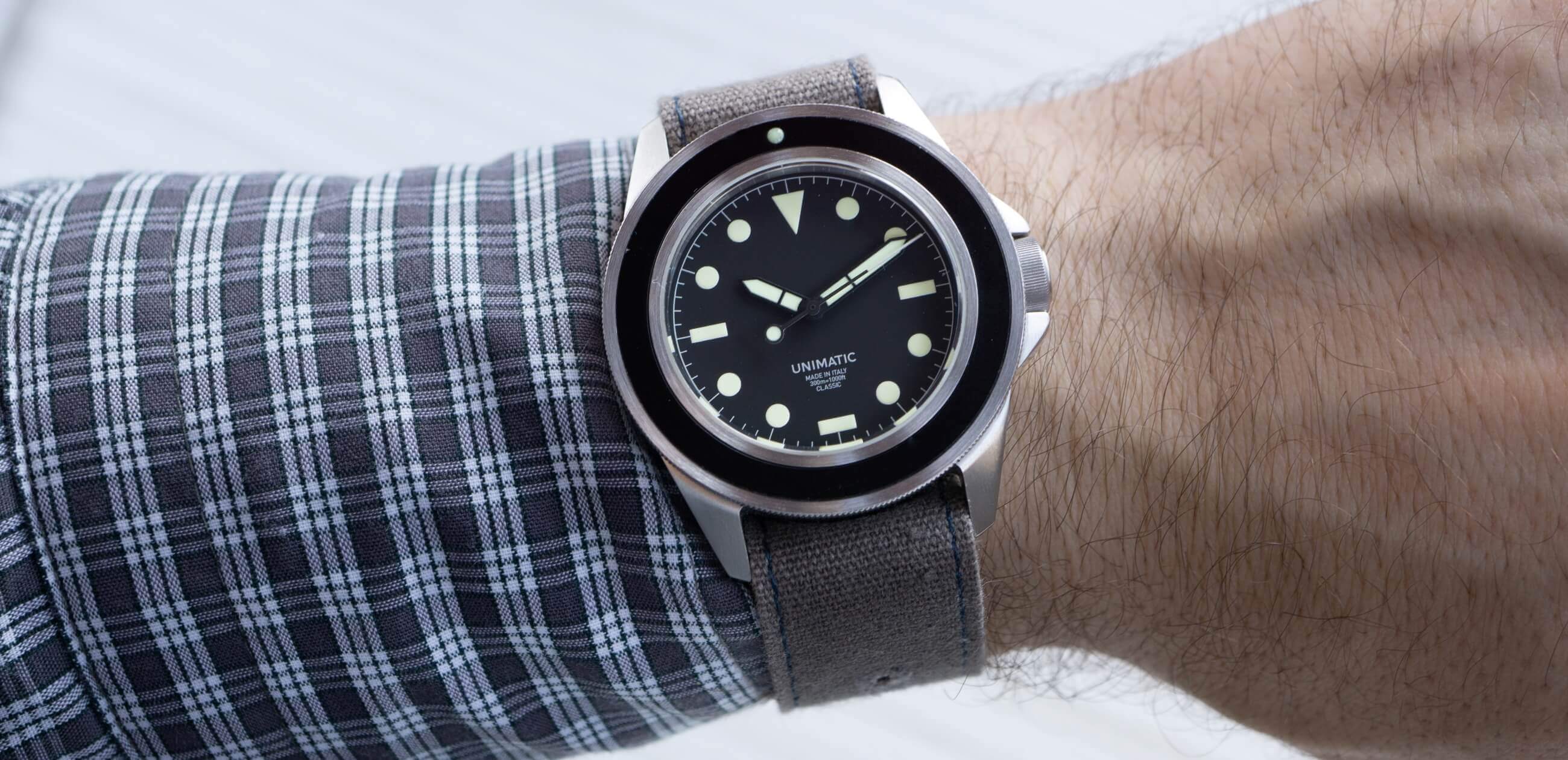 84
Haveston Canvas Single Pass Strap
StrapHunter rating 84 out of 100
| | |
| --- | --- |
| Quality | |
| Comfort | |
| Design | |
| Durability | |
The verdict: One of the best pass-through options if you don't mind above-the-average strap thickness.
What we like?
Durable fabric
Floating second keeper
Comfort
Sturdy stitching
It's not too long
Cool heavy-duty buckle
Reinforced holes
What we don't like?
Thicker than nylon single pass straps
Larger bend radius at 12 o'clock
Full review
You know the feeling when winter finally ends and you change from a puffer jacket or a heavy windbreaker to a light spring fabric jacket? That feeling of ease, airiness and comfort?
Well, I had a similar feeling when I switched from the nylon single pass to this canvas strap. The strap felt soft and comfortable from the get-go.
Of course, it has some minor drawbacks, but all things considered, I highly recommend this Haveston strap.
First things first. Here is a detailed specs breakdown:
Technical details
| | |
| --- | --- |
| Brand | Haveston |
| Width | 22mm |
| Tapering | None |
| Length | 275mm |
| Thickness | 1.5mm |
| Material | Canvas |
| Buckle | Heavy-duty faceted solid tang buckle |
| Color | Grey, pre faded |
| Finishing | Matte / vintage awesomeness |
I checked Haveston's website and it looks like the strap is a great fit for most people with wrist circumference between 145mm - 225mm (5.75"- 8.75"). So unless you have a really large wrist, it should work for you too.
Additionally, the strap is offered in 18mm and 20mm widths as well. I just happen to be reviewing the 22mm one.
Haveston
Haveston designs and produces straps, rolls, and accessories for tool watches. The inspiration for their products comes from vintage military themes, mostly from British heritage.
They have a very compelling philosophy: they create products they wish already existed on the market.
While their marketing and storytelling are interesting, their website was not my first touchpoint with the brand.
My journey to discover Haveston was different.
I learned about them from the watch community. I have seen video reviews of their products several times, and they were often mentioned by Jason and James in the TGN podcast (straps, gift guides...). I also noticed that many retailers sell their products (such as Windup Watch Shop, Holben's...).
The company appears to have positioned itself well, and anyone with even a little interest in watch straps will likely come across them sooner or later.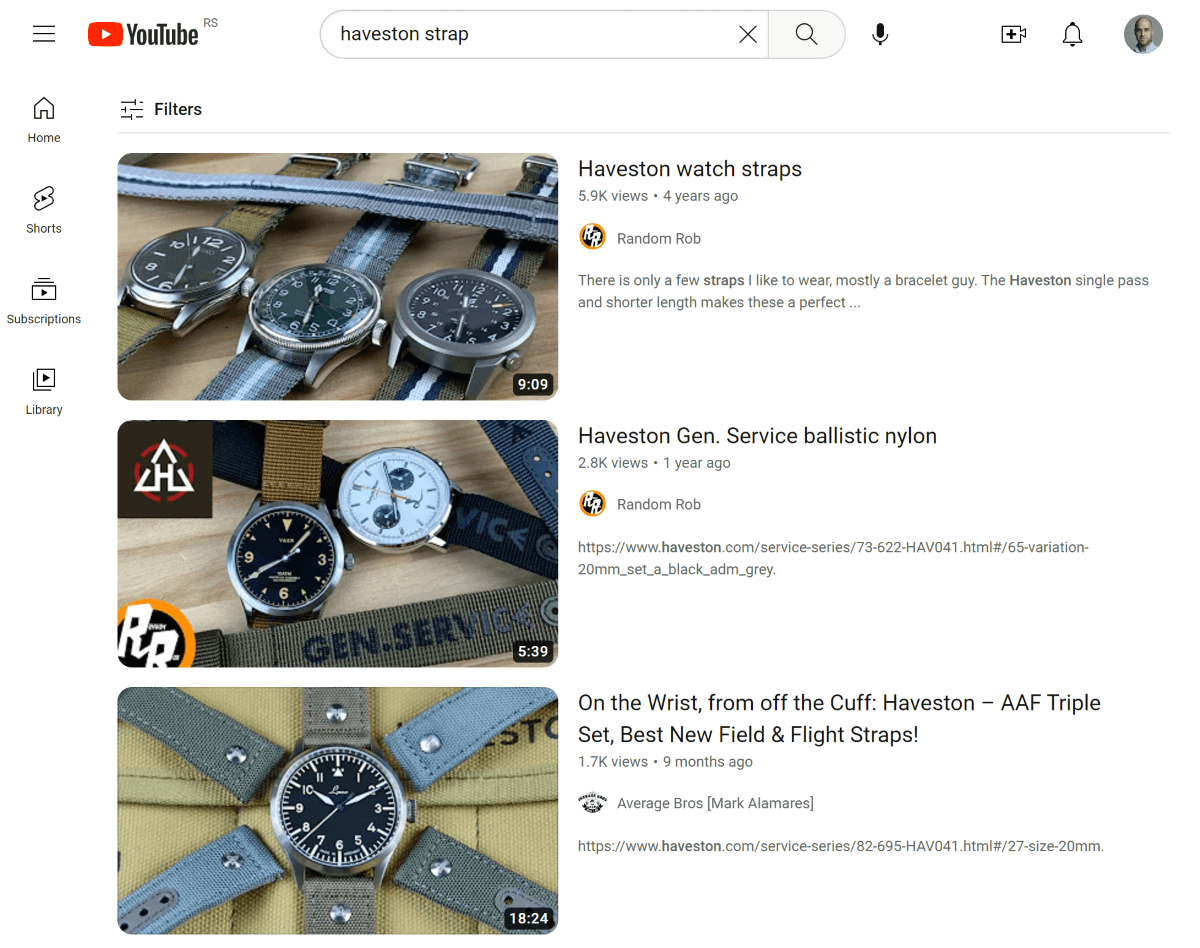 I bought the strap directly from Haveston, and the buying process was without any hiccups; everything was logical and straightforward.
The cool thing is that I now have an account with them, so subsequent purchases should be quite fast. I also have a history of previous purchases in my account. These are small details that I like very much.
Shipping is free, and the delivery times were okay. The Serbian Post Office is not known for its efficiency, so I would expect the whole procedure to be faster in the EU.
Unboxing
I like the level of detail they have given to the packaging. It's nothing over the top, yet nice and tidy.
The presentation is very nice. The company focuses on the design and has an eye for detail, which is evident in the illustrations, typography, and color palette.
Packaging is not a part of the everyday strap experience, but it is an important indicator of the passion and professionalism of the people behind Haveston.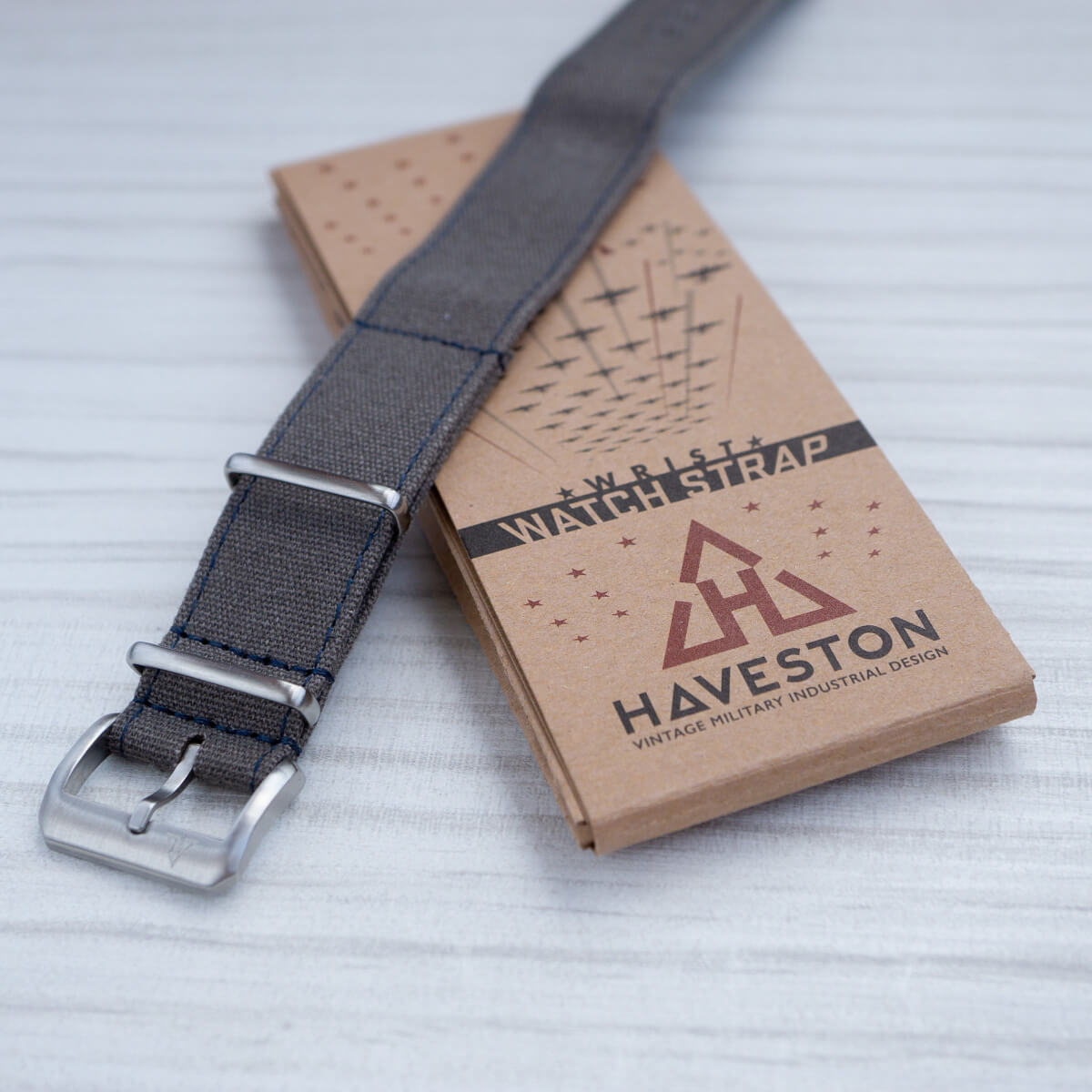 Design and Materials
The construction is double folded canvas, which is fully stitched along all the edges. This helps the longevity of the strap because I don't see where it can tear and wear out.
Of course, double folder canvas is a bit thicker than the usual nylon material we see in standard pass-through straps. The area around the keepers has two layers of fabric.
Speaking of keepers, the watch strap has one floating keeper which keeps the excess length of the strap securely in place, providing a neat and tidy appearance.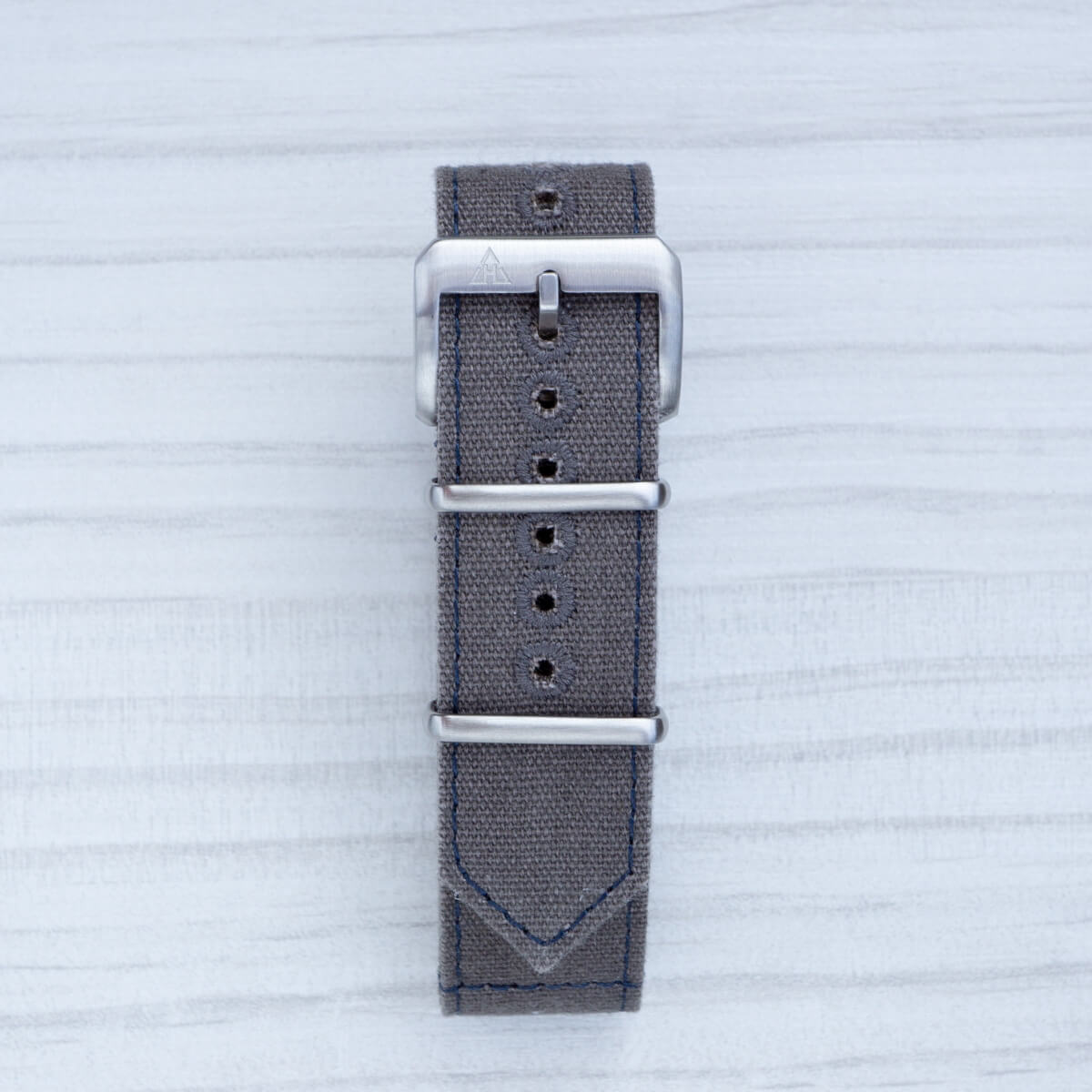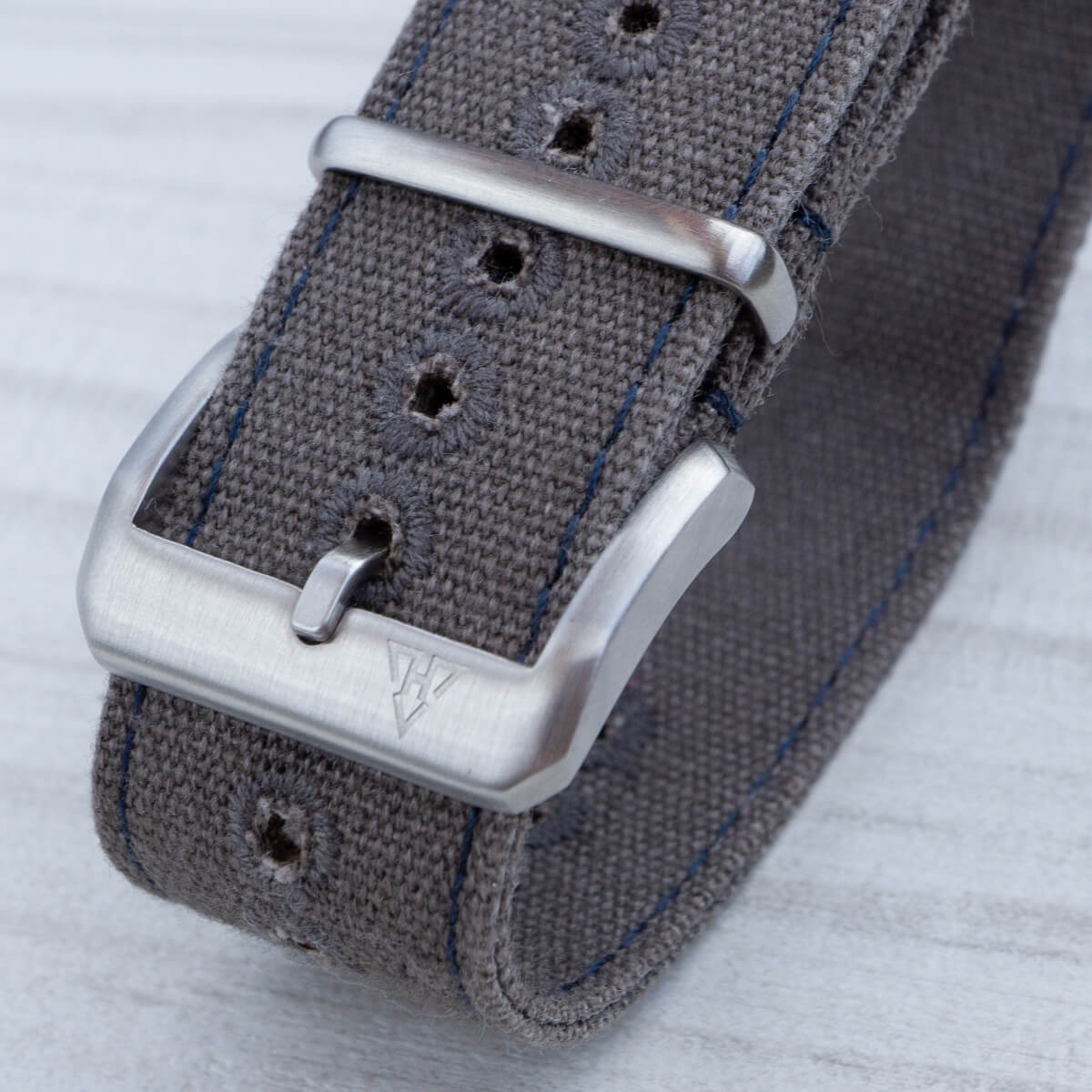 The length of the strap is excellent, and on my wrist, I don't have that excess part that is usually folded back.
The distance between the holes is good. Two positions suit me. The primary one is perfect, and the second one has more of a relaxed fit. The good thing is that in that more relaxed position, the watch does not flop around but still sits nicely on the wrist. By the way, the holes are reinforced.
Comfort and Durability
The strap is breathable, soft, and super comfortable. Having it on is quite enjoyable.
One of the main advantages of canvas is its comfort. Unlike leather, canvas does not need a break-in period.
And that one of the best features of this Haveston strap: it is a hassle-free strap that can be worn right away.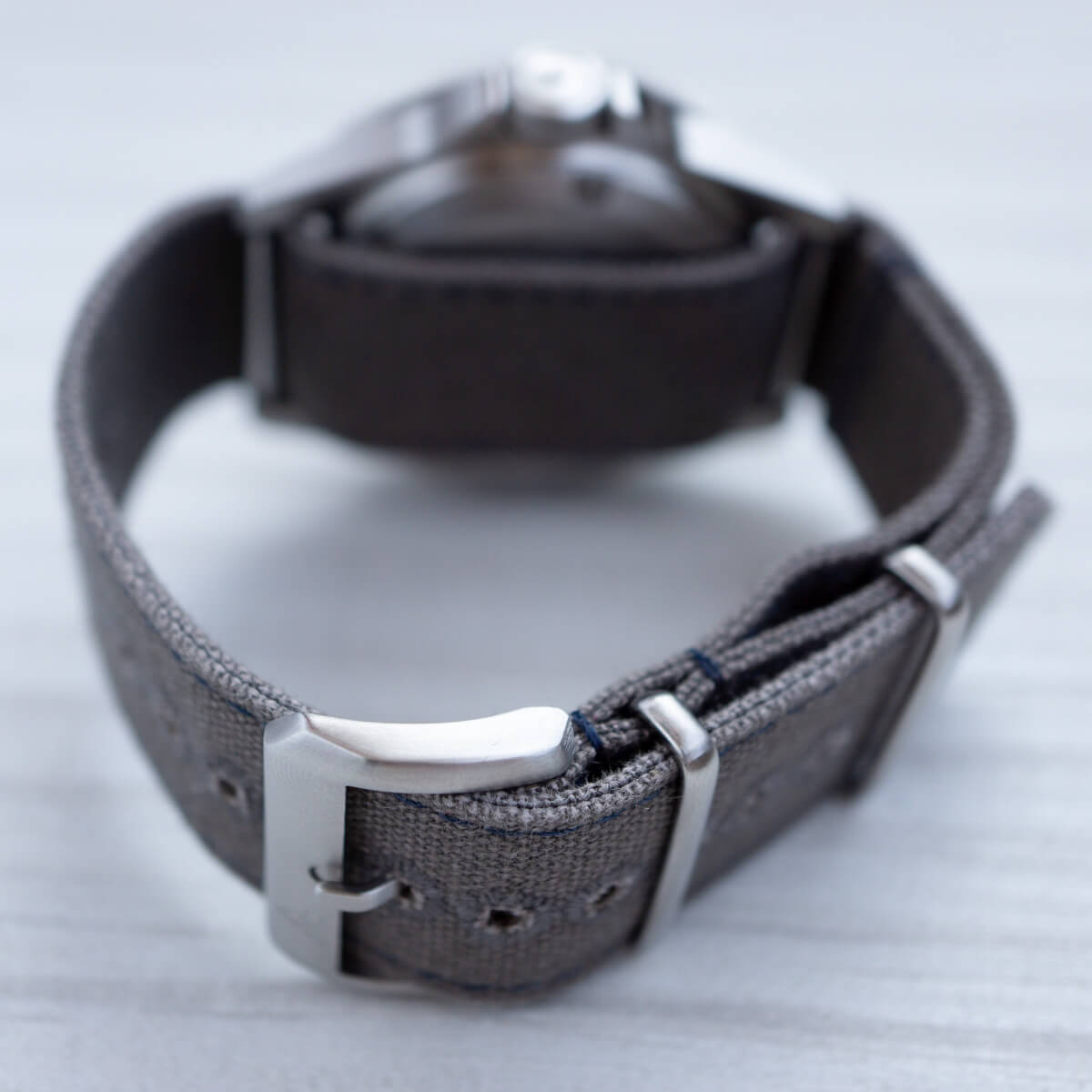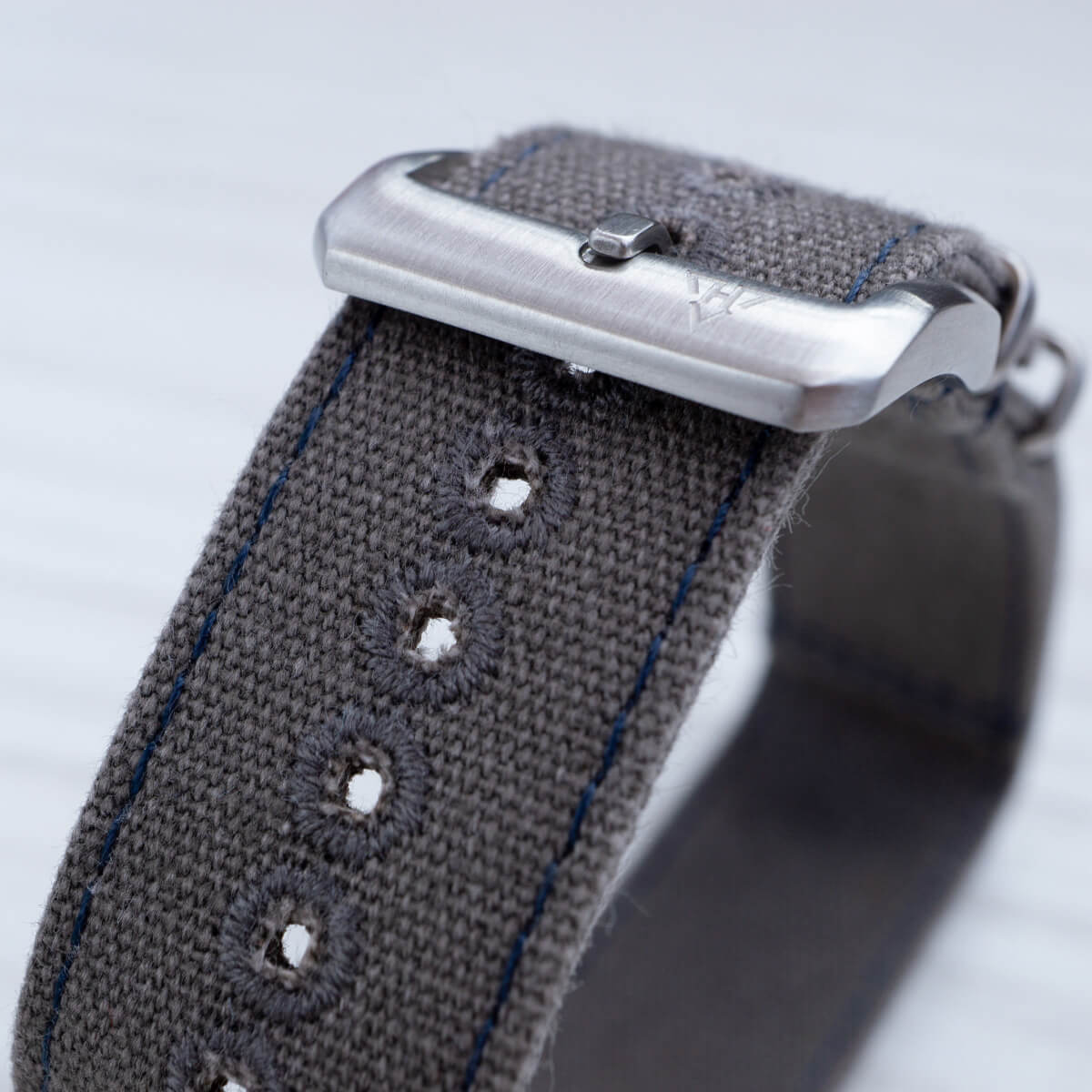 Since it is constructed using the fully stitched double folded canvas I believe this strap will last a very long time.
I can't wait for the coming summer to expose it to the sun. Sweat can be a problem, especially in terms of discoloration, and I will update the review with that info.
Initial Usage The strap was comfortable during the first few wears. The floating keeper does not slide on its own. Overall, an excellent wearing experience.
One month of use There are no discolorations as far as the color is concerned. The strap has formed the contour of the watch caseback, but this is not a defect, but rather proof of the softness of the material. The hole for the buckle pin still looks like new.
Compatibility and Pairing Recommendation
The Forecastle strap pairs excellently with most of my watches, particularly those with a monochrome dial design and brushed steel cases. The look of the cotton weave canvas creates a laid-back and toolish (if that's a word) aesthetic.
In my opinion, this canvas mil strap can complement a range of watch styles, from pilot and military watches to dive and field watches. The semi-vintage feel of the strap also lends itself well to chronograph watches, adding a retro touch to their design.
I must admit something. I feel like I am cheating with this grey color. It simply works nicely with most dial colors. Where a black strap would be too mundane or boring, this grey feels just right.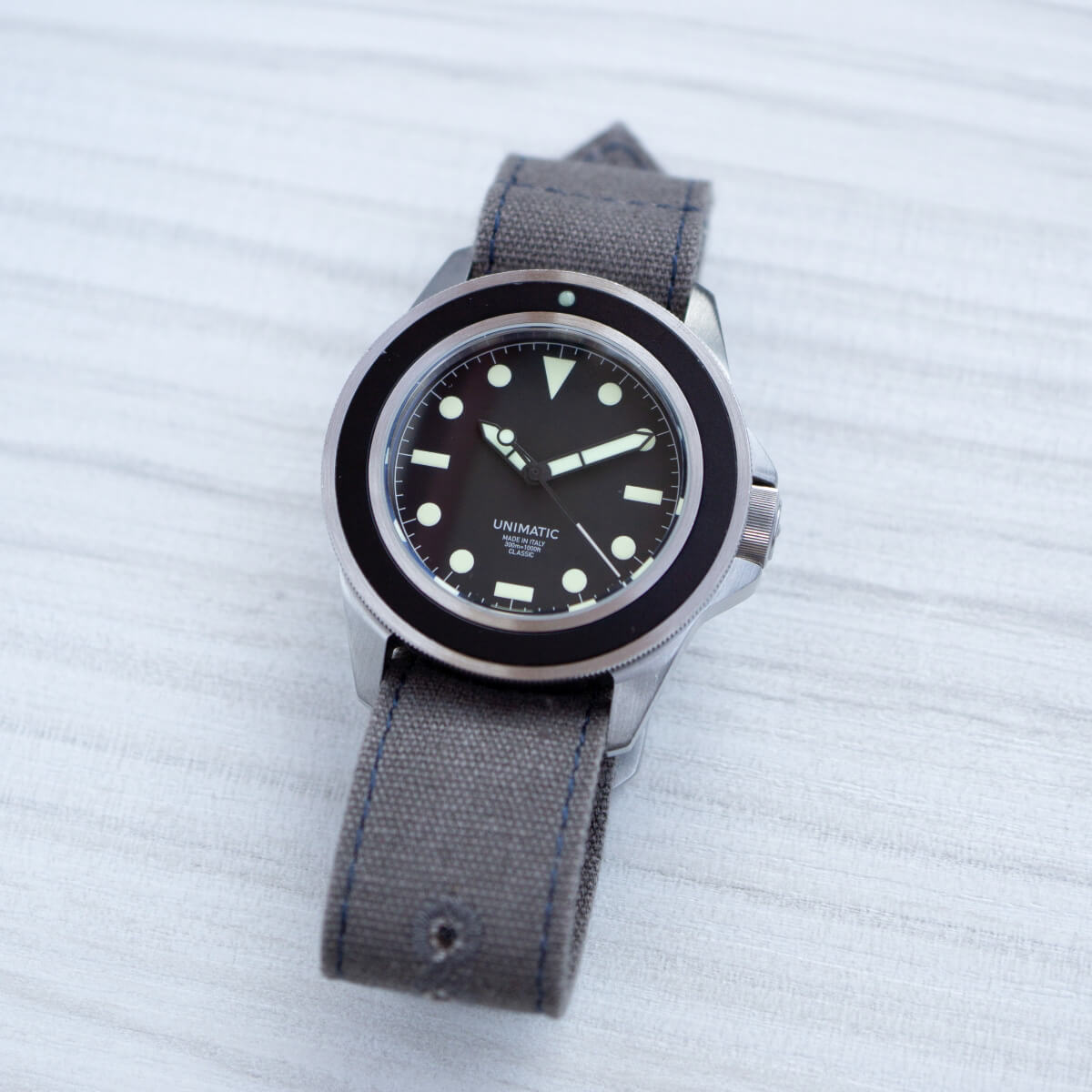 If your watch has a few dings and scratches, then this grey looks freaking awesome. It says: "Yeah, we've seen action, we've been through some sh#t."
One observation: the strap will add 1.5mm to the overall height, so be cautious if you have a beefy tool watch.
Also, it sits awkwardly on watches that have a short distance between the case and the spring bars. It's just the way the strap wraps around the caseback and spring bars.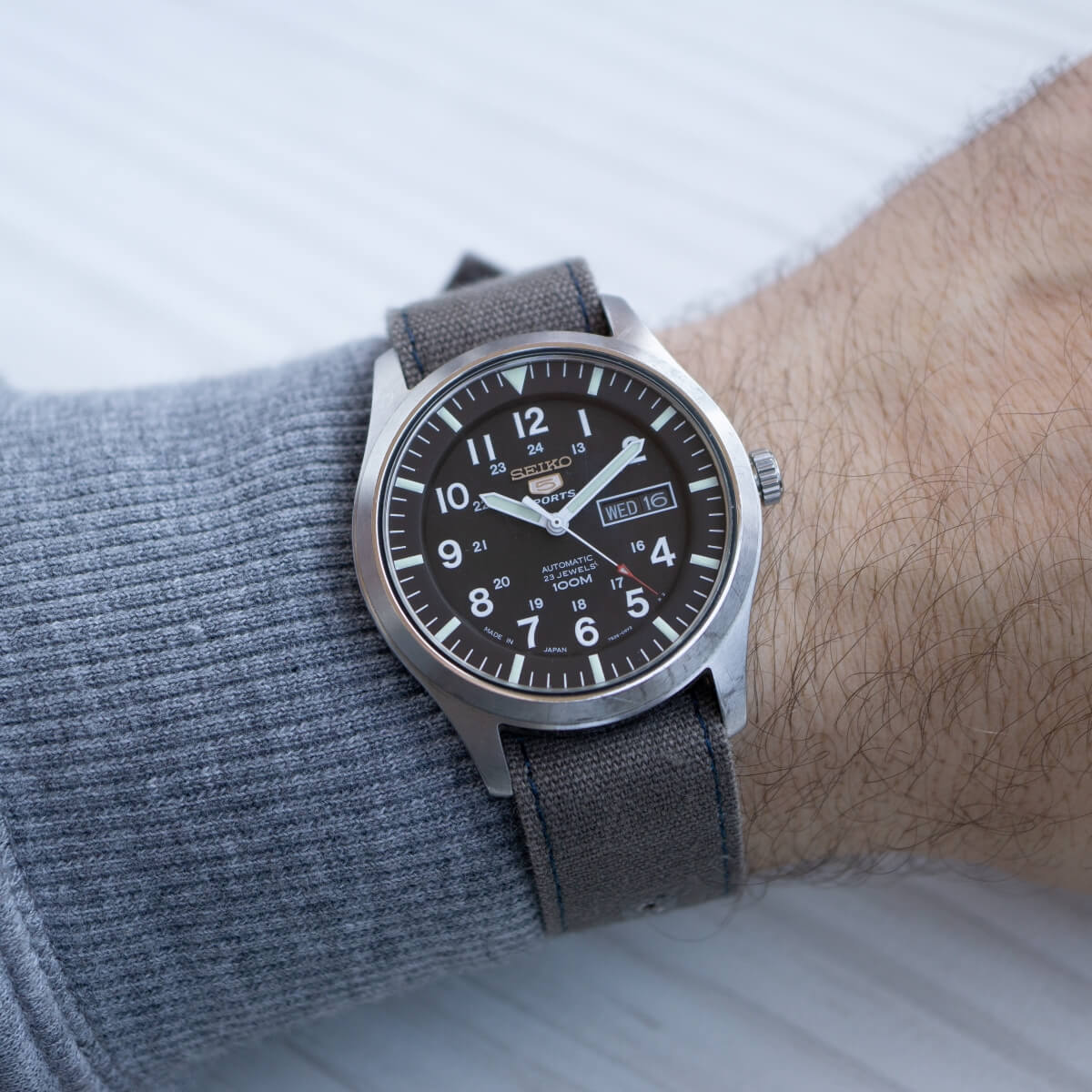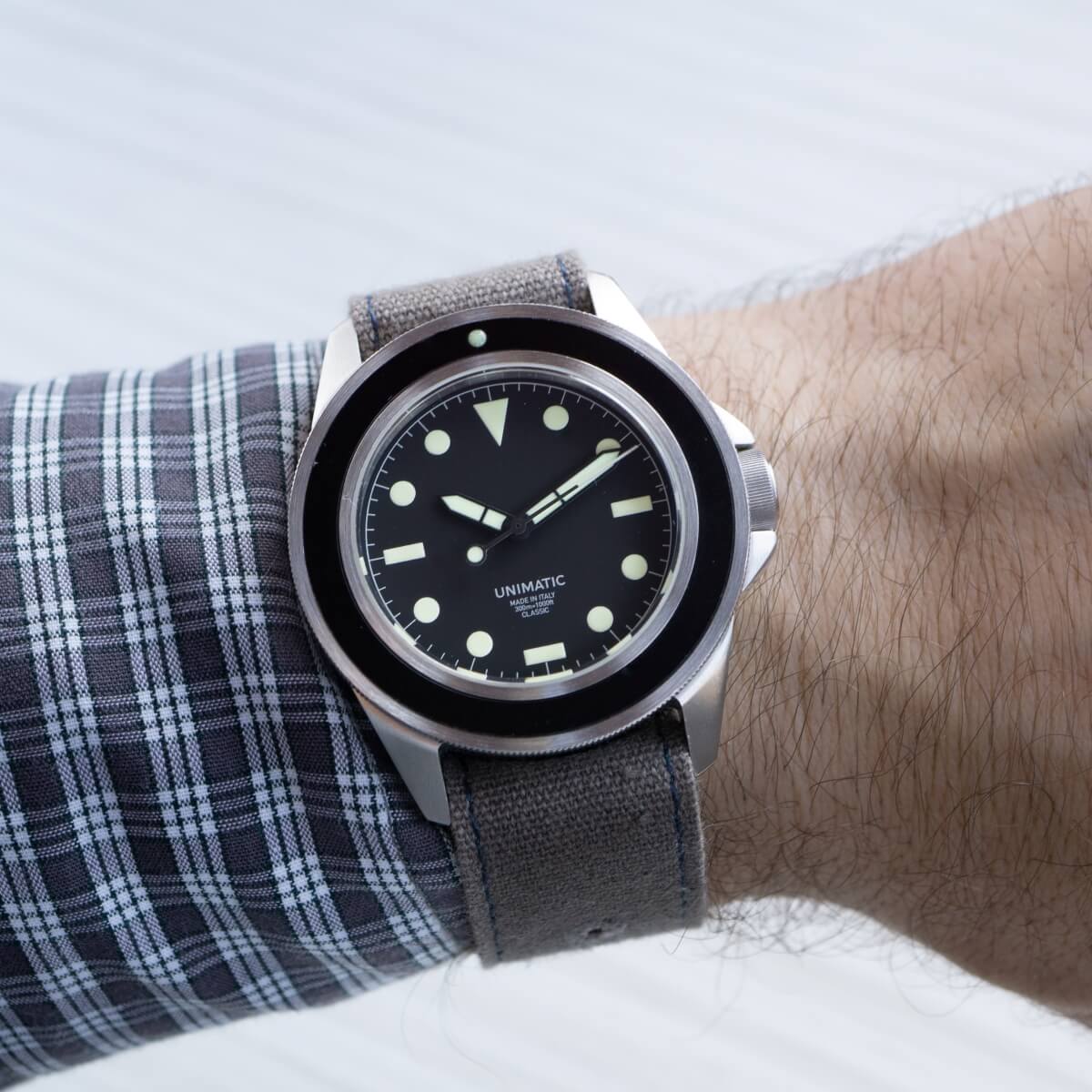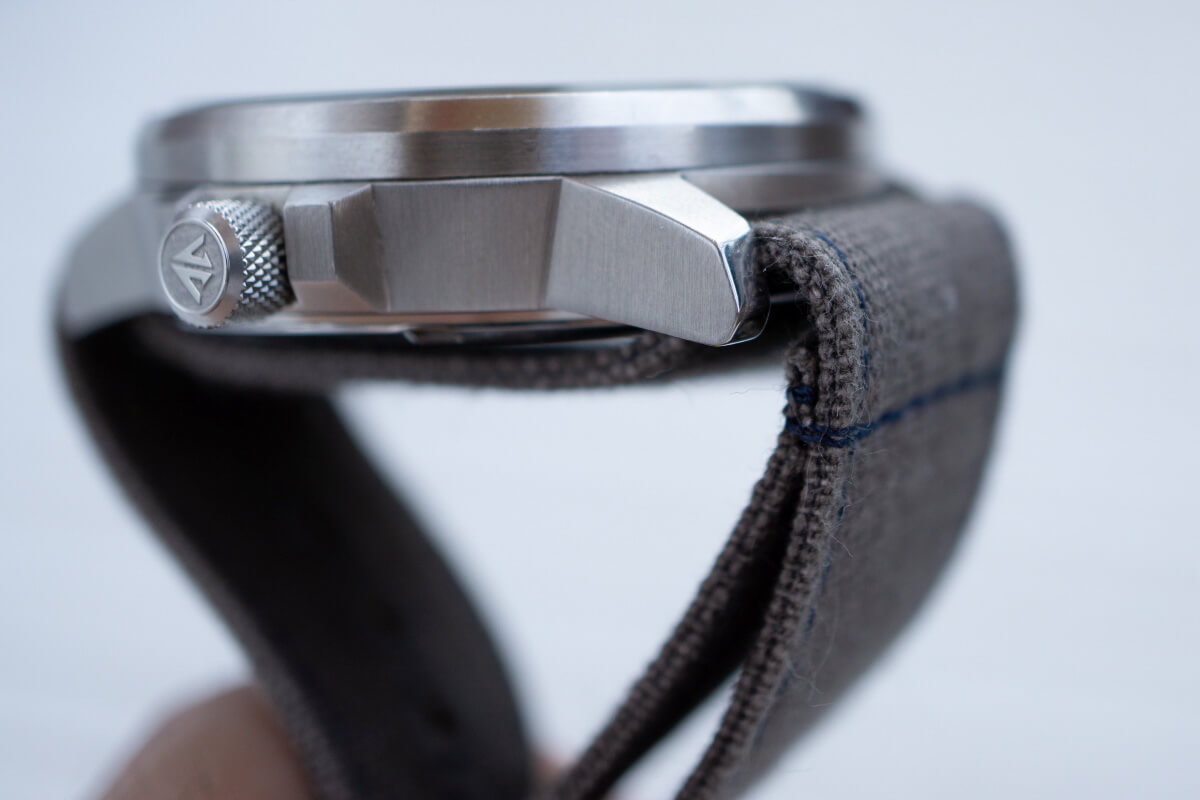 Price and Value
This corp. series Haveston strap not only meets all of my criteria in terms of comfort, and durability, but also comes at an affordable price point. At $28.55, this strap is excellent value for money, particularly given the quality of the materials and construction.
If you're constantly buying natos in the sub $20 range, then give the Forecastle a try, you won't be disappointed.
Where to buy?
If you are interested in purchasing this watch strap, then you have several options.
Many retailers carry Haveston products, and prices are more or less the same. You should check shipping costs and delivery times and select a preferred store to buy from.
As mentioned earlier, since I live in Europe, I bought directly from haveston.com, but you can also check out Holben's, Windup Watch Shop, or Strapcode, to name a few.
Conclusion
After one month of wear, I can't recommend this watch strap highly enough. Not only is it an excellent value for money, but it's also well-made, and pretty handsome too.
84
Haveston Canvas Single Pass Strap
StrapHunter rating 84 out of 100