Review: Mustard Yellow Ribbed Pass-through Strap by CNS Watch Bands
Affordable ribbed nato strap in a super cool & Instagram-famous mustard yellow color, and some annoying drawbacks.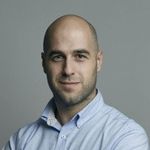 Nenad Pantelic • May 31, 2023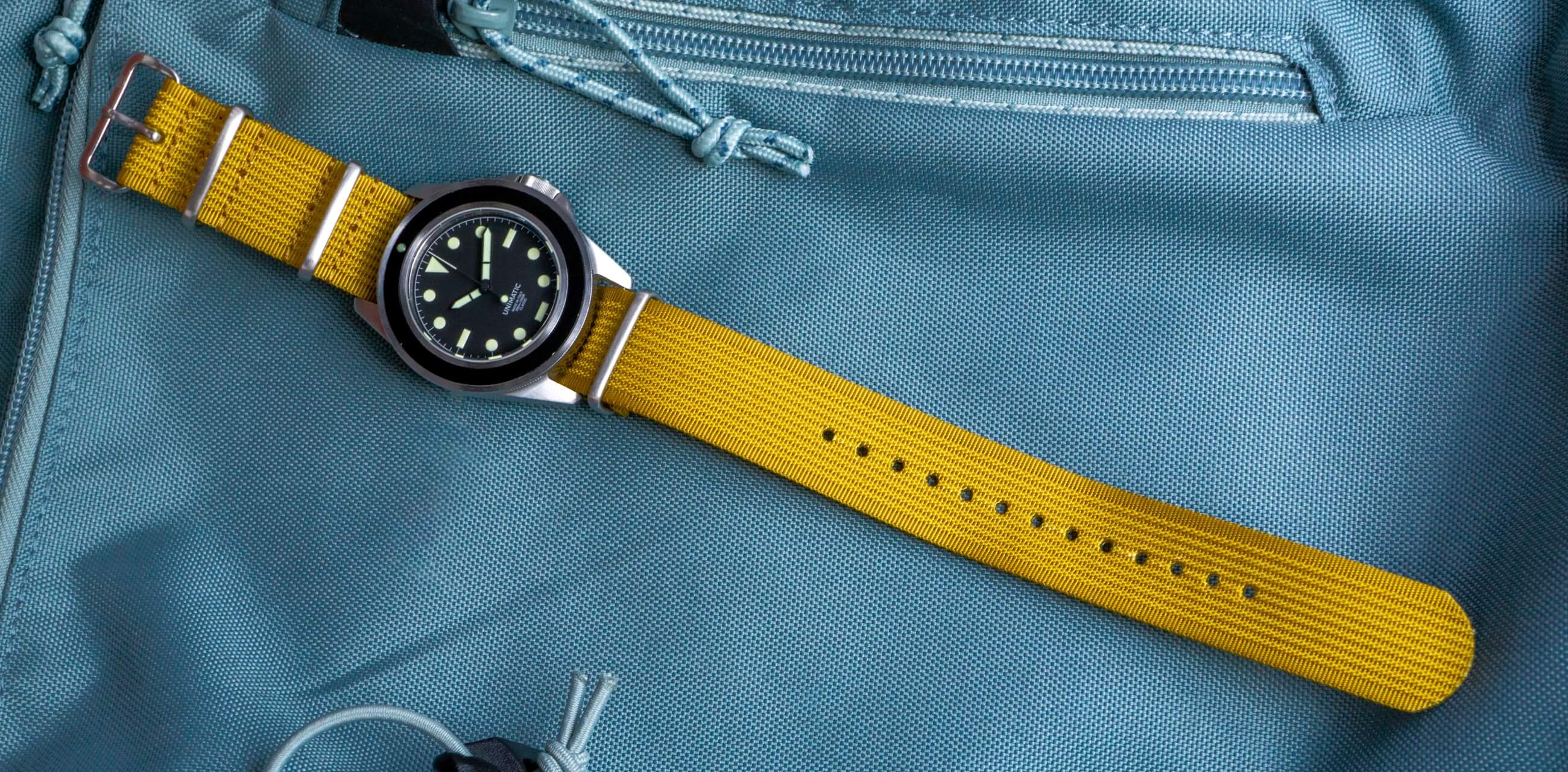 76
Mustard Yellow Ribbed Strap by CNS Watch Bands
StrapHunter rating 76 out of 100
| | |
| --- | --- |
| Quality | |
| Comfort | |
| Design | |
| Durability | |
The verdict: Believe it or not, this mustard color fits a large number of watches, and the styling is excellent, making it really cool. However, for me to recommend this CNS product to everyone, the company must improve the quality of the materials.
What we like?
The mustard yellow color
Solid construction
An interesting ribbed pattern
The strap is not too long
The price, of course
What we don't like?
At first strap was stiff
Damn, strap is still stiff
Full review
Few brands have done as much for the watch community as CNS has been doing. Sofie and her team are constantly investing in new products, colors, and styles. On top of that, they offer super affordable straps with worldwide shipping. Much respect!
One of the colors they launched, which became quite popular, is the so-called mustard yellow. Instagram is full of examples of watches with this color case, just check out the #mustardnatogang hashtag.
It didn't take much convincing for me to get a strap from CNS in this colorway. My choice was a ribbed nylon pass-through band in 22mm.
Technical details
| | |
| --- | --- |
| Brand | CNS Watch Bands |
| Width | 22mm |
| Tapering | Nope |
| Length | 280mm |
| Material | Nylon |
| Buckle | Standard mil-strap buckle; signed |
| Color | Mustard yellow |
| Finishing | Matte / ribbed texture |
Of course, in the CNS catalog, you can find this color in other collections. For example nylon, elastic, single-pass, and other categories. Pick your favorite, order a few straps, and have fun.
Buying from the CNS
There is no need to write much about the CNS. Yes, the company went through several (forced) rebrandings, but it stayed strong and kept going.
The ordering process is simple. The company employs Shopify as its platform, ensuring a seamless checkout experience without any interruptions. I have personally used both Apple Pay and my credit card to complete purchases, and encountered no problems.
The suggestion is to fill up the cart, go over $25 and buy a lot of products. Just be patient when it comes to delivery, it might take some time.
Design and Materials
This is a standard nato-style strap. One with a folded wire buckle, and regular loop keepers. The strap has a second underside piece of nylon. Hardware elements are sewn in. Buckle has a small CSN logo. That's a cool touch.
Nylon material has a ribbed texture. The texture is a bit coarse and rough. Slide your finger across the strap and you will feel the solidity of the material. The quality of the material leans more towards nylon weave than a seat belt or canvas-like options.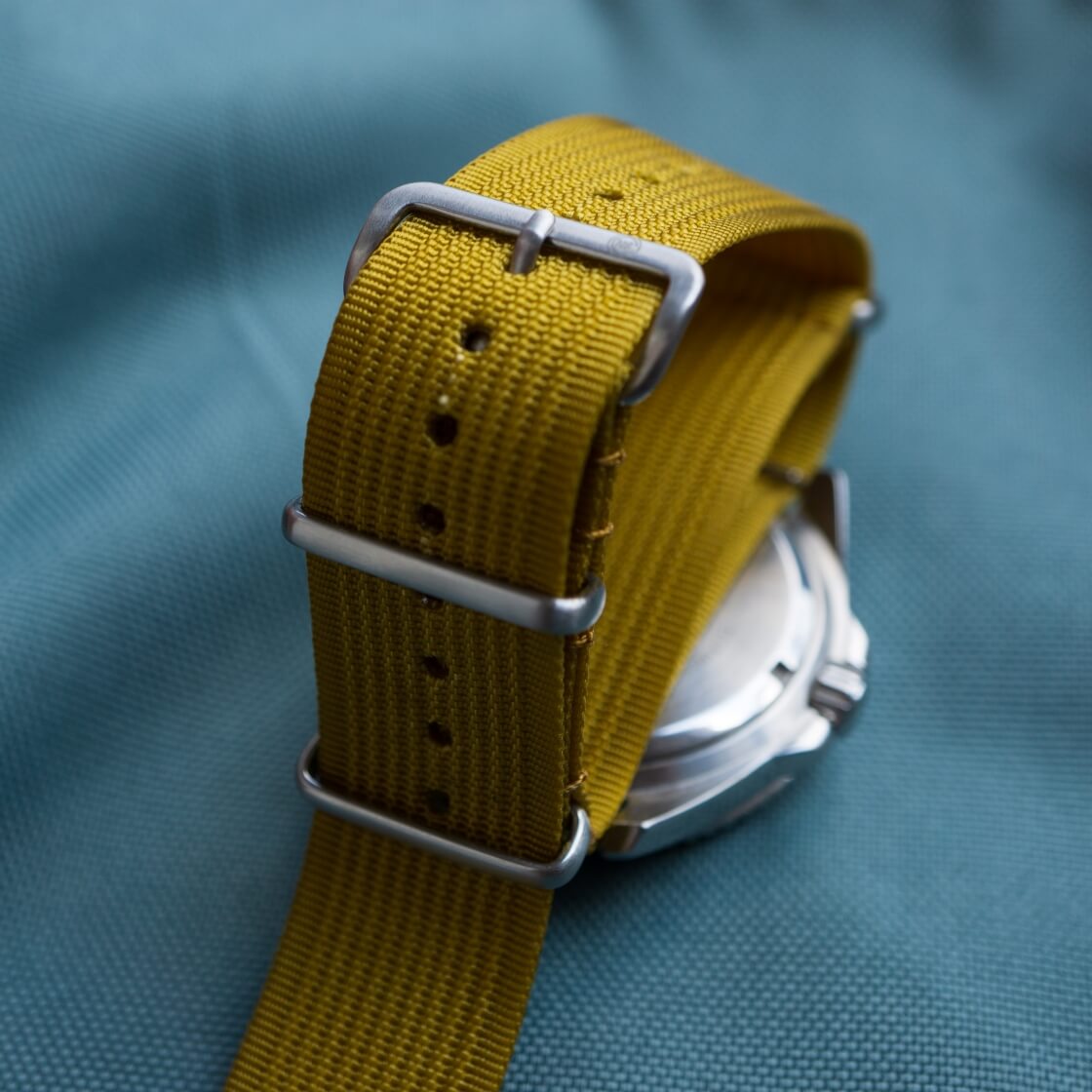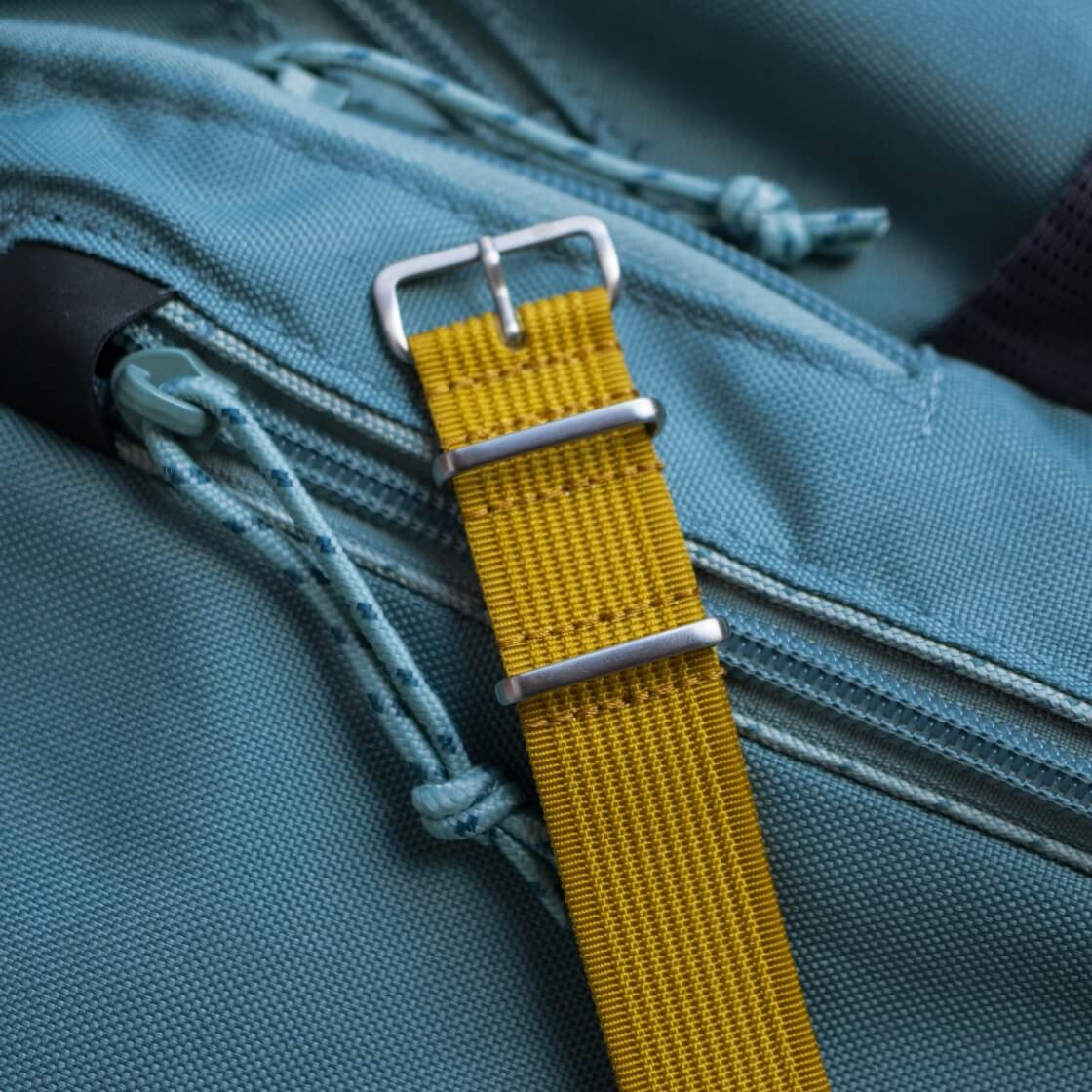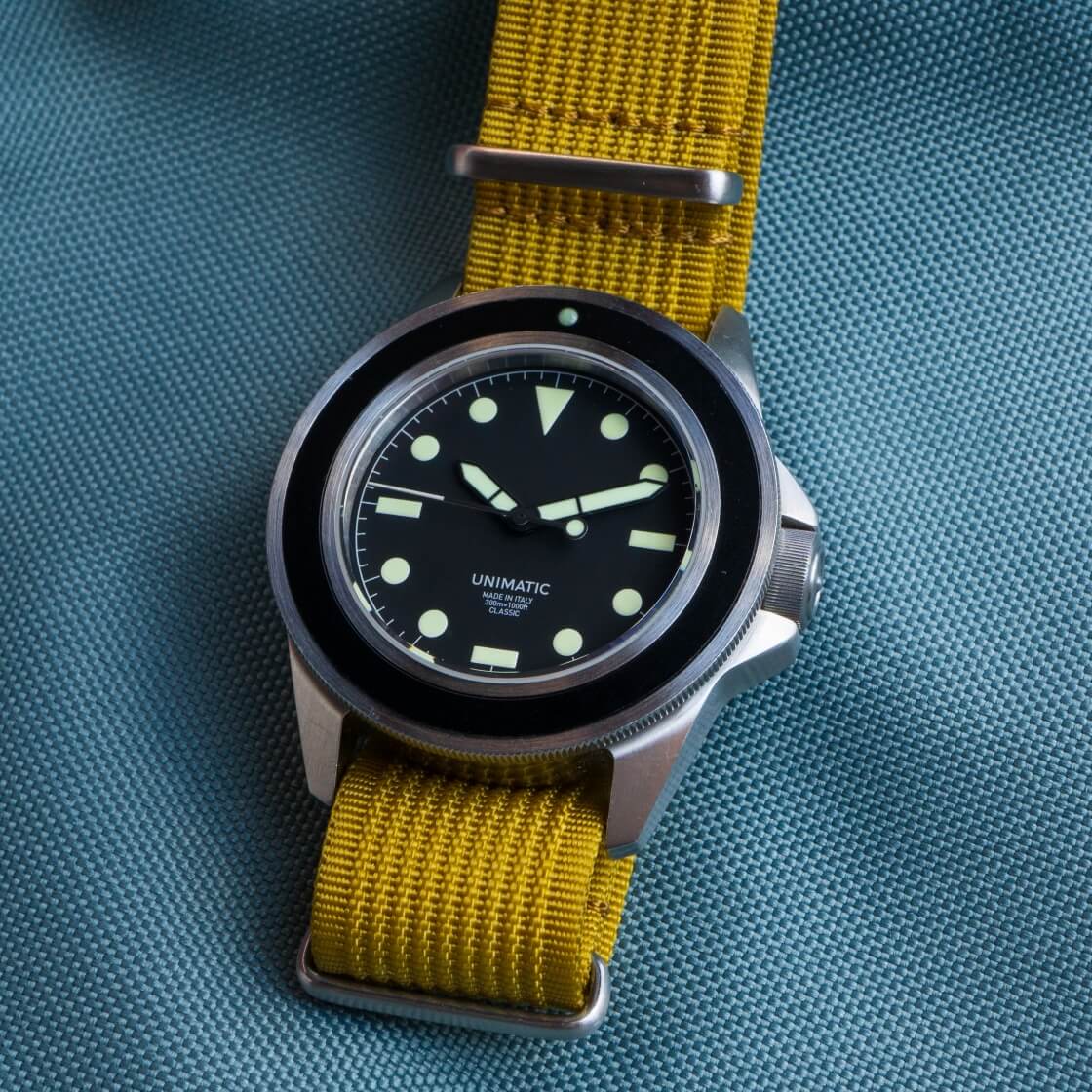 The edges of a strap are heat-sealed. The holes are not reinforced, but truth be told, I had no problem with fraying or holes getting worn out.
Even if a strap starts to fray a light touch of a flame from the lighter would easily solve all the problems.
Good construction, no complaints.
Comfort and Durability
Just as any other nato, this particular one appears to be highly resilient and long-lasting. From my perspective, it is likely to withstand the test of time and serve me for years. I'm sure I won't need to replace it due to wear and tear.
The biggest disappointment of this strap is its discomfort. I really wanted it to wear nicely. Despite my numerous attempts to break it in, I have not been able to achieve a comfortable wearing experience.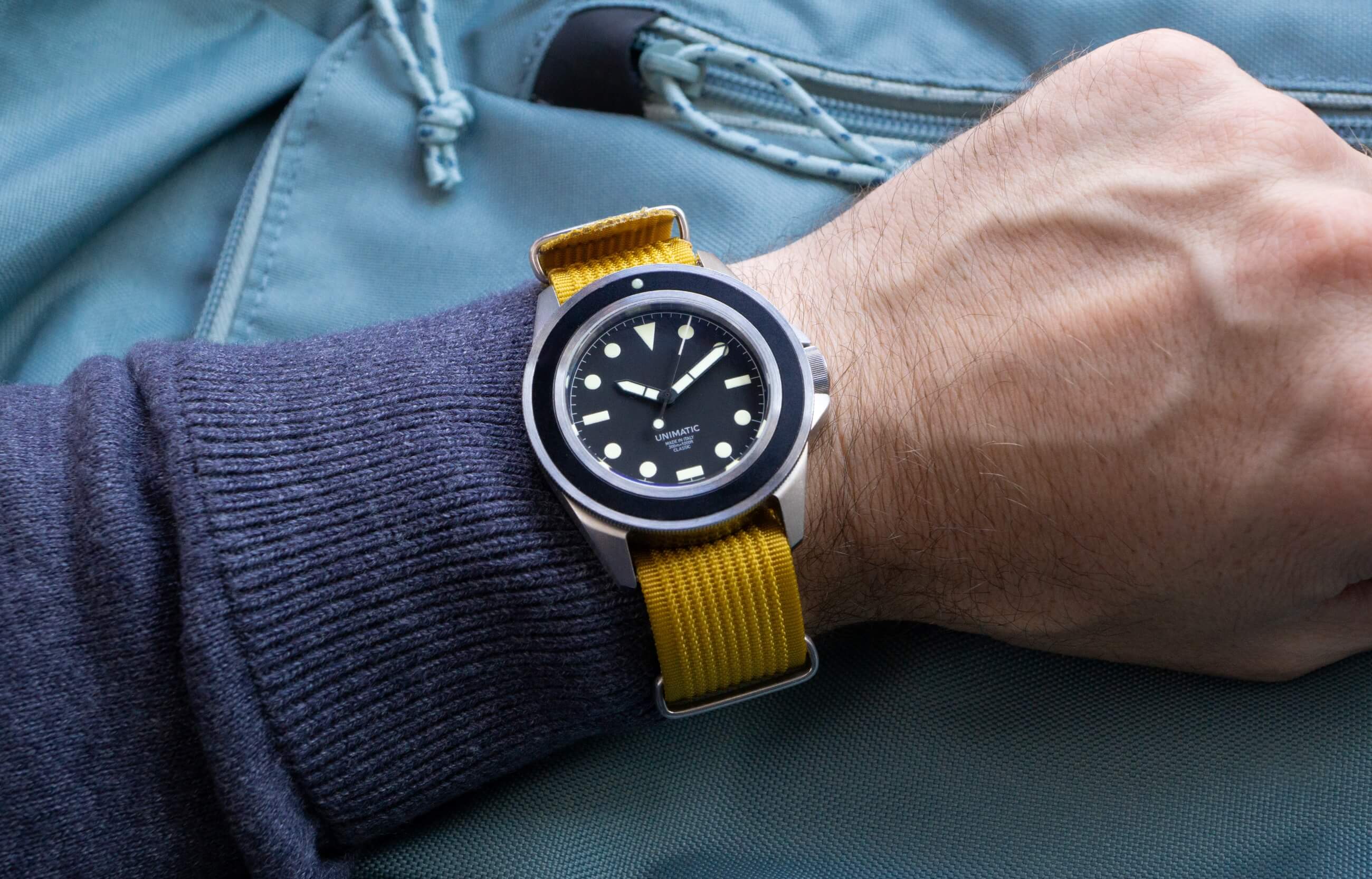 The material of the strap makes it difficult to bend and conform to the wrist. It feels more like I am wearing a nylon bracelet than a usual pass-through watch band.
Of course, when it gets wet, it's a different story. Unfortunately, when the nylon dries, the band becomes unpleasant to wear again.
It's a real shame because it's visually appealing. Luckily, CNS offers mustard in other collections, and I will try to find a more wearable option there.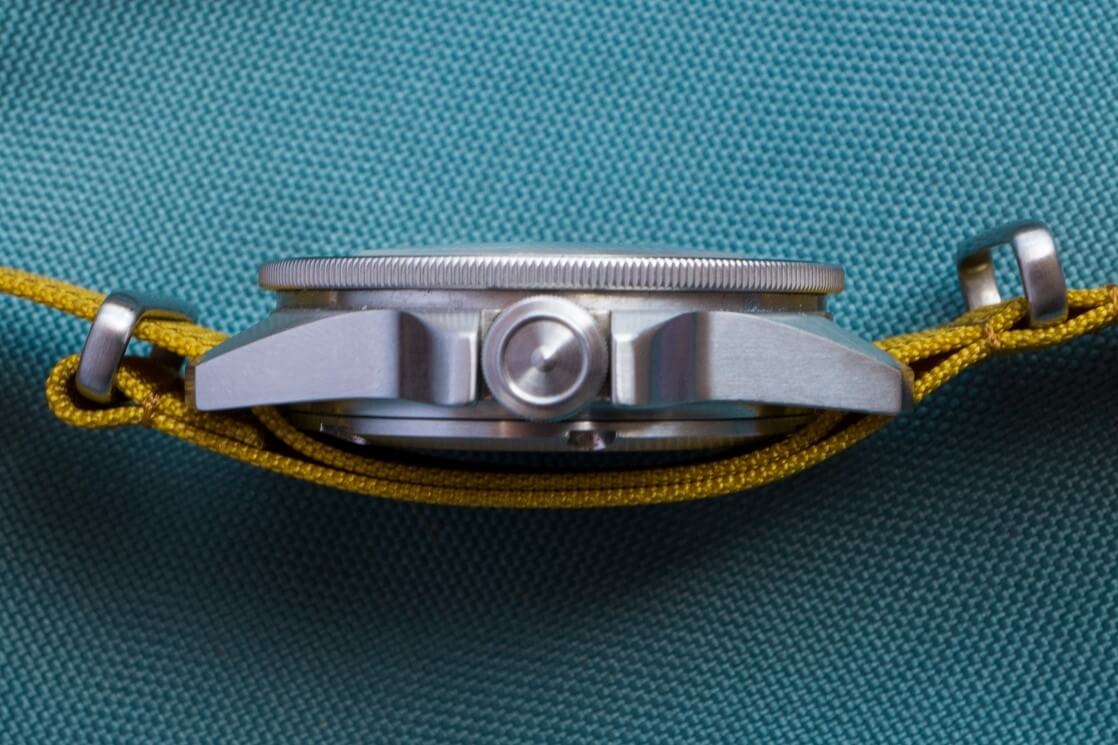 For the record, Jason from the TGN podcast said that his strap broke in after some time, and after a few weeks of wearing it, the strap was comfortable.
Fortunately, I have confidence in Jason, and his experience motivates me to continue wearing the strap.
I will continue to wear it and update this post with my impressions. Here is the current breakdown:
Initial Usage The color of the strap is a famous mustard yellow, and it is quite a rich color. The strap feels sturdy and well-made, but after the first couple of wears, it is still a bit stiff and needs to be broken in.
One month of use There are no visual flaws so far, and it still looks like new. Unfortunately, I haven't managed to find a comfortable fit as the strap is still stiff.
Compatibility and Pairing Recommendation
If you have a watch with a simple black or white dial color, it is recommended to brighten it up with a little bit of mustard color to add some spice to an otherwise monochromatic watch.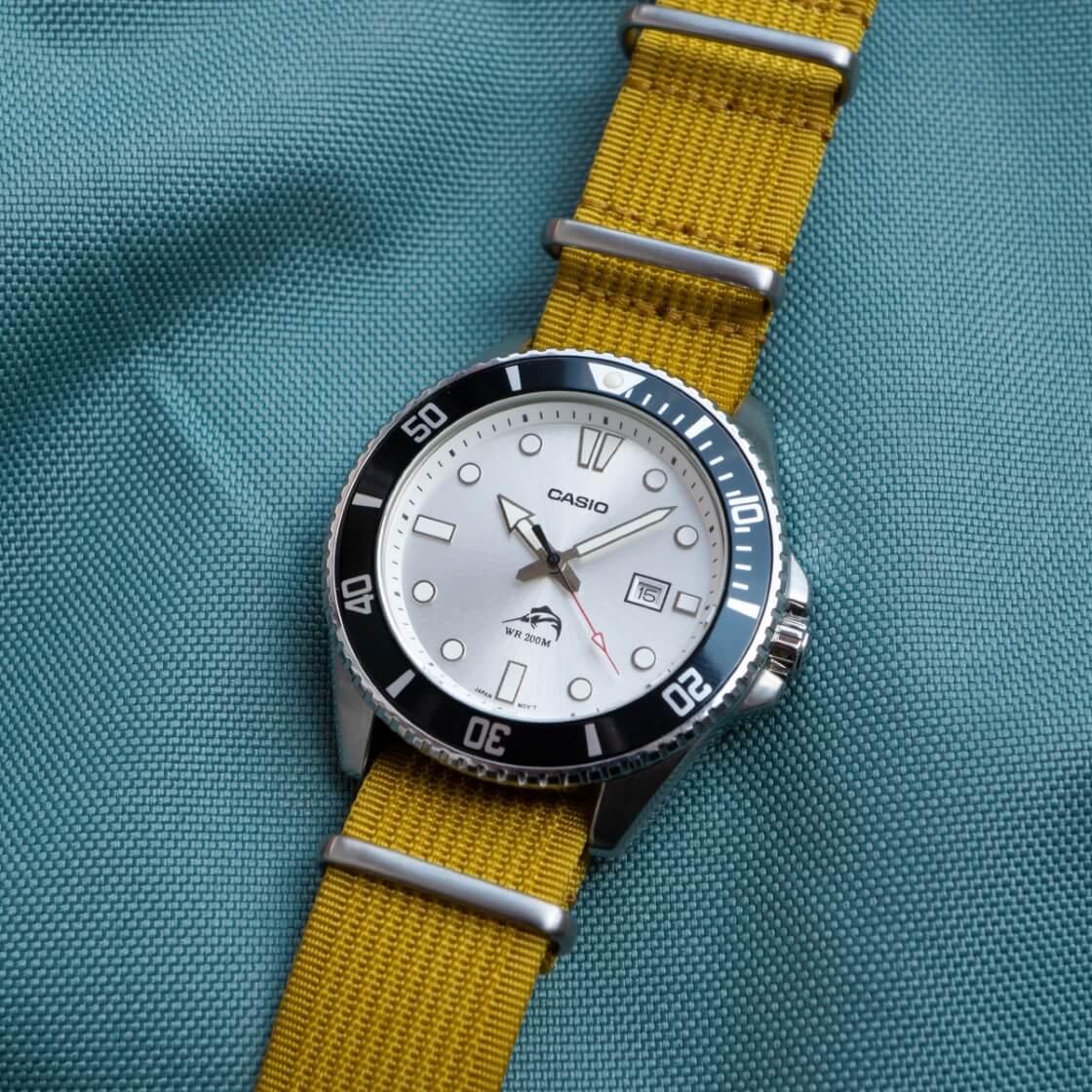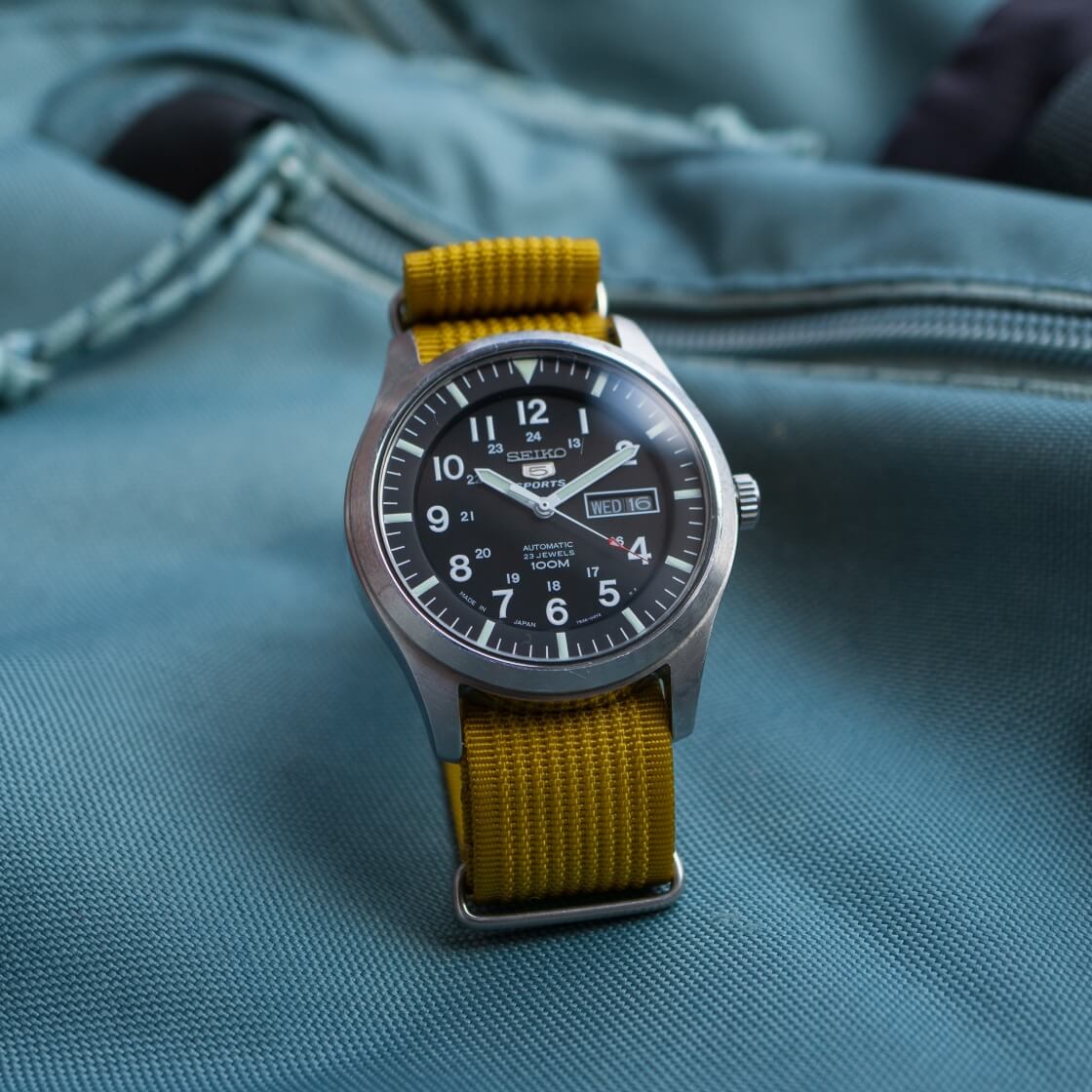 Furthermore, if your watch has yellow or blue elements on the dial or hands, then this strap is a no-brainer. I would love to see how it would look on a Damasko DS30 Yelloe, Omega "Denim dial" Railmaster, or Seiko special edition SPB253.
It's not an everyday strap, but it's great for the weekend and summertime.
Price and Value
The price is below $10, and it is frequently on sale. It is undoubtedly a great value, and you should not worry about the price when it comes to this strap.
Where to buy?
If you're interested in purchasing this watch strap, you can buy it directly from the CNS Watch Bands' website.
Just visit their Ribbed straps category page and pick the size that fits your watch.
Final thoughts
Firstly, I absolutely love the tone of the yellow color. The strap is also built very well, which is always a plus. Another thing that caught my attention is that it's not too long, which is perfect for me.
On the downside, the strap is still a bit stiff, even after some use. So, if you're someone who prioritizes comfort over everything else, you might want to consider that before buying it.
Overall, I think that the mustard yellow watch strap is a solid purchase, especially considering its reasonable price point. It does just enough to brighten up my weekends.
Cheers to the CNS and the #mustardnatogang
76
Mustard Yellow Ribbed Strap by CNS Watch Bands
StrapHunter rating 76 out of 100