Review of the Canvas Strap by Singular Straps
The popular Swedish brand has again succeeded in making a quality bang for your buck option with this two-piece canvas strap.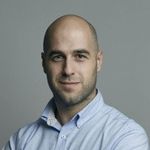 Nenad Pantelic • June 11, 2023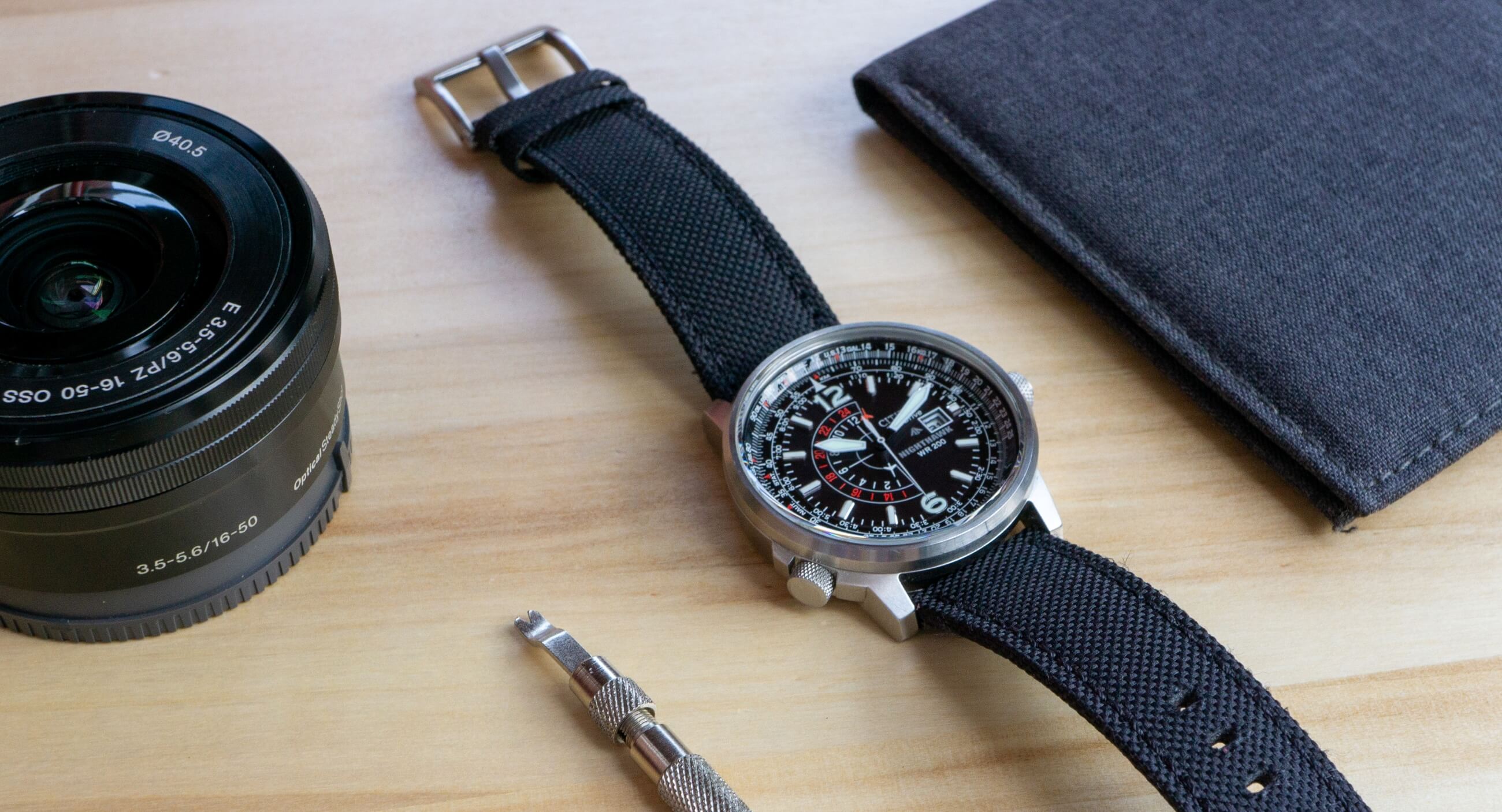 79
Canvas Watch Strap by Singular Straps
StrapHunter rating 79 out of 100
| | |
| --- | --- |
| Quality | |
| Comfort | |
| Design | |
| Durability | |
The verdict: This is a well-constructed and durable canvas strap that fits nicely. However, it does require a short break-in period of a week or two.
What we like?
Quality construction
Soft leather lining
Nice (machine) stitching
Versatility and compatibility
Great price
What we don't like?
Tiny spring bar holes
Buckle can be better
Takes some time to break-in
Full review
After making several successful purchases through the Singular Straps store, I decided to buy a few other types during my next purchase, including a gummi nato strap, a standard nato, and this canvas strap.
I liked the stealth black stitching, so I decided to give it a try. Looking back now, I can say that this canvas strap was one of my better purchases in the sub $40 range.
Let's start with the basics. Here is an overview of the tech specs.
Technical details
| | |
| --- | --- |
| Brand | Singular Straps |
| Width | 22mm |
| Tapering | 2mm (22mm/20mm) |
| Length | 120mm + 75mm |
| Material | Canvas; leather underside |
| Buckle | Standard solid tang buckle |
| Color | Black; black stitching |
| Finishing | Matte / rugged texture |
Apart from black on black, these canvas models come in black with white stitching or grey stitching.
Strap is offered in 18mm, 20mm, 22mm, and 24mm widths.
Few words about Singular Straps
Singular Straps is from Sweden and is one of the largest retailers in this part of Europe. They ship internationally and have a solid selection of various types of watch straps.
I came across them on the WatchUSeek forum, where they were praised for their nato-style straps.
Feel free to order from them. The ordering process is straightforward. They have a standard Shopify store, and you will easily navigate through all the ordering steps, although the store is in the Swedish language only.
Mikael, the owner, is super responsive and helpful. Overall, it is a really solid shopping experience.
Design and Materials
When it comes to design and style, this is a very versatile strap. It has a rich black color, and a fully stitched construction. The stitching is black. Because of that monochromatic appearance, the strap does not stand out and allows the watch to be the main star.
The texture has a rugged feel that I really like. Additionally, the underside of the strap is lined with thin black leather.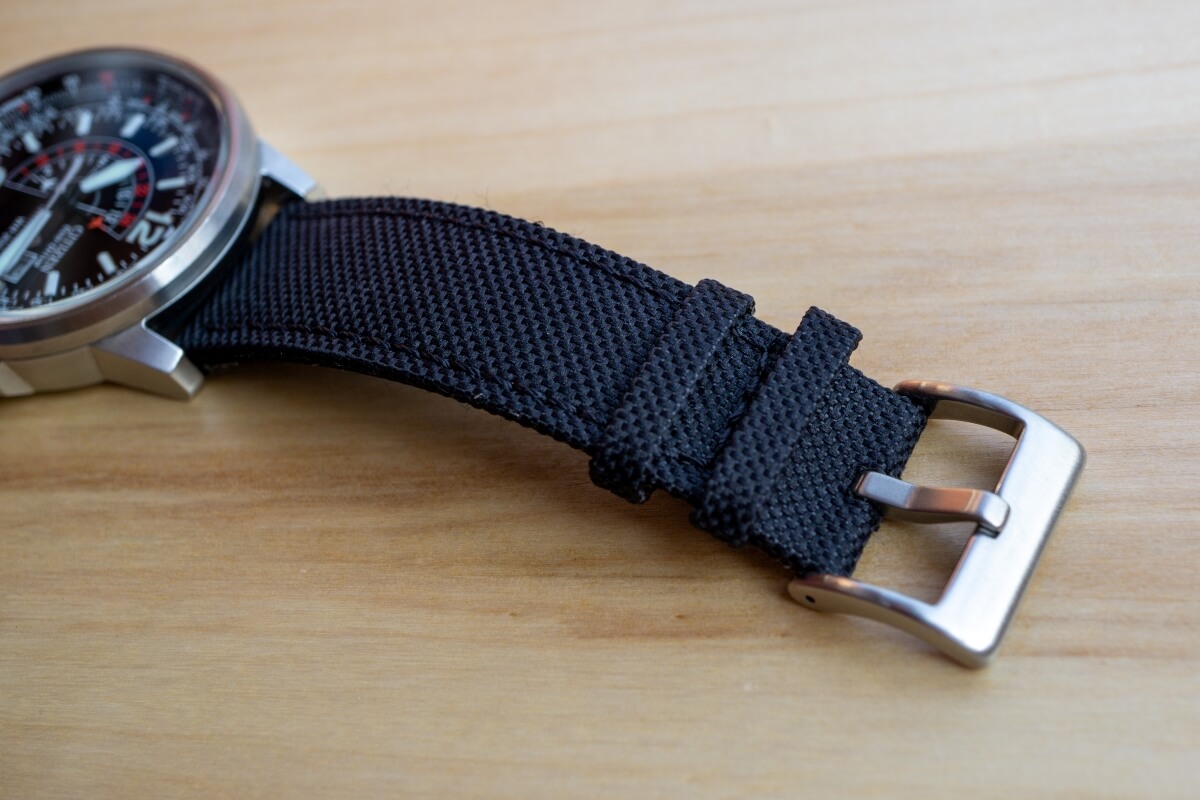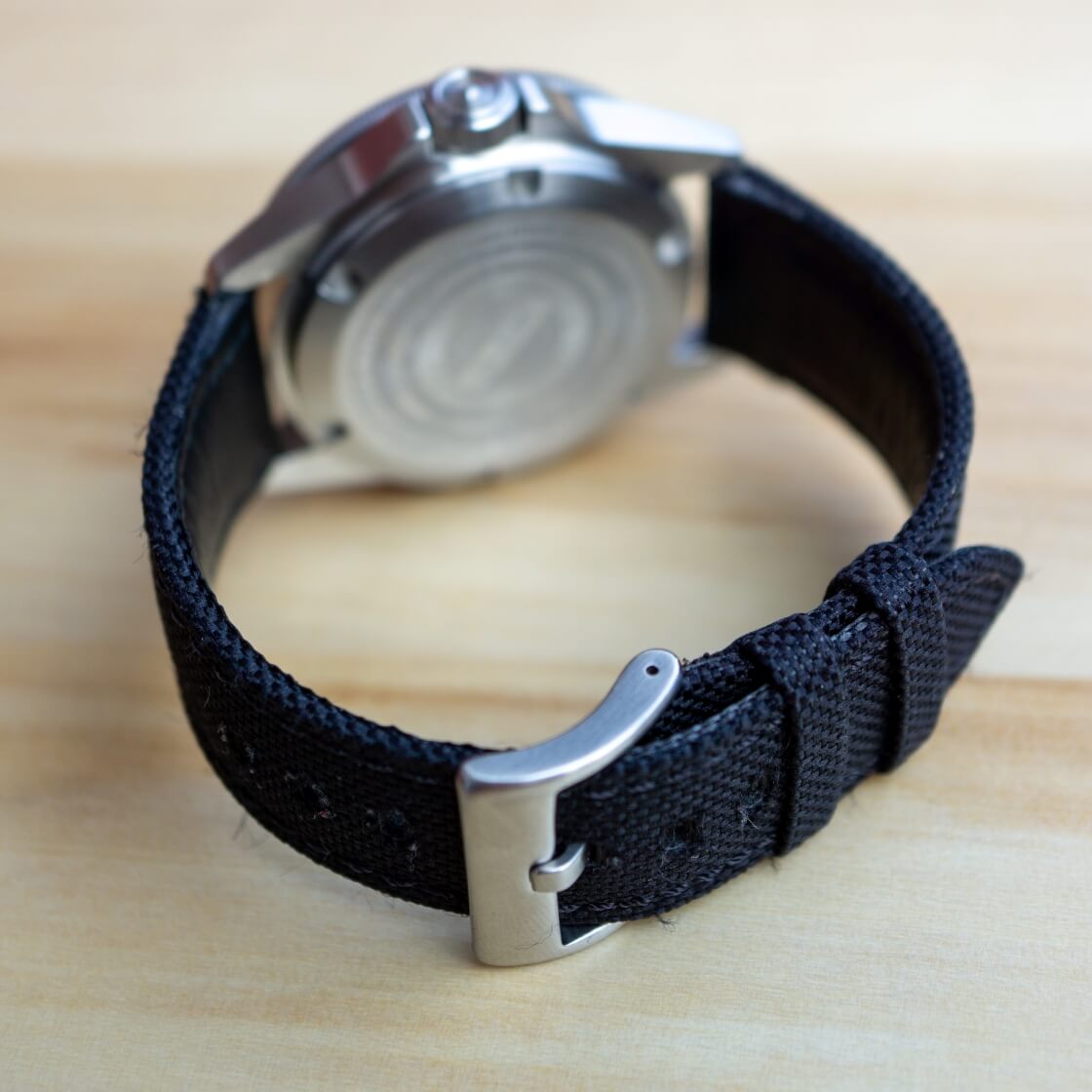 The holes are not reinforced, but even after a few months of use, they have not frayed.
The tapering goes from 22mm to 20mm.
One of the disadvantages is the buckle. The buckle has a flat underside and therefore creates bulk. I prefer buckles that have an inset slot to receive the strap because then everything packs a bit flatter.
Note: All the photos of a strap in this review are not with the original buckle, but with the one I sourced and put on myself.
Another downside of the strap is the very thin holes for the spring bars. Standard ones barely fit, and it's impossible to use fat spring bars. I don't mind that the strap lacks quick-release bars, but some enthusiasts might consider it a downside.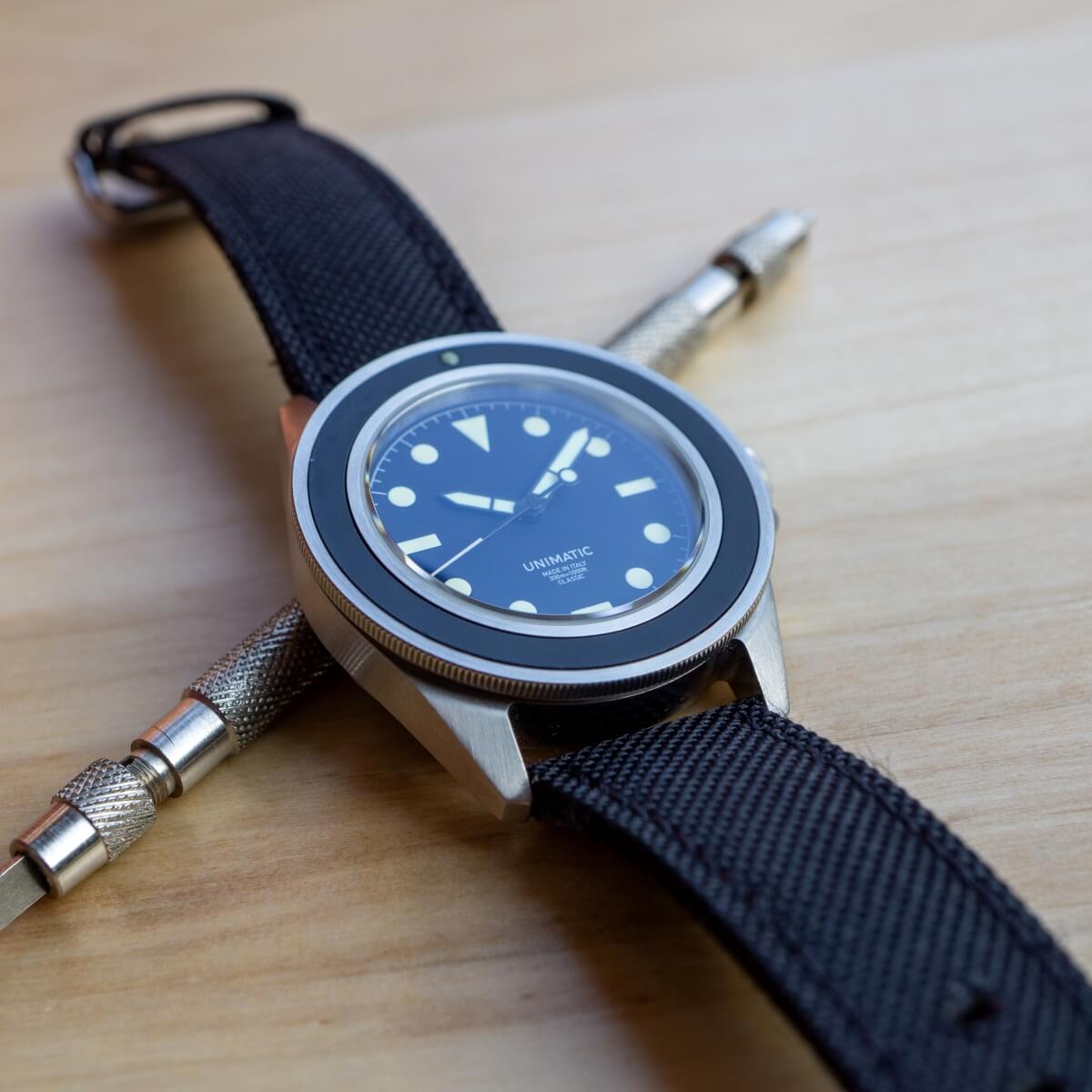 All things considered, this is not a piece of folded and stitched fabric, but a very high-quality strap with solid construction.
Comfort and Durability
After a few months of use, the strap fits perfectly. Of course, it didn't take months to break in, but a few weeks of wear did the trick.
At first wear, the feeling was not great, but that is normal for fully stitched canvas straps. After a few wears, the strap "memorized" the shape of my wrist, and since then it has been great. Today, this canvas strap fits me perfectly and is very comfortable.
The watch stays firmly in one position on the wrist, without any flopping. This is partly helped by the grippy leather lining.
One thing to note is to be careful if you sweat a lot, as the leather lining will absorb sweat and can become smelly. Don't ask me how I know.
As for durability, it has held up quite well. All the pictures you see are current, and they were taken after a couple of months of use.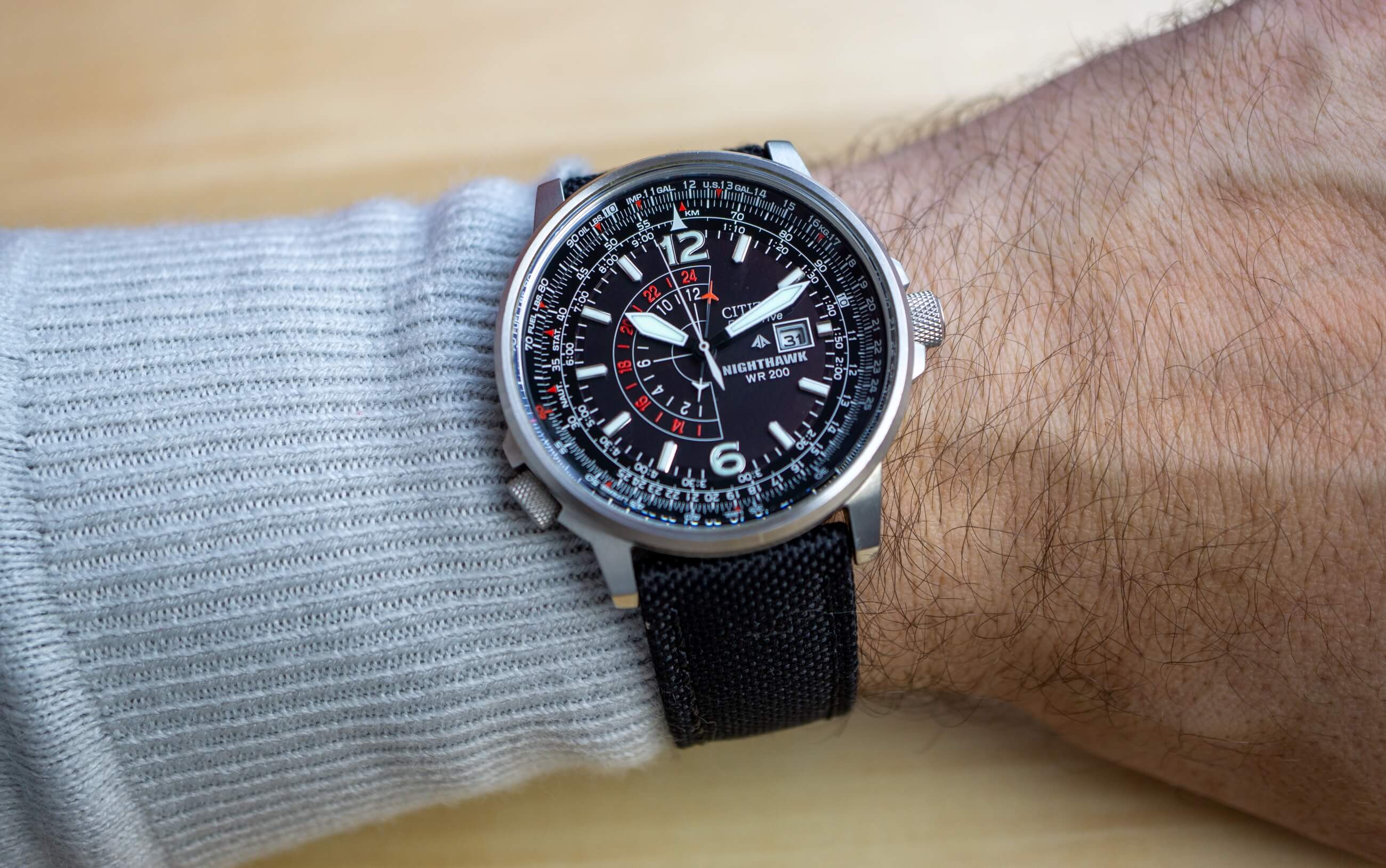 The holes have not frayed, and there is no indication that this will happen.
The only noticeable change is slight discoloration on the side of the strap, as if the edge has been exposed and is fading. Honestly, all things normal for a prolonged use.
Initial Usage The color is a rich black and the strap feels sturdy and well-made. After the first couple of wears, the strap straightened out when I took the watch off. It needed to be broken in.
Two months of use The color has stayed the same deep black and the stitching has held up well. The buckle holes are not loose. Now, this canvas strap fits me perfectly and is very comfortable. When I take the watch off, the strap has a slight bend, indicating that it is fully broken in.
Compatibility and Pairing Recommendation
Due to its monochromatic appearance, this is a universal strap that can fit most watches. I can't see a modern watch that couldn't be paired with this strap. Maybe avoid putting this canvas strap on ultra-thin dress watches with polished cases since the whole package wouldn't be visually appealing.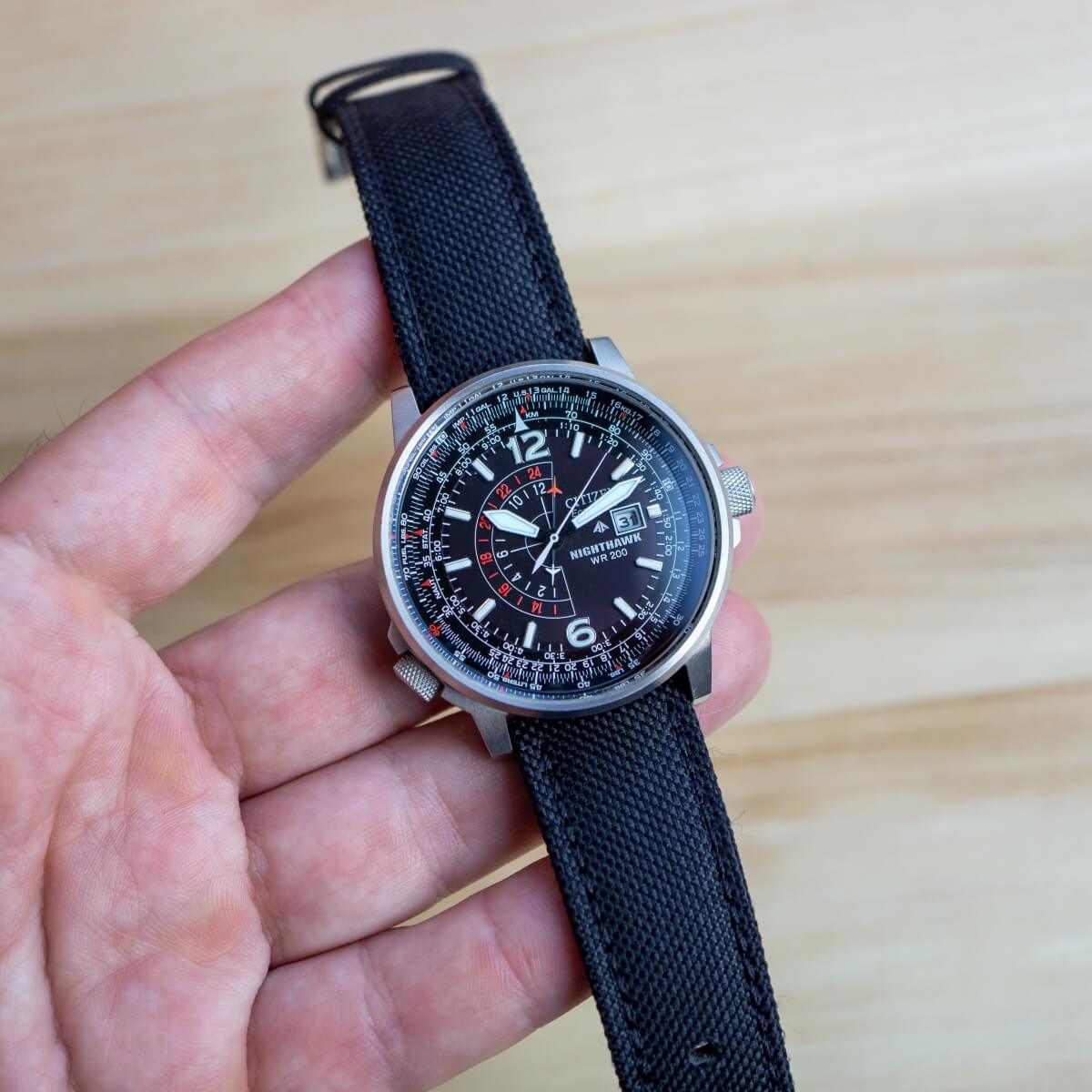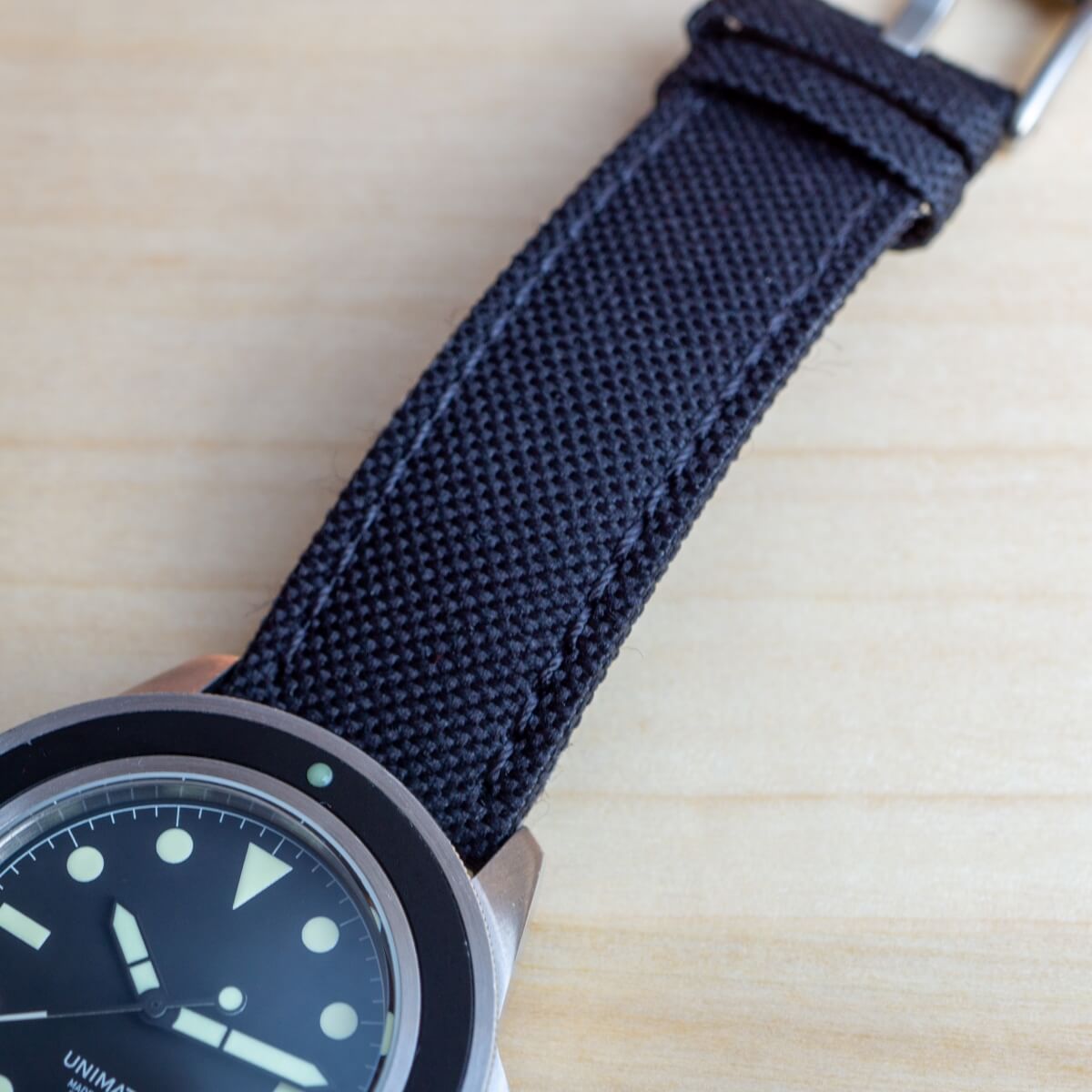 Of course, I would not recommend using it in a wet environment, so forget about diving with this strap.
Price and Value
The price of the product is 200 Swedish kronor, which is around $20, €18, or £16. At this price point, it offers fantastic value, and I can attest to this, especially after seeing how durable it is in use.
Even in a stronger rotation, I believe it will last for a long time.
Highly recommended.
Where to buy?
If you're interested in purchasing this watch strap, you can buy it directly from the Singular Straps' website.
Simply visit their Canvas category page. From there, you can select the size and color you want.
Closing words
Something that started as a casual purchase to fill the shopping cart over time has become a favorite product in the canvas straps category.
Let's make this clear - this is not a premium product, but it offers a lot of value. It fits superbly, withstands heavy rotation, and can suit most watches.
79
Canvas Watch Strap by Singular Straps
StrapHunter rating 79 out of 100