Review: Perlon Strap 2.0 by CNS Watch Bands
CNS is the king of variety on a budget. So, how do their upgraded adjustable perlon straps stack up? Spoiler alert: they are great!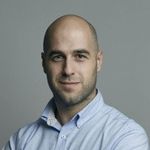 Nenad Pantelic • June 11, 2023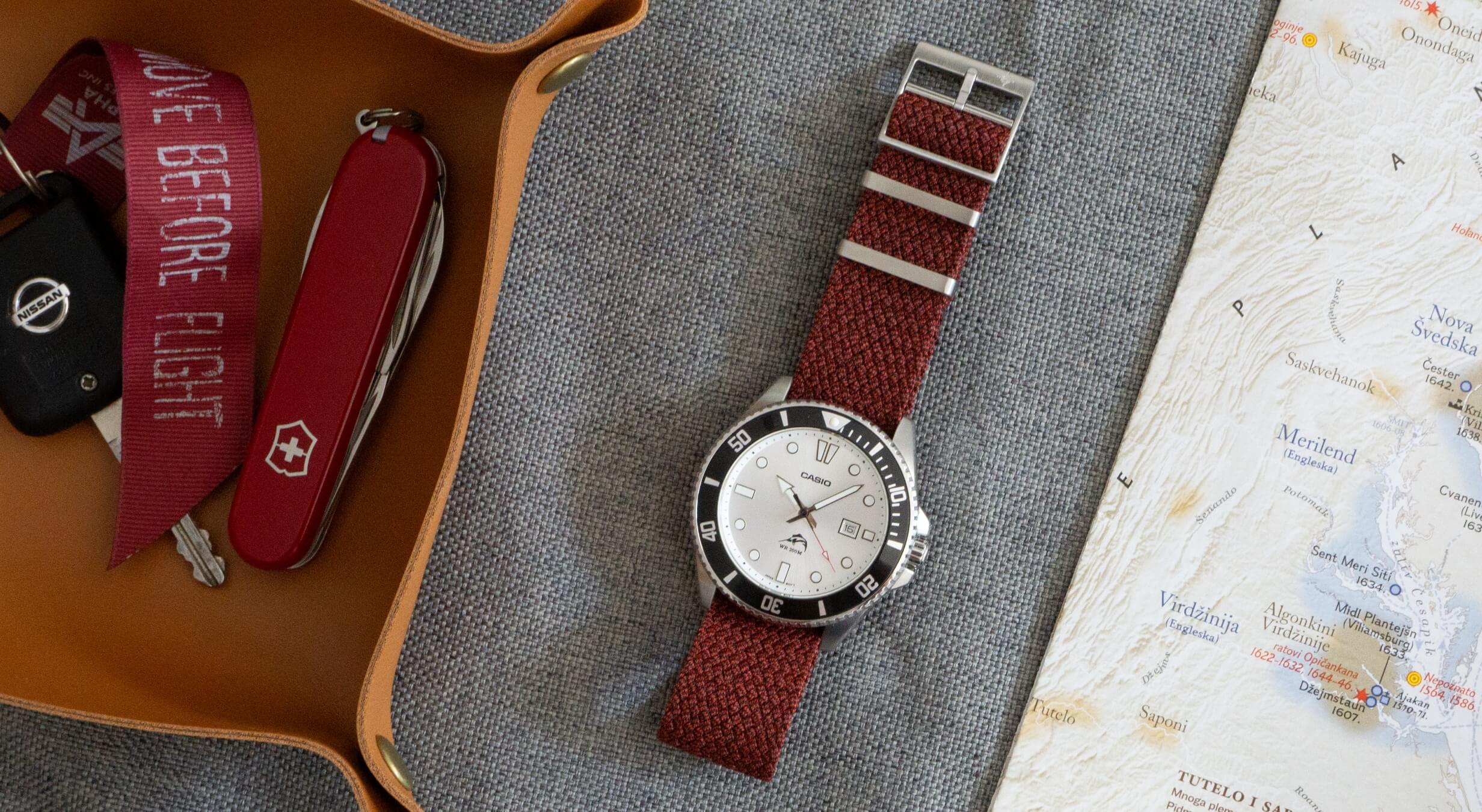 80
Perlon Strap 2.0 by CNS Watch Band
StrapHunter rating 80 out of 100
| | |
| --- | --- |
| Quality | |
| Comfort | |
| Design | |
| Durability | |
The verdict: This perlon strap ticks all the boxes: well-constructed, looks nice, comfortable to wear, and super affordable. Grab a few while you can.
What we like?
Almost perfect adjustability
No break-in period required
It's not too long
Comfort
Upgraded hardware compared to regular perlons
Full review
Summer is the perfect season to get into the perlon straps. These straps are lightweight, very comfortable and breathable. All the features we need during the warm weather. They also come in a wide array of vibrant colors, allowing for versatile styling options as the temperatures soar
I wore standard perlons for quite some time, but one day I discovered CNS Watch Bands offering an upgraded version with better hardware.
I purchased a burgundy-colored perlon 2.0 from the CNS, and I am excited to showcase its specifications and the full review.
Technical details
| | |
| --- | --- |
| Brand | CNS Watch Bands |
| Width | 22mm |
| Tapering | None |
| Length | 280mm |
| Material | Braided nylon |
| Buckle | Brushed stainless steel |
| Keepers | Stainless steel |
| Color | Burgundy red / Rust |
| Finishing | Matte |
The Perlon 2.0 is available in various dimensions, including 18mm, 19mm, 20mm, and 22mm. Also, there are many colors to choose from: navy, green, grey, black and more.
Design and Materials
This Perlon 2.0 strap is made from braided nylon, measuring only 1mm in thickness. To prevent fraying, the edges are heat treated and then glued with a thin protective layer. The material is woven densely.
The length is 280mm and in my case I don't have too much excess material that would otherwise tuck back in, as with regular natos.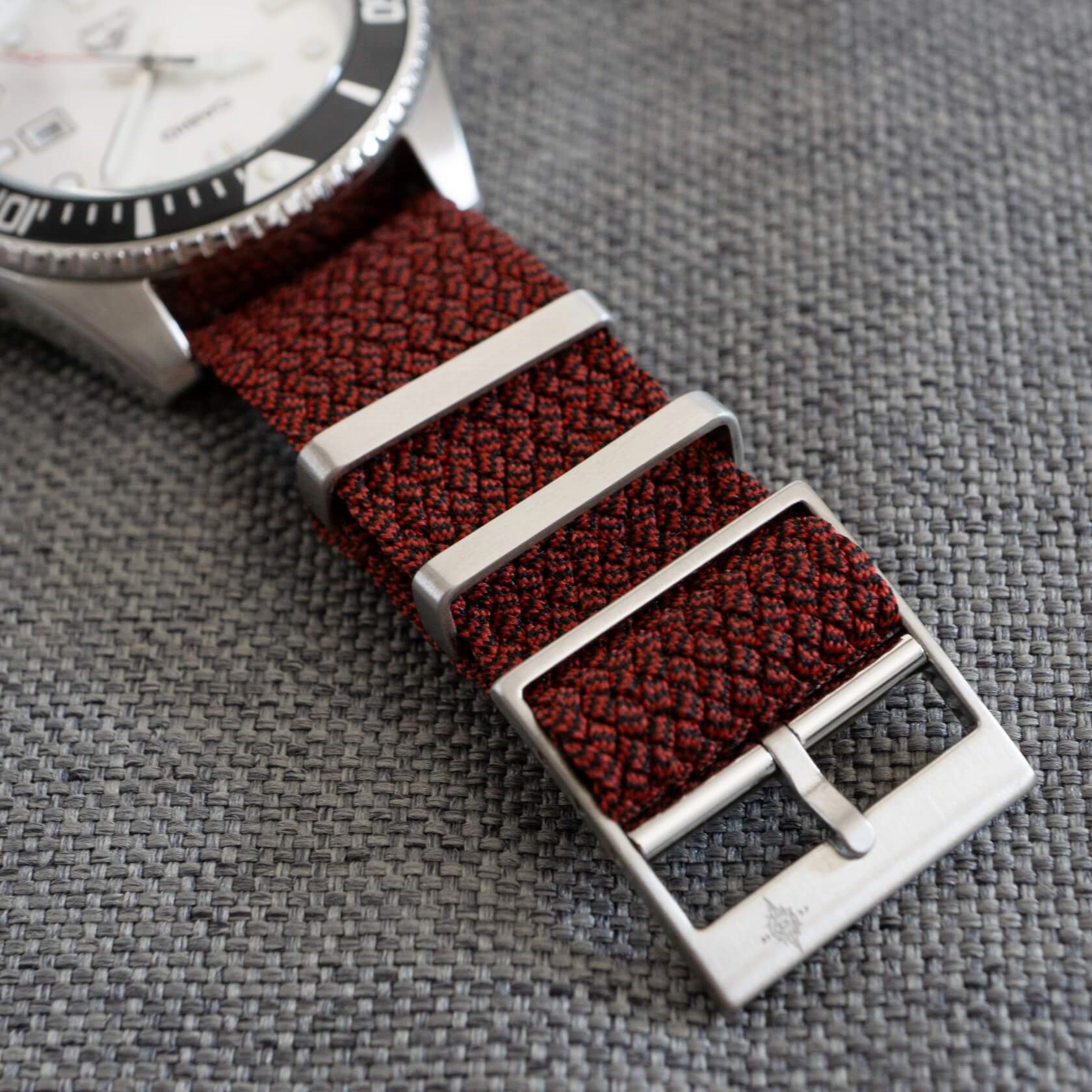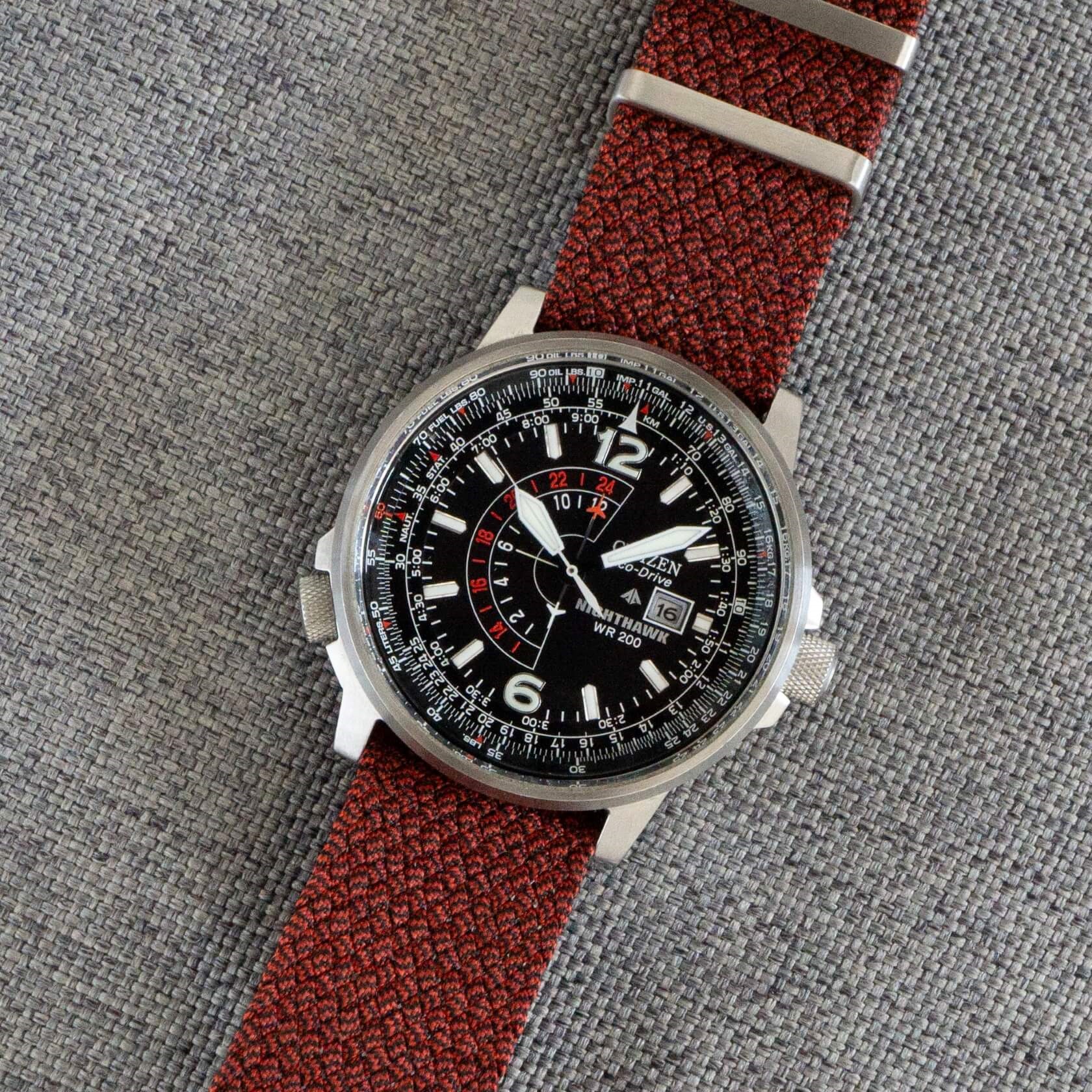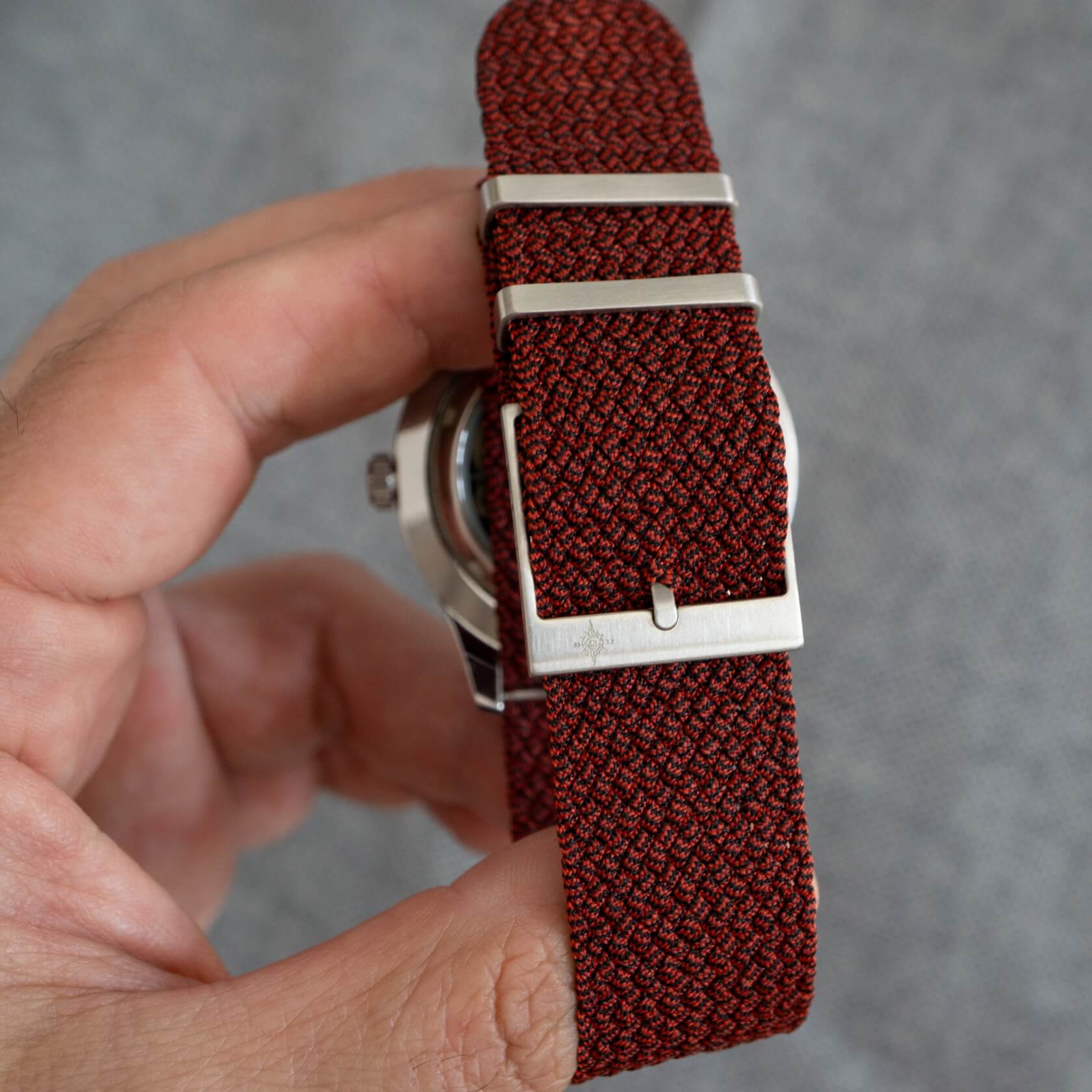 The keepers are made entirely of metal, which is a departure from the usual nylon keepers found in most perlons. The buckle is a solid stainless steel piece with a design that allows for easy adjustability. Something similar to the Crown and Buckle's Chevron straps.
Overall, the construction is good.
A minor drawback is that the buckle lacks curvature when viewed from the side. A curved design would enhance comfort by conforming to the contour of the wrist.
Comfort and Durability
This perlon gets the high scores in the comfort segment. Material is lightweight, it bends easily, and it is not difficult to nail the perfect fit.
The strap does not have a set of predefined holes, bit you simply thread a buckle pin through the gap between the nylon braids.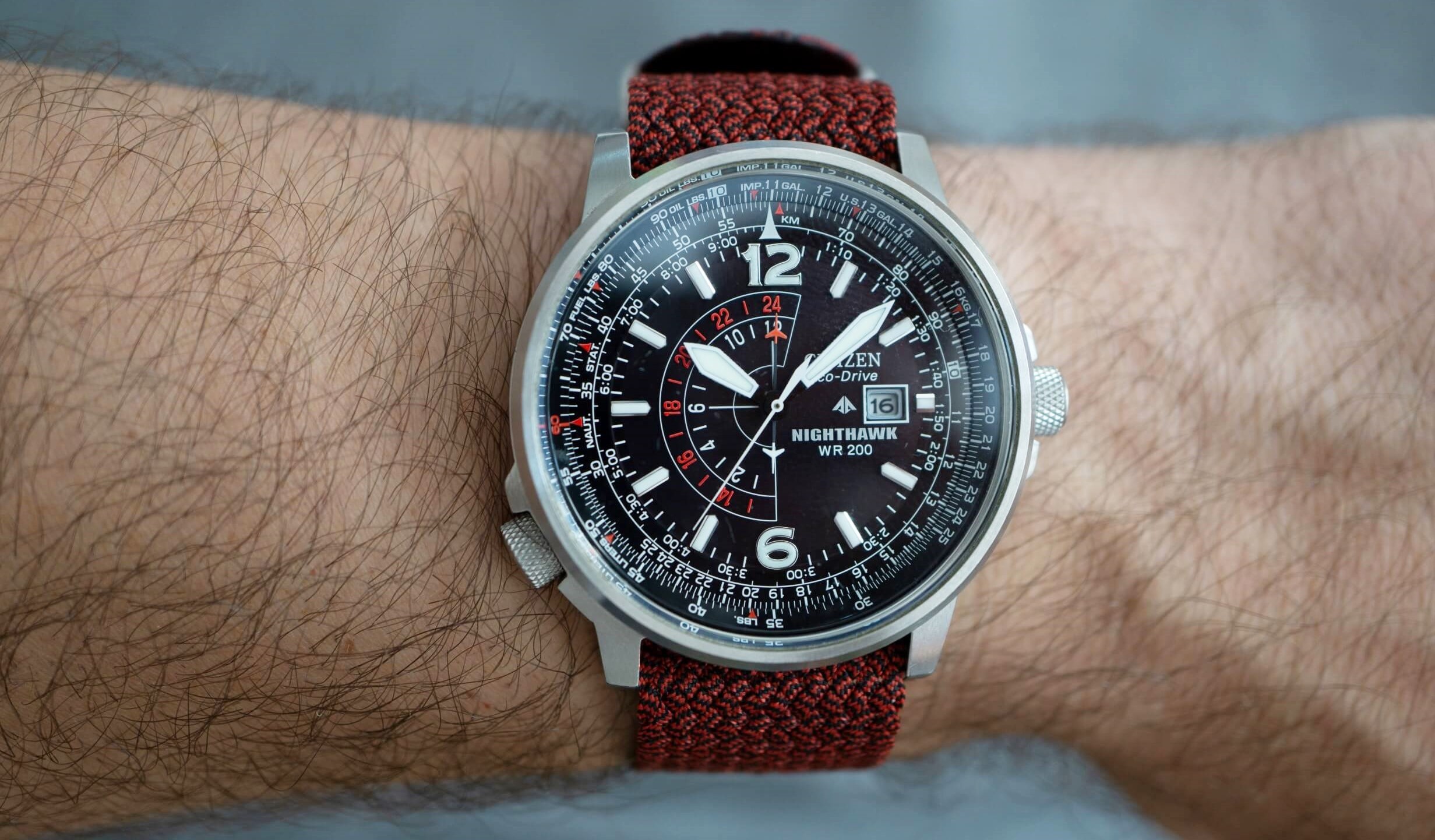 I only had this strap for two months and so far it hadn't shown any signs of tear or fraying.
I wore it ob a particularly hot day and I was sweating, but sweet didn't discolor the strap. So far it is durable and in pristine condition.
Initial Usage The strap is easy to adjust and put on. It is very enjoyable to wear it because it's comfortable and lightweight.
Two months of use I cannot see any visual flaws. I sparingly used the strap, and it is still as new. Although I wore it during the hot days, the color hasn't faded.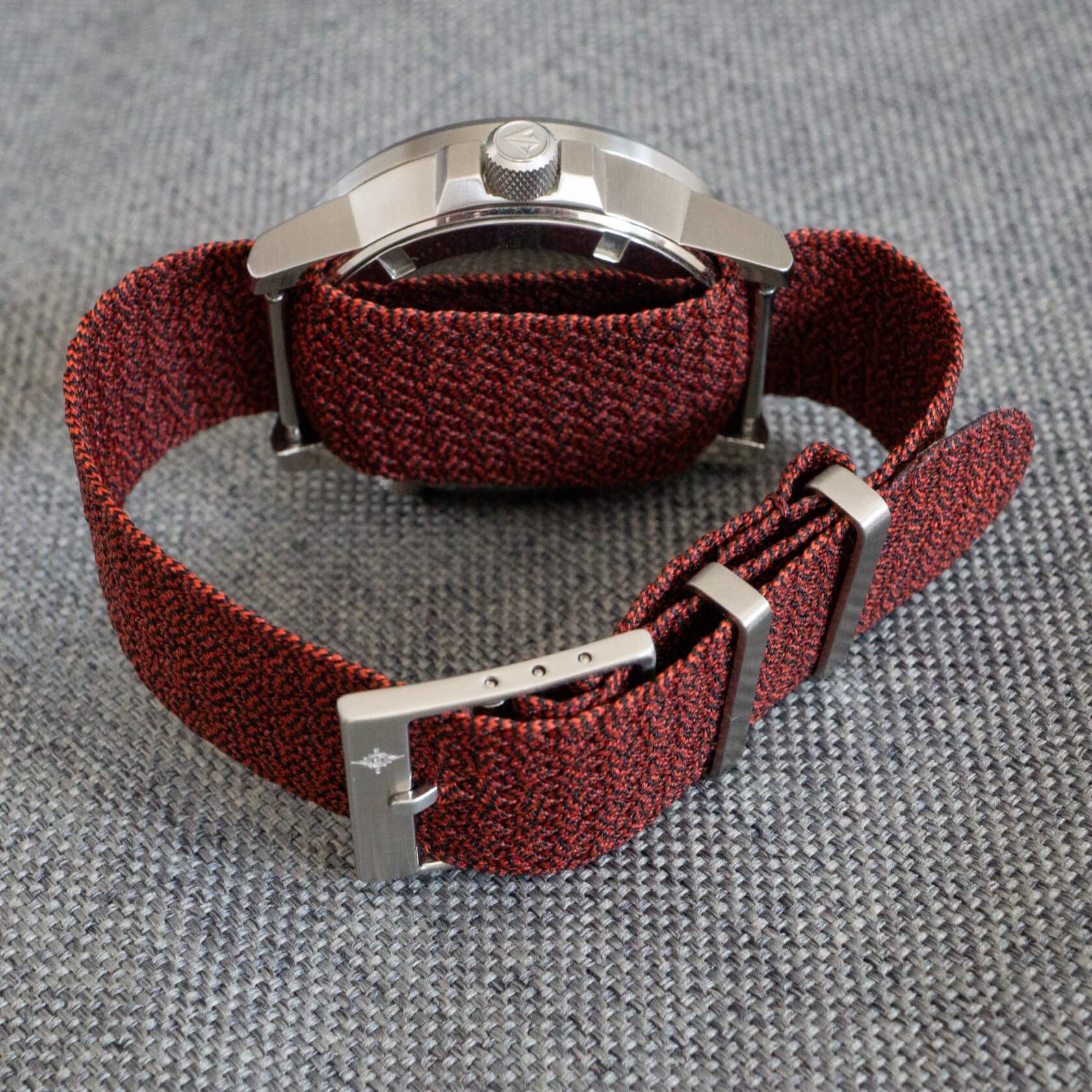 Compatibility and Pairing Recommendation
Surprisingly this is a very versatile strap. Although nato straps do not pair well with dress and vintage watches, this perlon can be used with them.
I tried the field Seiko watch and the setup was completely comfortable.
The only watches with which this perlon might have issues are top-heavy, large divers, or pilot watches. The material is thin and might not be able to support the overall weight of a watch.
As for colors, my recommendation is to relax and try bold and punchy colors. Red, yellow, green, purple, azzuro blue... are ideal perlon colors for the summer.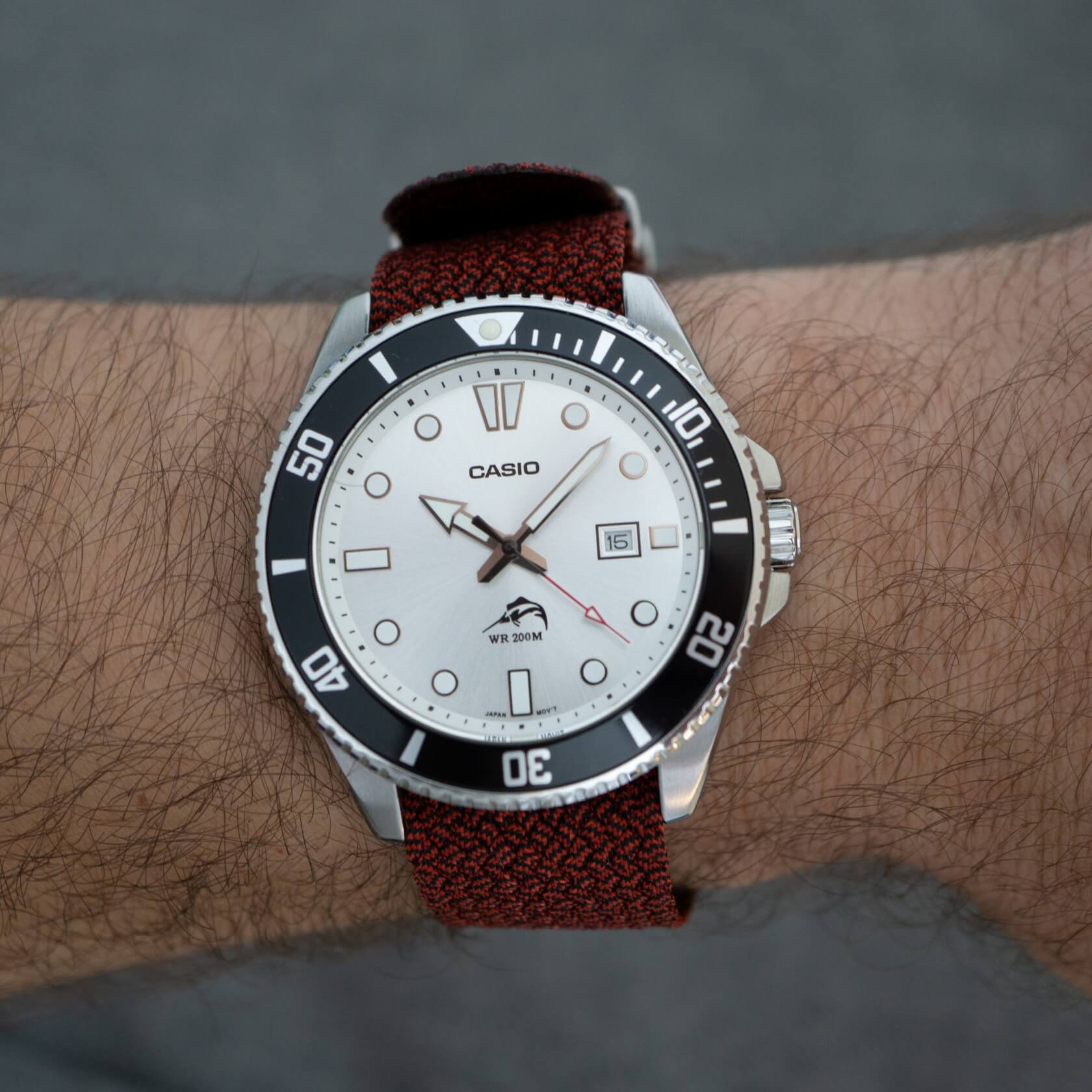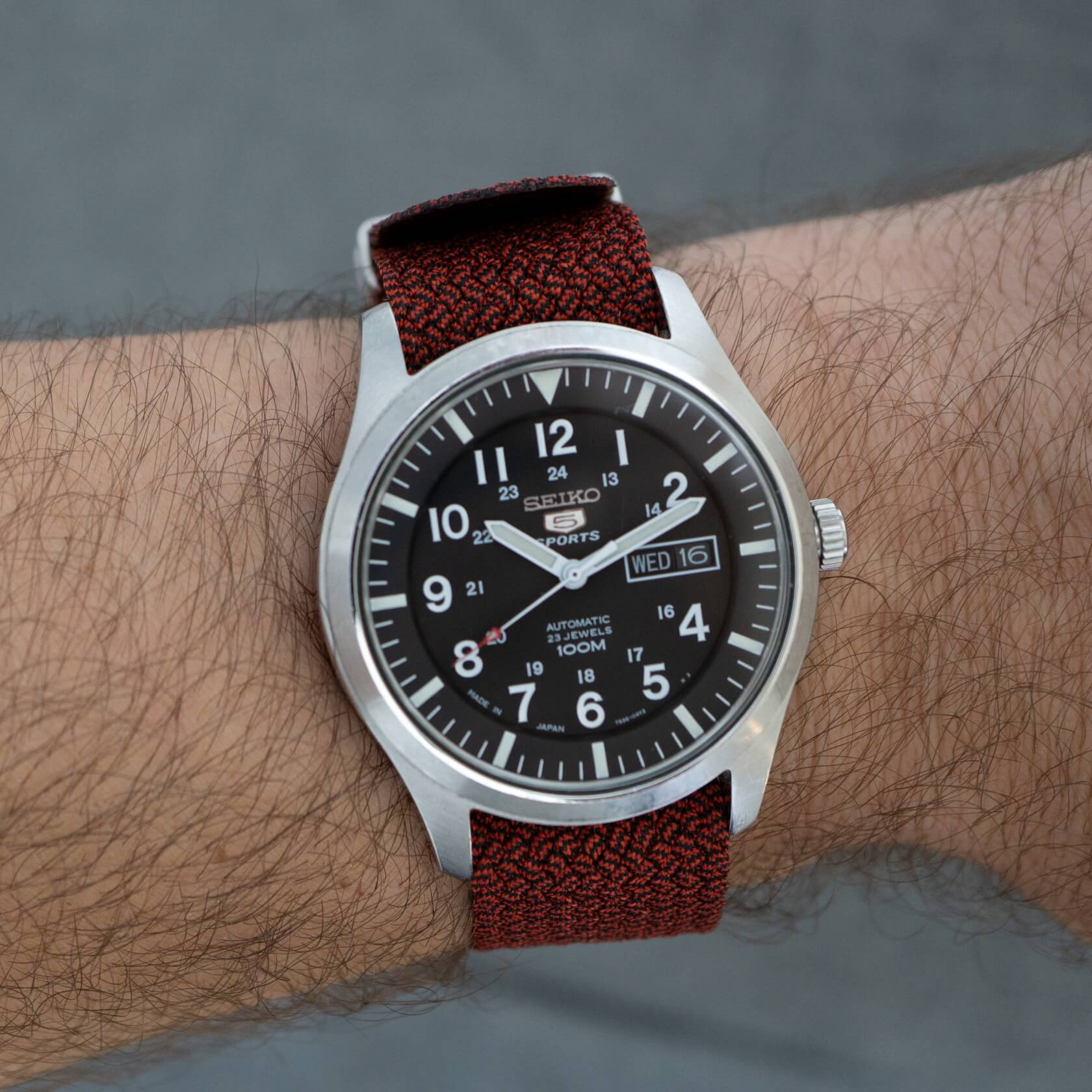 Price and Value
This product has for a long time remained undiscounted on the CNS site for several months, holding a steady regular price of $12.95.
But, as I write this review, the Perlon strap 2.0 is currently on sale for the price of $7.95.
Both price points are highly affordable, and I recommend purchasing this strap.
Perlon straps are typically considered seasonal items, but I am confident that with proper rotation alongside other straps, it will serve you well for many years to come.
To answer the initial question: The value is there.
Where to buy?
Simply go to the CNS perlon 2.0 category page and select the color and size you need.
Buying through CNS is straightforward. No hiccups. If you spend over $25 then you get free standard worldwide shipping.
Final thoughts
The modest perlon often goes unnoticed, overshadowed by leather's style and nato's durability. But, it really does have few advantages. It is breathable, lightweight, and most importantly, it's incredibly enjoyable. Treat yourself with few of them, and they will undoubtedly bring you satisfaction.
80
Perlon Strap 2.0 by CNS Watch Band
StrapHunter rating 80 out of 100