Review of the SPV 1.5 Velcro Strap by GasGasBones
In recent times, there has been an increased popularity of velcro and other hook-and-loop straps. From the Tudor FXD to the original Moonswatch, a large number of watch people was introduced to this type of a strap. But before all of them, there is one brand that was a true innovator and leader: GasGasBones. This review showcases their legendary SPV model.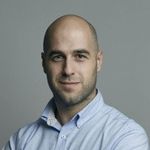 Nenad Pantelic • September 20, 2023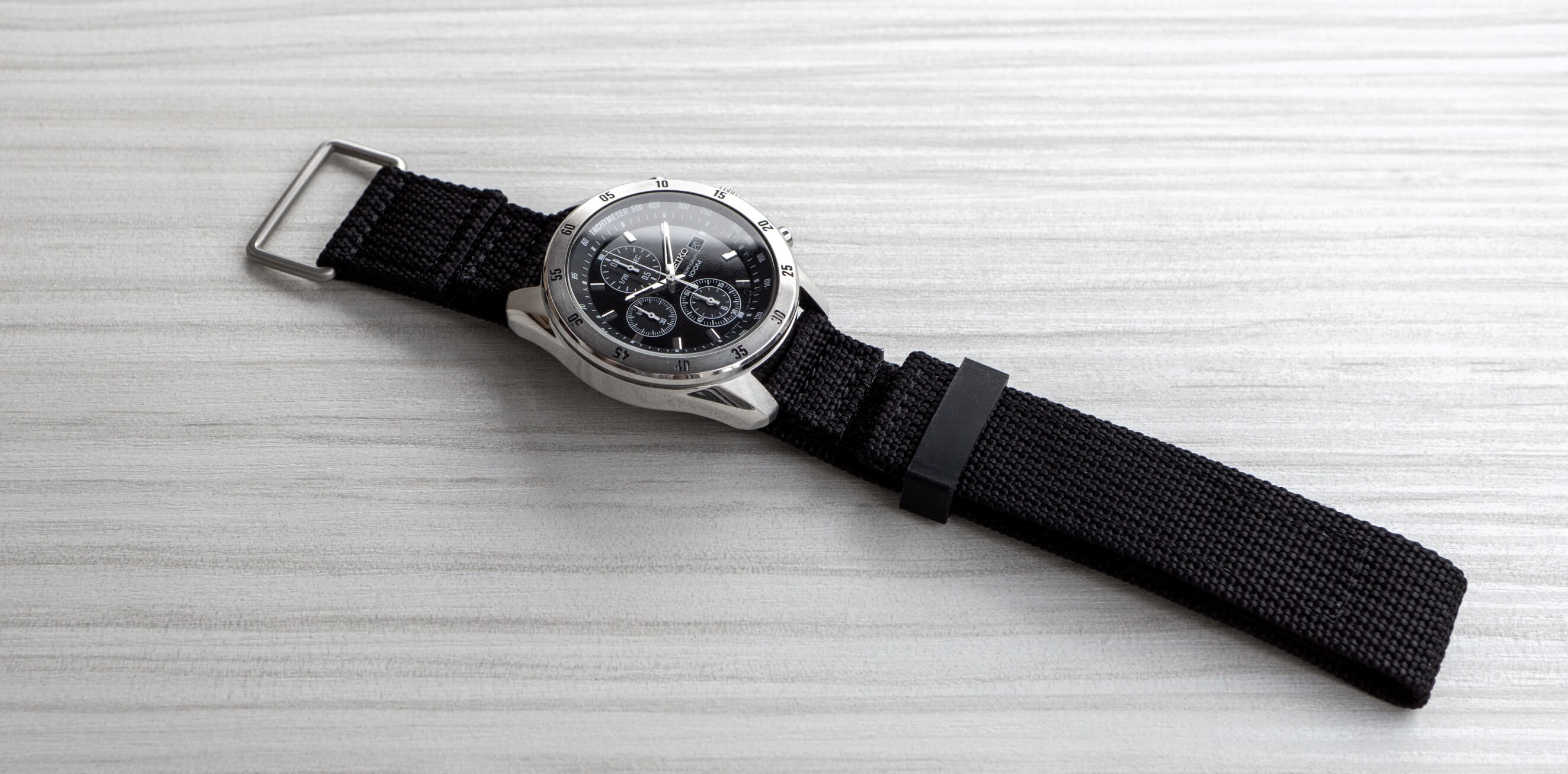 83
SPV 1.5 Velcro Strap by GasGasBones
StrapHunter rating 83 out of 100
| | |
| --- | --- |
| Quality | |
| Comfort | |
| Design | |
| Durability | |
The verdict: The OG hook & loop strap. Comfortable, reliable, and still relevant. Highly recommended, if you manage to find one for sale.
What we like?
Almost perfect adjustability
Comfort
No break-in period required
Less stress on the springbars compared by regular nato straps
Fully stitched construction
Rubber keeper for additional security
What we don't like?
Wider than usual straps
Metal hardware could be better
Full review
Like many other straps I've written about, this one also caught my attention thanks to the TGN guys. It was in Episode 79 when they spoke about an unusual strap from the UK. The strap featured velcro fastener, a deep black color, and a buckle-free construction. It was the GasGasBones.
Fast forward a few years, and I finally managed to buy a strap from GasGasBones. This is the SPV 1.5, equipped with rectangular metal loop hardware.
The easiest way to describe it in a few words: it's a nylon bund strap secured using a hook & loop system. Pretty cool, right?!
Technical details
| | |
| --- | --- |
| Brand | GasGasBones |
| Lug width | 20mm |
| Strap width | 24mm |
| Tapering | None |
| Length | 290mm |
| Material | Nylon + hook & loop |
| Lug keeper tabs | Sewn-in |
| Color | Black; black stitching |
| Stitching | Full stitch along all edges |
| Hardware | Rectangular stainless steel loop |
This strap fits watches with a lug-to-lug measurement ranging from 42mm to 47mm and a wrist size of about 170mm to 210mm.
I really like that with each strap, Carl is also sending two 20mm spring bars and a silicone keeper. The keeper is used to hold velcro-fastened pieces, in case you need that extra security measure.
Company
Carl is a true innovator. When his products appeared, they were a complete novelty in the market. Not only did he release new products, but he also improved, modified, and upgraded them to fit specific use cases and watches.
In the end, GasGasBones held a whole collection of straps.
A very important note is that the company is currently on hiatus. It is unknown whether Carl will resume the sale and production of his straps. Fingers crossed 🤞
Design and Materials
If there's a moment when the saying "A picture is worth a thousand words" applies, it's with this watch strap.
I don't intend to write a 1000 words, so I kindly suggest you take a look at these photos below. Thanks!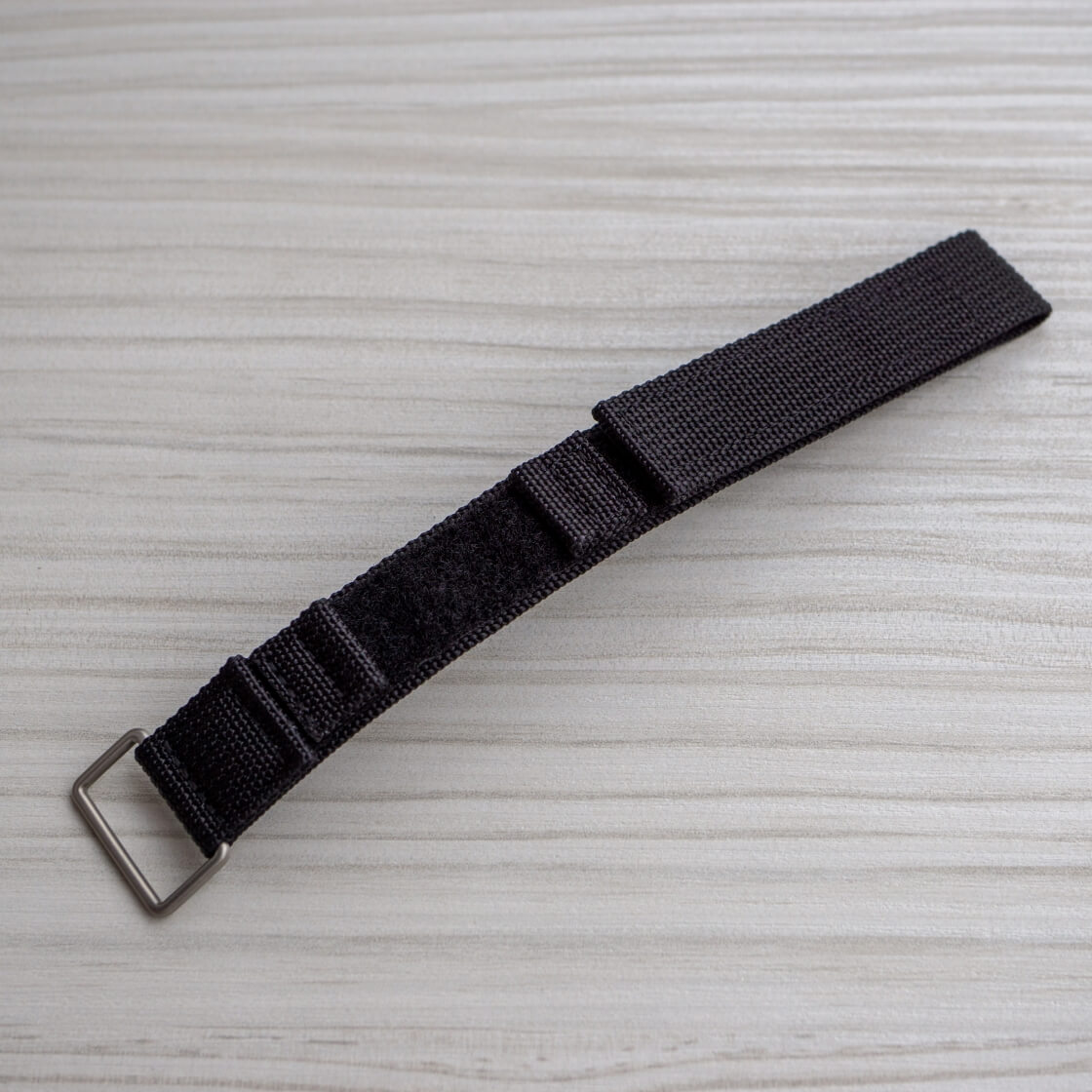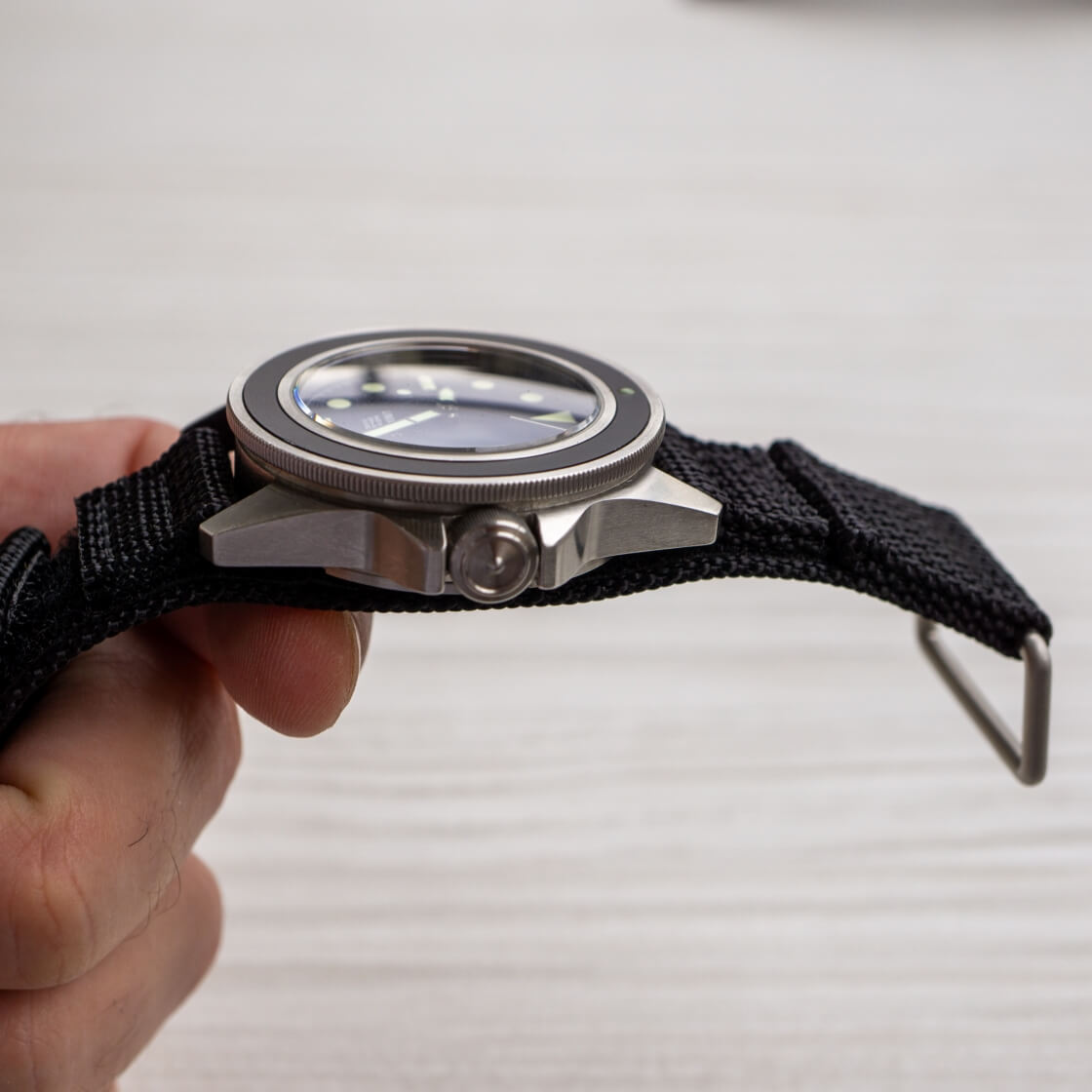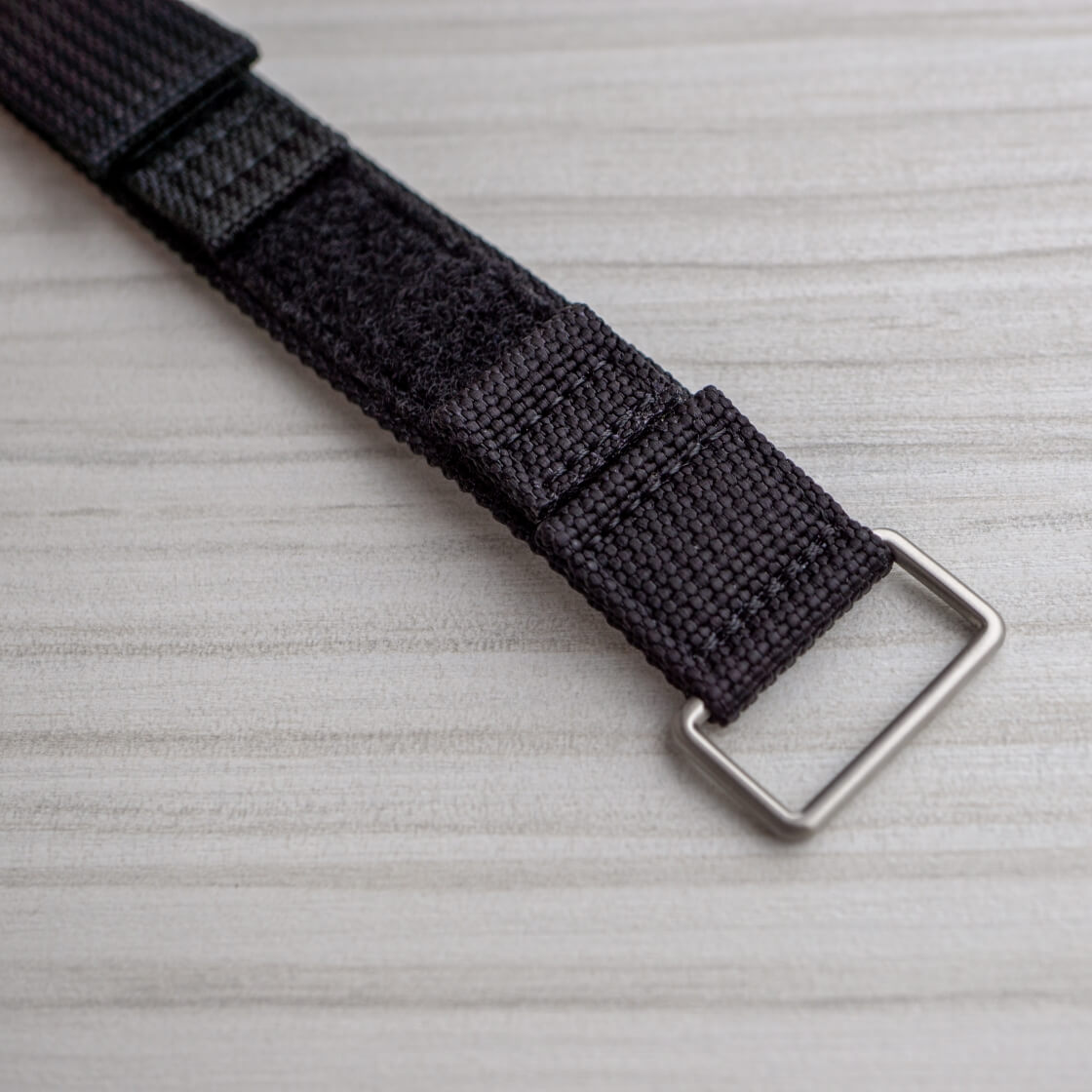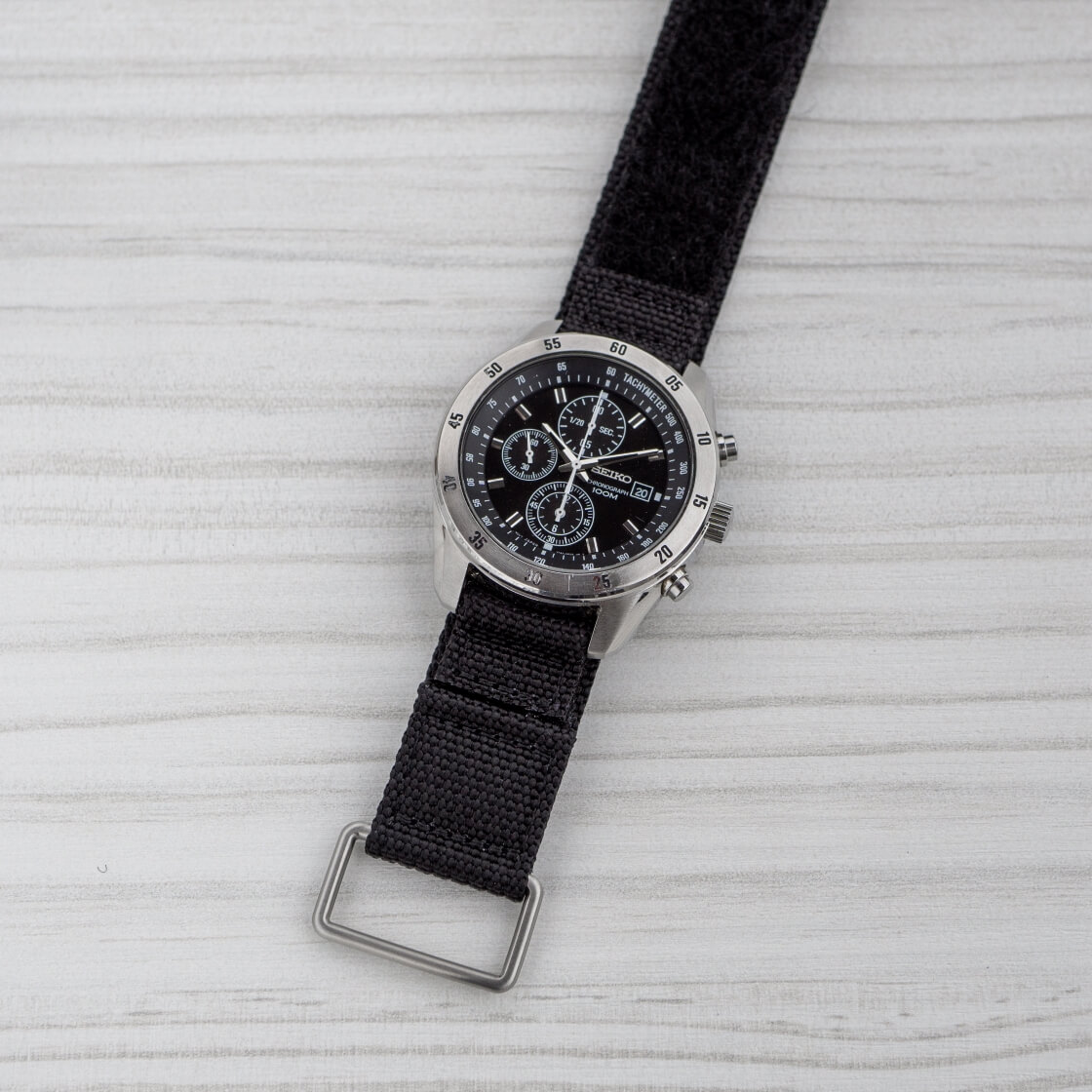 As you can see, the watch is attached like with a bund strap. Two lug keeper tabs are sewn into the strap itself. Velcro is placed along the entire length of the strap, and the end of the strap is squared off and folded back.
Everything is stitched with quality, and there are no structural flaws.
The only complaint is the average-looking rectangular metal loop. It resembles a piece of folded wire. This is not a flaw but rather a minor complaint. Other GGB models, like SPV1 or SPV2, have a better metal component.
The velcro system is excellent and holds very well. As mentioned before, in the package, you'll also receive two 20mm spring bars and a silicone keeper.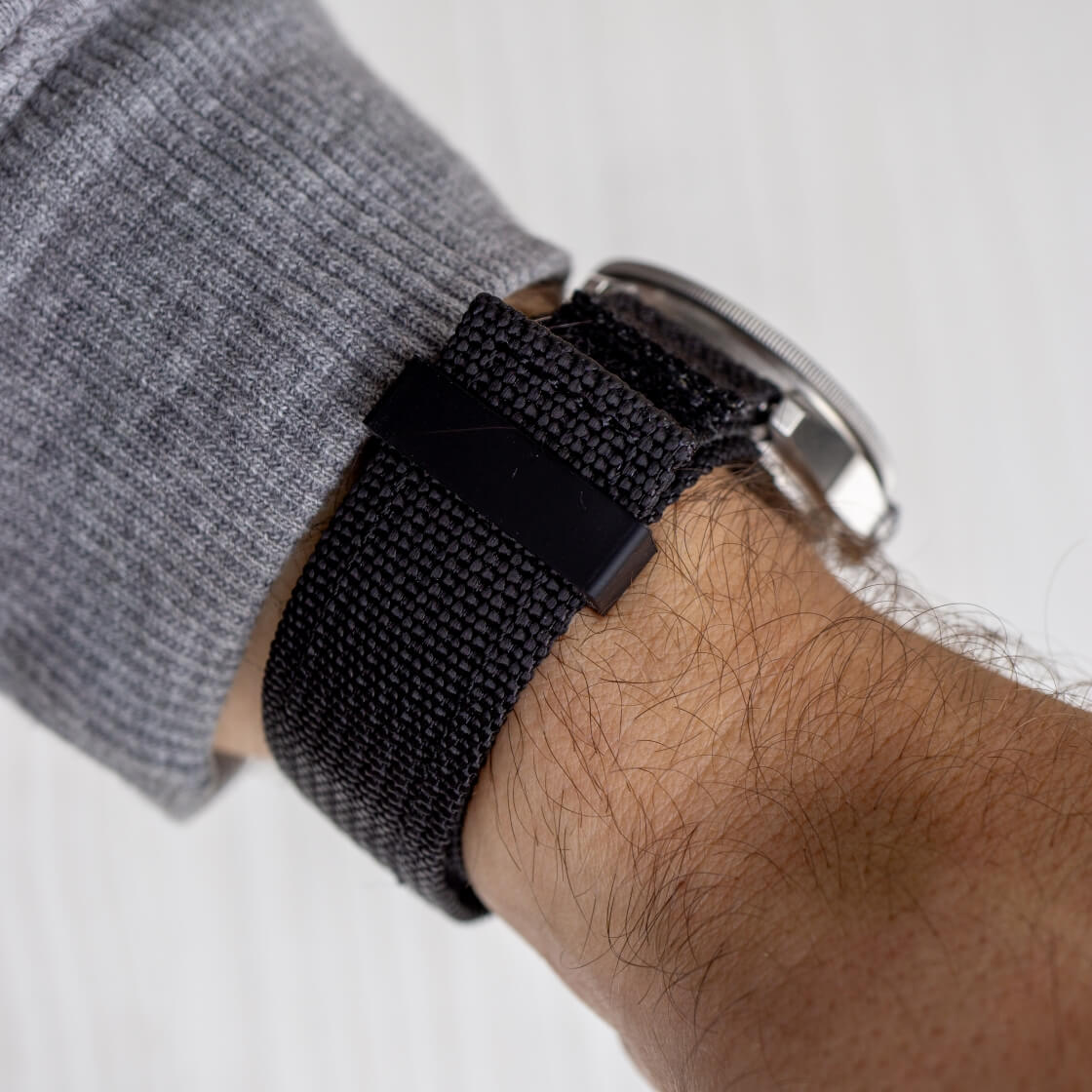 The design gives a tactical and military look and feel.
All in all, it has excellent design and construction.
Comfort and Durability
The strap truly excels in the comfort department. Thanks to the use of velcro, you can achieve a perfect fit – not too tight, not too loose, but just right.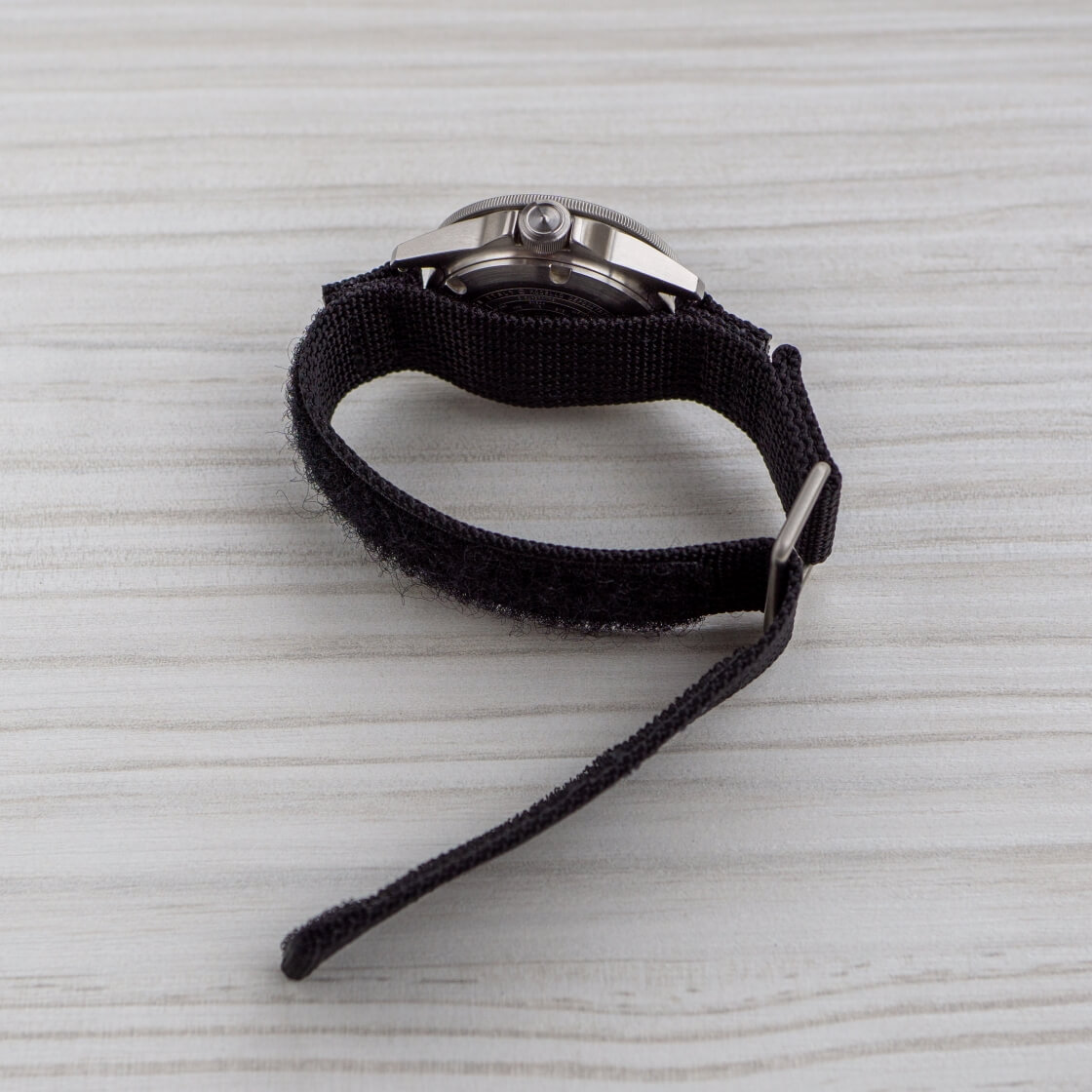 Another benefit of this strap is that it doesn't have a pass-through construction. Since the strap doesn't require threading through spring bars and the case, it wraps perfectly around your wrist. It wears like a bund, in a way.
Also, it allows you to attach the watch in any orientation. You can fasten the watch with the metal loop at 12 o'clock, similar to the FXD strap, or at 6 o'clock. The choice is entirely a matter of personal preference. You can attach a watch in the way that suits your daily activities and provides the most comfortable fit.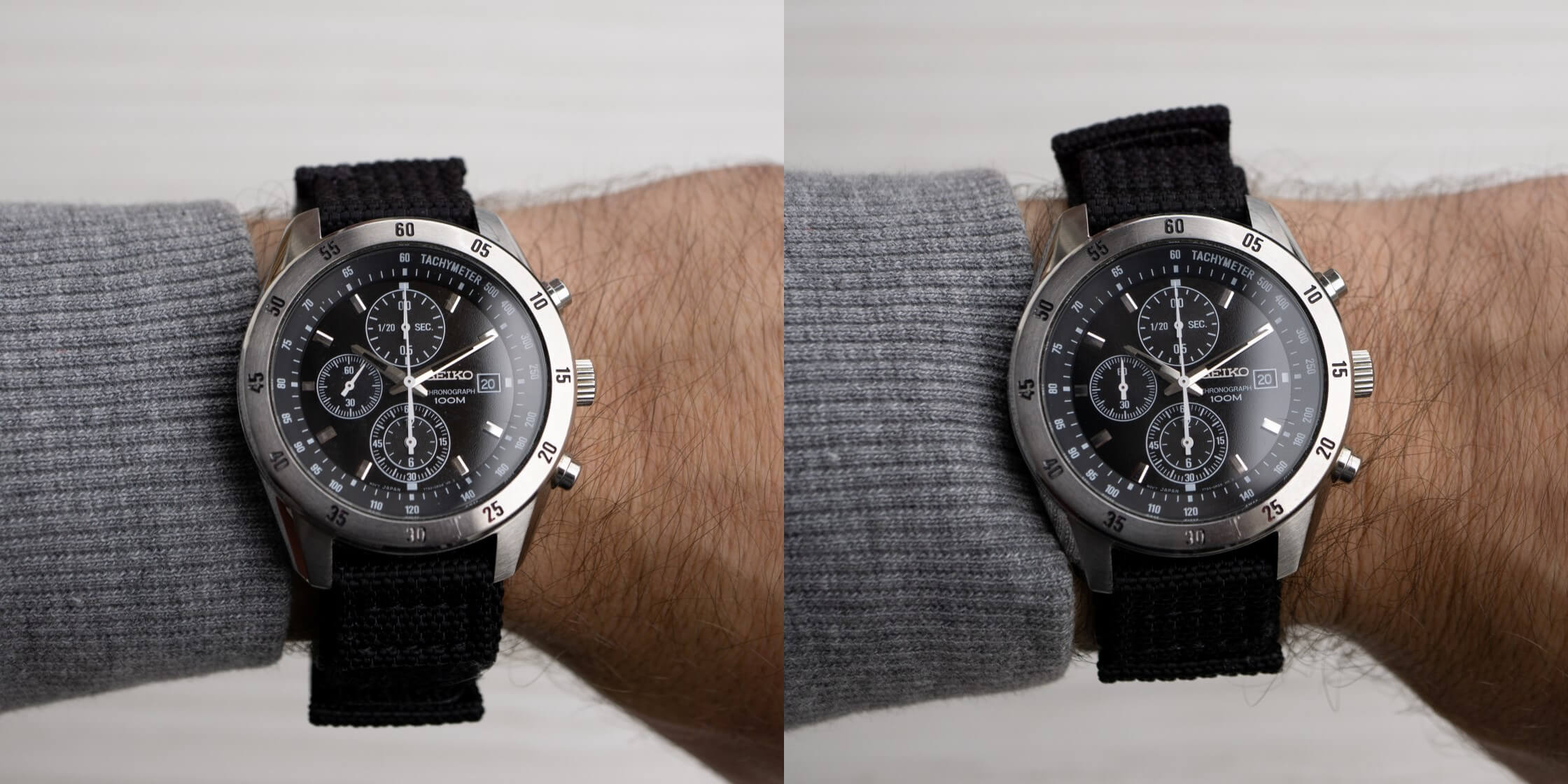 A few additional notes about the materials: GGB uses nylon, and the weave is sturdy and heavy-duty. On the wrist... well it feels like nylon. The feeling is not as refined as it is with a canvas pass-through or medium-weave NATO straps.
The strap is fully stitched and well-constructed. There are no weak spots, and the strap appears as though it will last for a long time.
Initial Usage The strap is very comfortable right from the start; there was no need to break it in. It's easy to achieve a perfect fit, and the velcro is strong, securely holding in place.
Two months of use The velcro grip has not loosened, and everything remains as secure as it did on the first day. The stitching is intact, and I cannot detect any physical damage, wear, or tear. The strap still looks and feels like new.
Compatibility and Pairing Recommendation
This is easy: use the GasGasBones strap with any watch, except for fragile vintage dress and wonky chronograph watches. Sport, diver, pilot, and field watches simply shine when paired with this strap.
The strap is substantial enough to firmly hold even large and top-heavy watches. Just keep in mind that the maximum lug-to-lug dimension the SPV 1.5 can accommodate is 47mm.
I've tried it with many regular-sized watches, and they all wore excellently. I also managed to wear it over a thin sweatshirt. The velcro holds tightly, and the overall experience was pretty solid.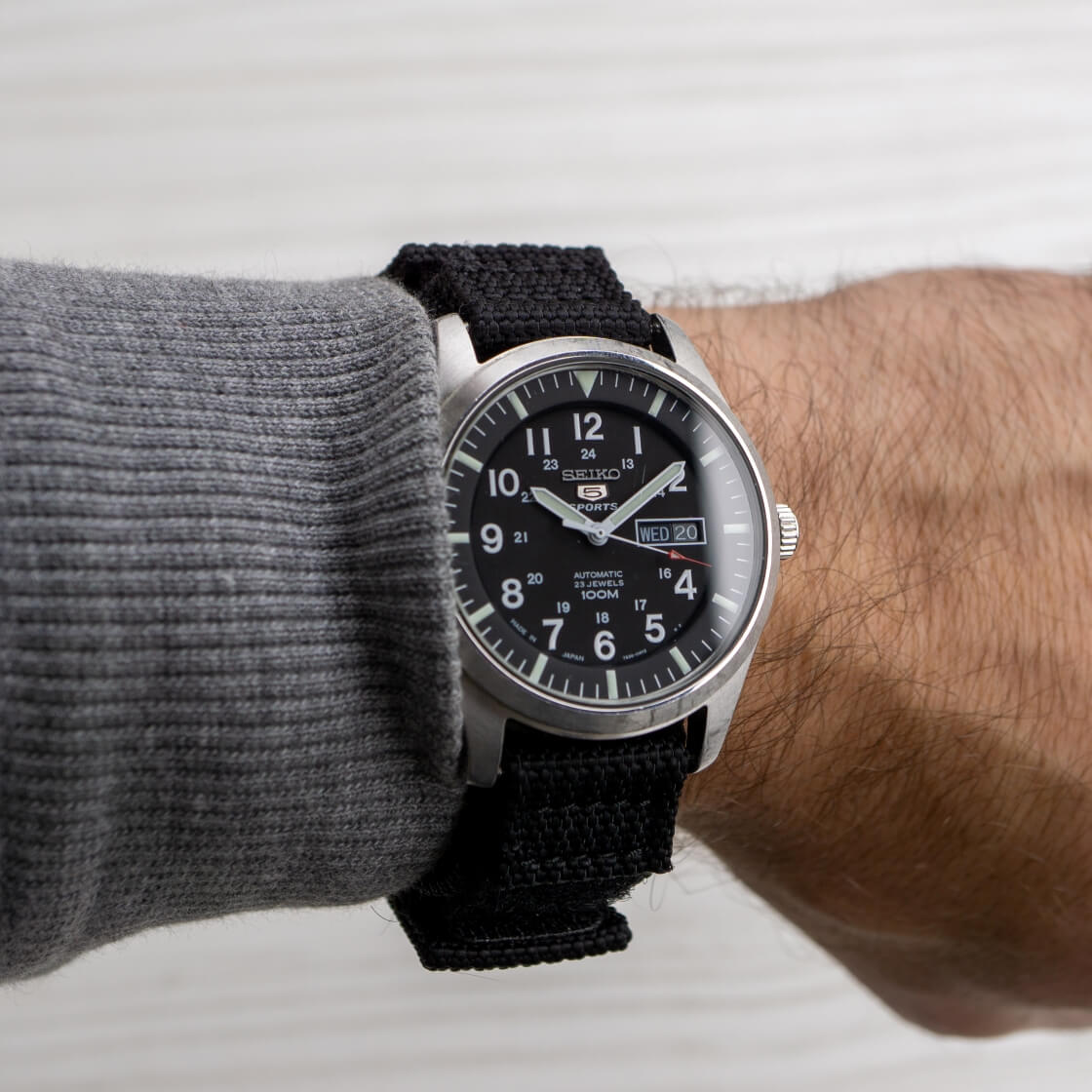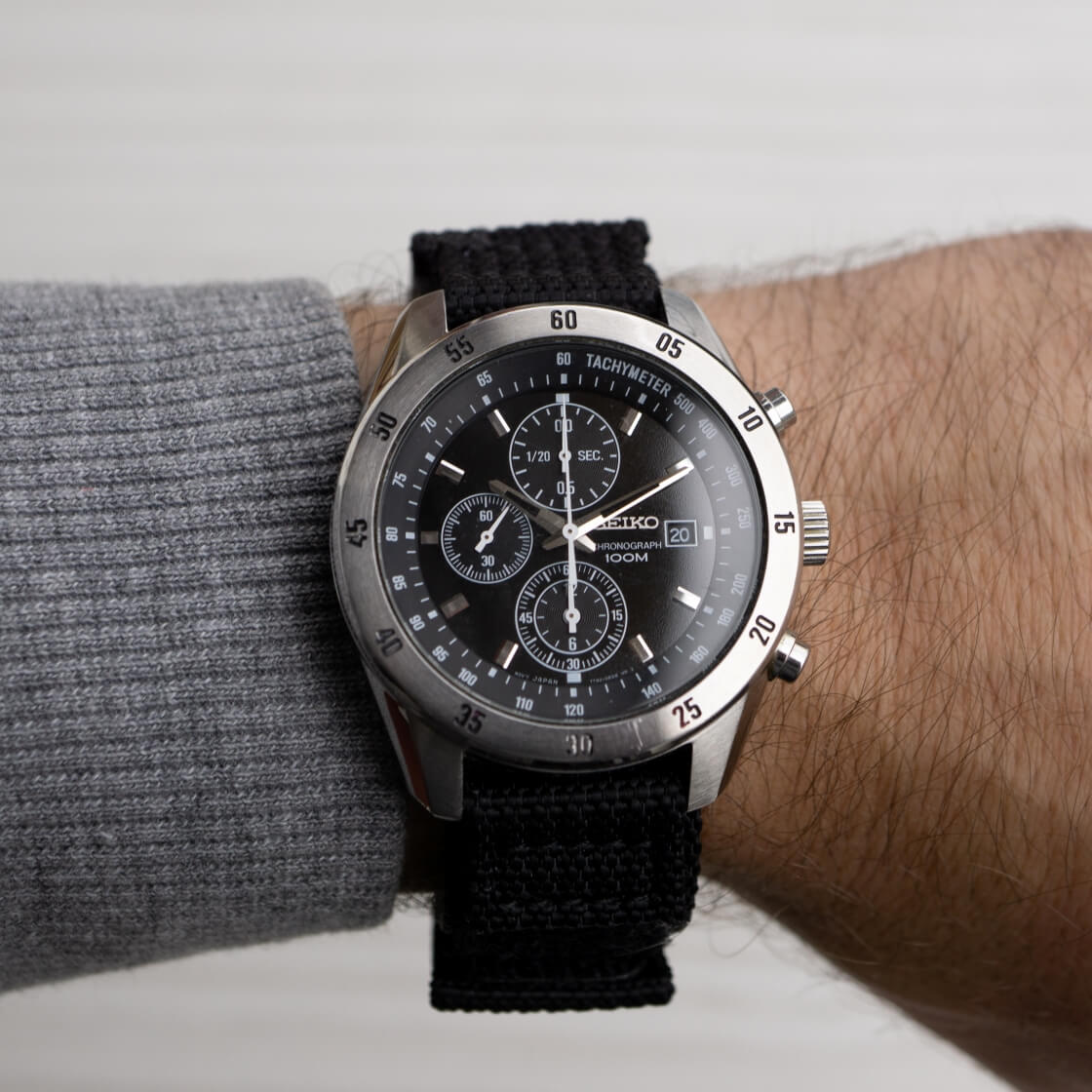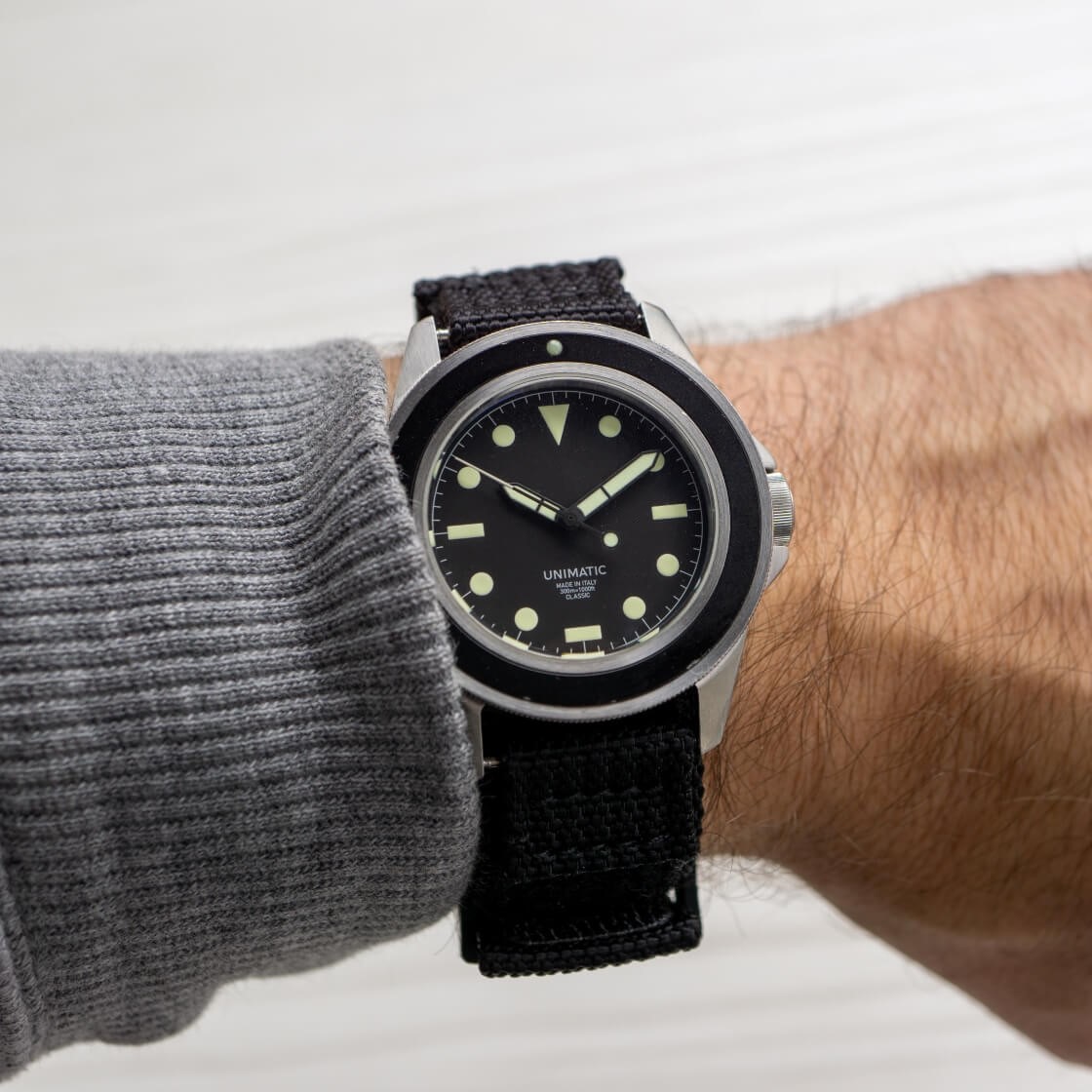 Keep in mind that the sewn-in lug keeper tabs are 20mm in width, but the strap itself is 24mm. This means that the strap wears larger, but it also means it can easily be paired with watches that have 22mm lug spacing. Yeah, you might see a bit of a springbar, but the overall package is balanced and feels great.
Closing words
As I wore the strap several key elements have stood out. Firstly, its design is brilliant. The SPV 1.5 seamlessly blends form and function. The end results - the strap works pretty well and it remains comfortable throughout.
It's clear that the GBB team put their expertise into making a product that they really care about - a product that scratches their own itch. The SPV was not designed by a committee, and we, other watch enthusiasts appreciate that.
Unfortunately, the GasGasBones is on a break. I hope they come back stronger because their dedication and creativity shouldn't be lost.
Whatever happens, on behalf of StrapHunter, I wish Carl and his team the best of luck in their future endeavors and extend a heartfelt thank you for their contributions to the world of watches.
83
SPV 1.5 Velcro Strap by GasGasBones
StrapHunter rating 83 out of 100