Review of the Cotton Strap by CNS Watch Bands
Let's face it: there's a good chance you'll never dive with that watch of yours. So why bother with professional heavy-duty nato straps when you can opt for a comfortable and soft pass-through strap that simply works for everyday wear? Breathable, lightweight, and affordable - it's the cotton strap from the popular Swedish retailer, CNS Watch Bands.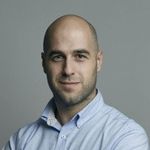 Nenad Pantelic • October 6, 2023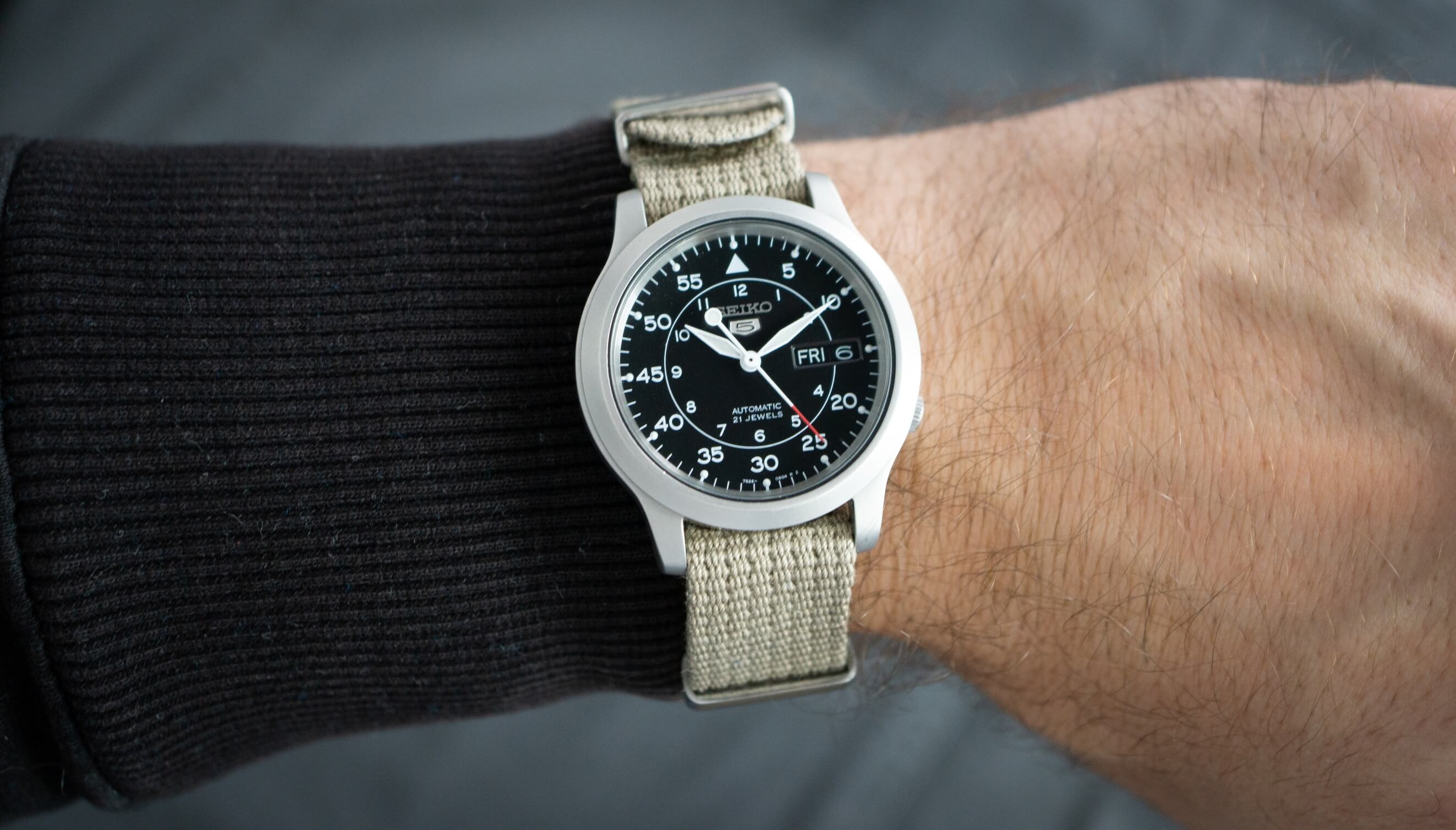 80
Cotton Strap by CNS Watch Bands
StrapHunter rating 80 out of 100
| | |
| --- | --- |
| Quality | |
| Comfort | |
| Design | |
| Durability | |
The verdict: Enjoy the benefits of super comfortable cotton without stressing your wallet, but keep this strap dry - it's not for water.
What we like?
Lightweight material
Strap is not too long
Comfort
Breathable strap
Upgraded hardware
What we don't like?
Pin buckle holes stretch easily
Basic heat treatment to the edges and cut lines
The strap is not suitable for water activities
Full review
Back in early 2021, Seiko introduced two new diver's watches: the SPB239 and the SPB237. These were modern interpretations of the popular 62MAS and Captain Willard designs. But, what caught my attention were the fabric straps. Seiko referred to them as "Seichu straps". They resembled nato straps, but they were made from woven fabric rather than nylon. You could tell how soft they were just by looking at the press photos.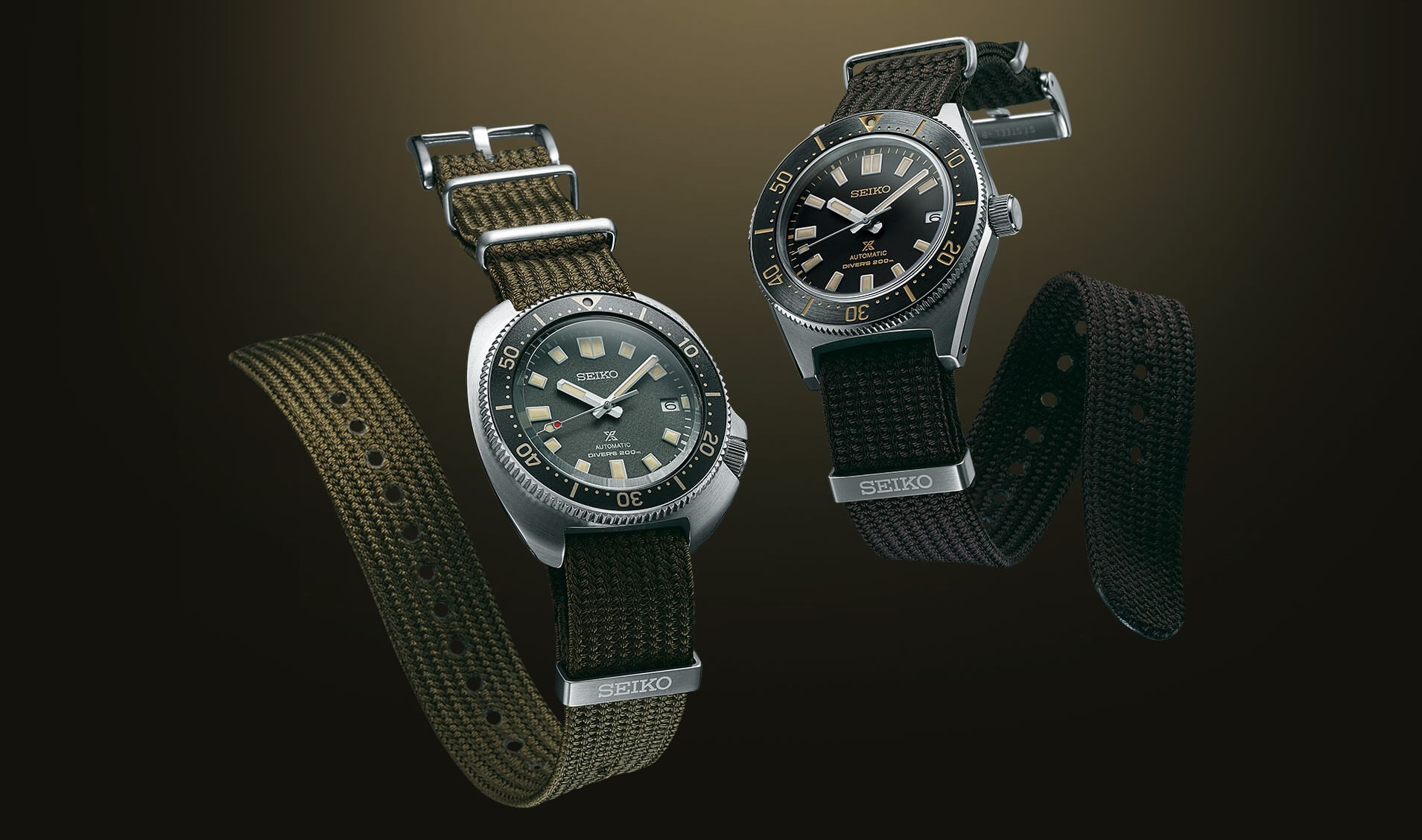 I'm not sure if these straps served as inspiration for the CNS, but I was glad when the popular Swedish company, CNS Watch bands, announced their new collection: Cotton straps. They bear a resemblance to the "Seichu straps", although they are not exact replicas.
The most significant selling point of these cotton straps is the use of a new material: a blend of high-quality cotton and nylon.
But before delving into specific details, let's begin by looking at the technical specifications:
Technical details
| | |
| --- | --- |
| Brand | CNS Watch Bands |
| Tapering | None |
| Length | 270mm |
| Material | Cotton + nylon blend |
| Buckle | Brushed stainless steel; signed |
| Keepers | One floating + one sewn-in |
| Edges & cut lines | Heat treated |
| Strap finishing | Matte; textured |
This model is available in a range of widths: 18mm, 19mm, 20mm, 21mm, 22mm, and 24mm.
Additionally, there are numerous color options to choose from, precisely sixteen colors. The colors are subdued, mostly in pastel tones.
I bought the grey and desert color variants, and I am happy with how they look.
Company and Buying Experience
CNS is a well-known and reputable store for replacement straps. They have been in the market long enough to prove themselves as reliable and dependable. They provide excellent customer service and offer a wide selection of different products and types of straps.
Shopping at CNS Watch Bands is a breeze. They run their operations through the Shopify platform, ensuring a hassle-free checkout process with no hiccups. I've personally used both Apple Pay and my credit card for transactions and have never encountered any issues.
If you plan to shop, fill your shopping cart with items totaling over $25, and you'll receive a 20% discount. Just keep in mind that delivery may take a little while, so it's best to be patient and wait it out.
Design and Materials
Folded wire buckle - No
Regular loop keepers - No
Thin nylon material - No
Gone are the days of simple nato straps. Today, companies use heavy-duty hardware, custom blends for materials, and develop enthusiast-friendly products. This is precisely the case with this cotton strap.
The material is a blend of cotton and nylon. That combo results in a gentle, featherweight, and breathable strap that offers a comfortable sensation while wearing the strap. I like the usage of nylon, because it improves the strap's robustness and longevity. If they only used the cotton, then the strap would have been too fragile.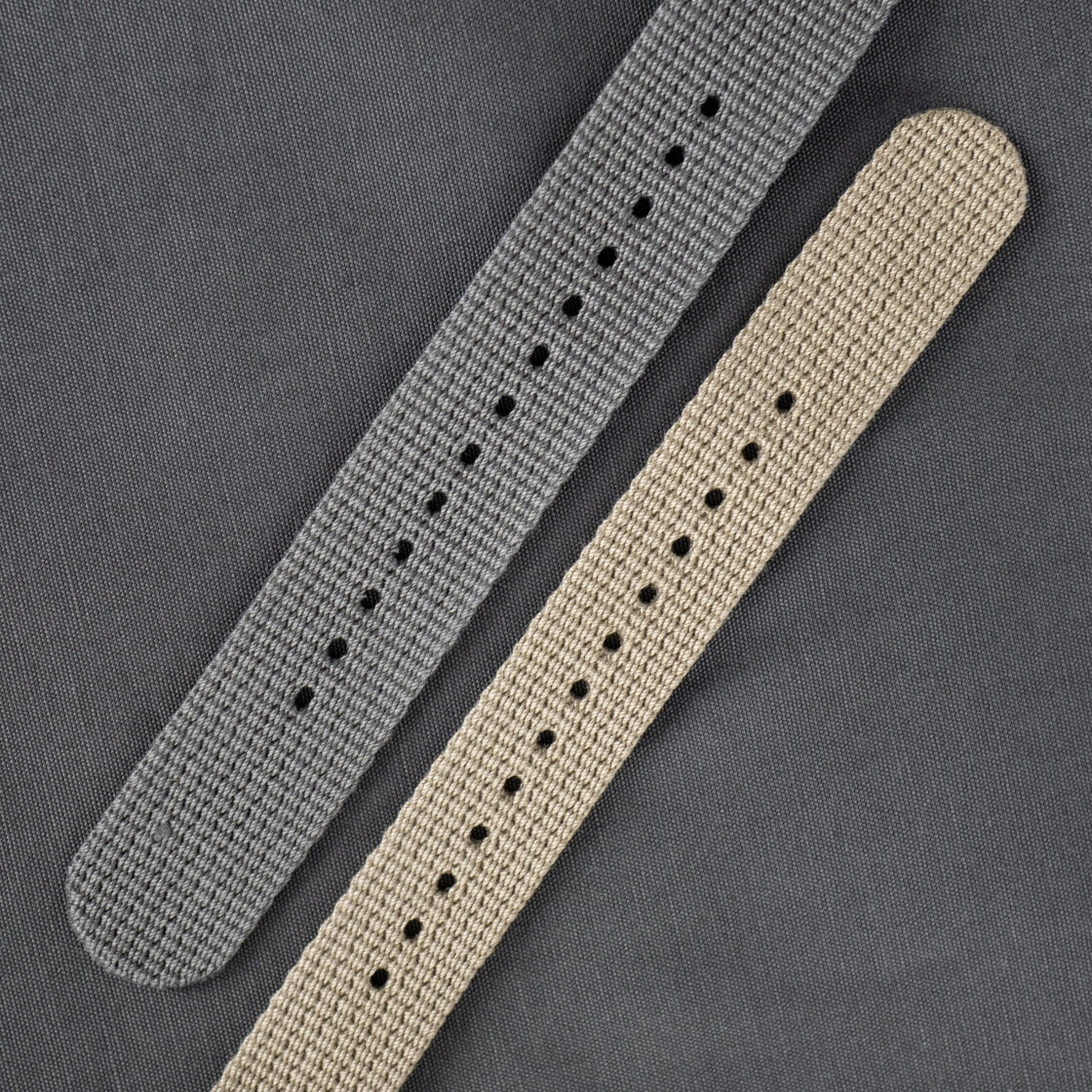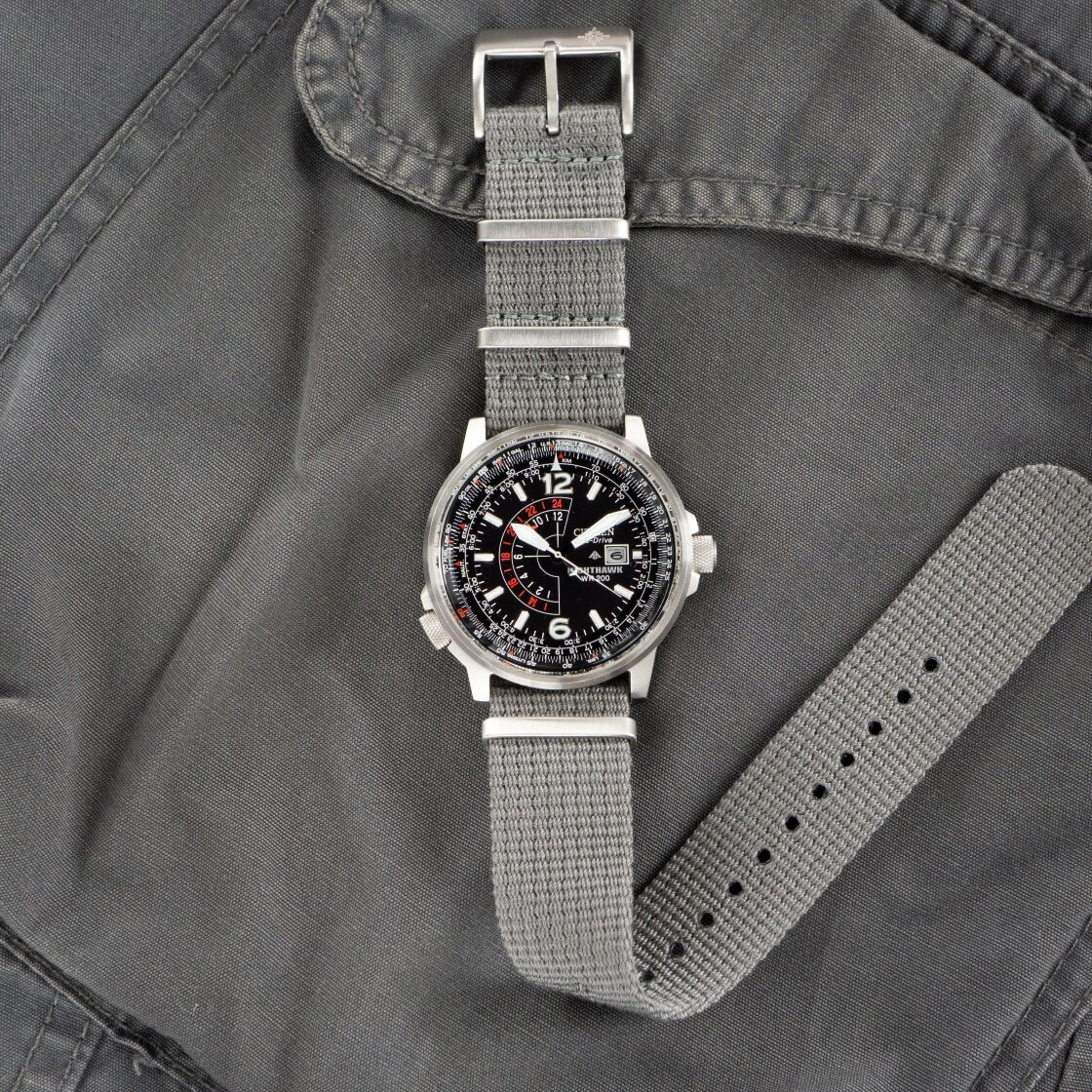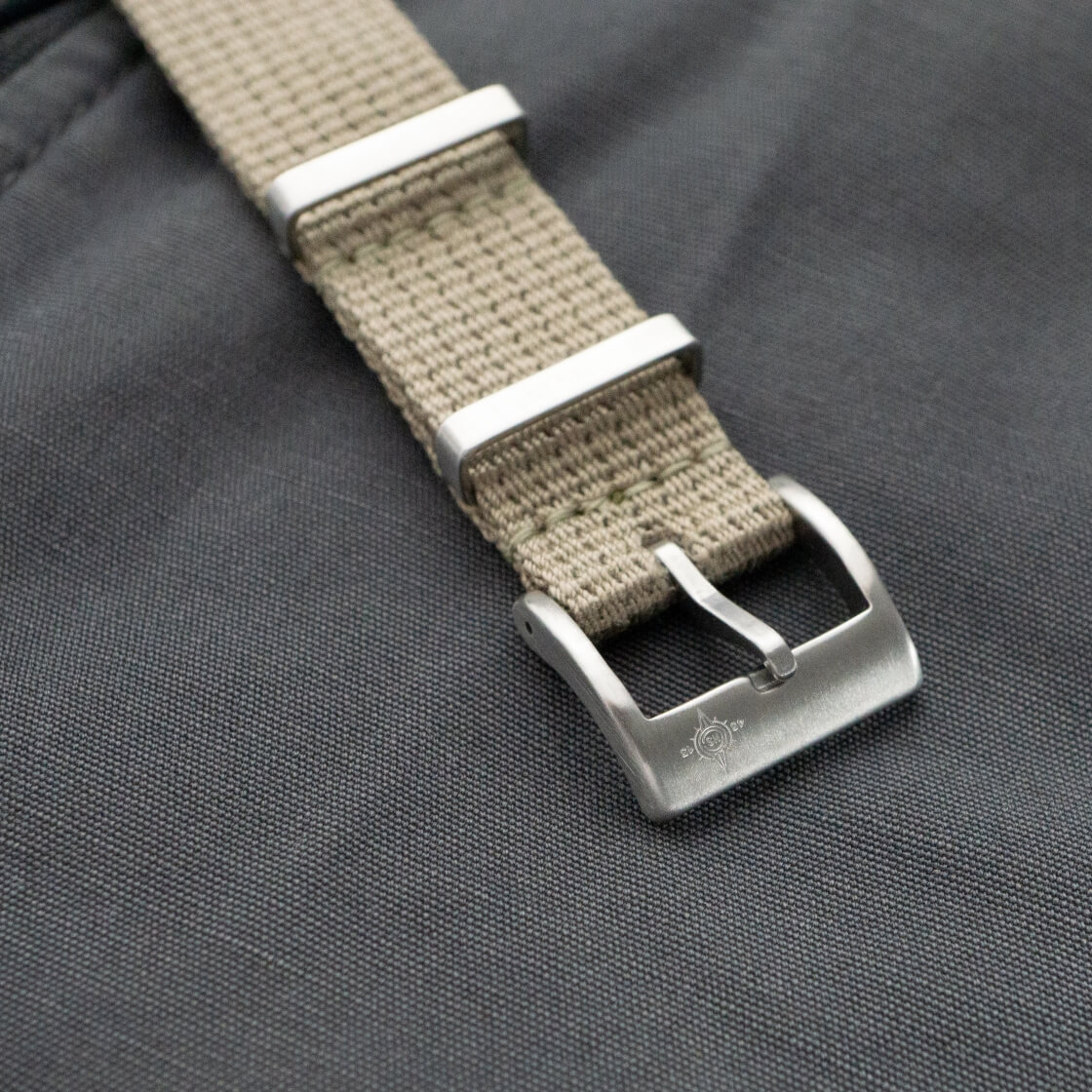 The buckle is substantial, featuring nicely brushed surfaces. Additionally, there is an etched CNS logo.
The keepers are also made from stainless steel. The one next to the buckle is a floating keeper, and the one closest to the watch lugs is sewn-in.
The edges of the strap do not have stitched reinforcement, but they are heat-treated.
The strap is neither too long nor too short. When I wear the strap, I don't need to fold and tuck in the excess part. I appreciate this because the overall "watch + strap package" looks neat and clean.
Comfort and Durability
The strap is breathable, soft, and incredibly comfortable. Wearing it is a enjoyable experience.
One of the primary advantages of cotton is its comfort. Unlike some nylon straps, this cotton blend doesn't require a break-in period.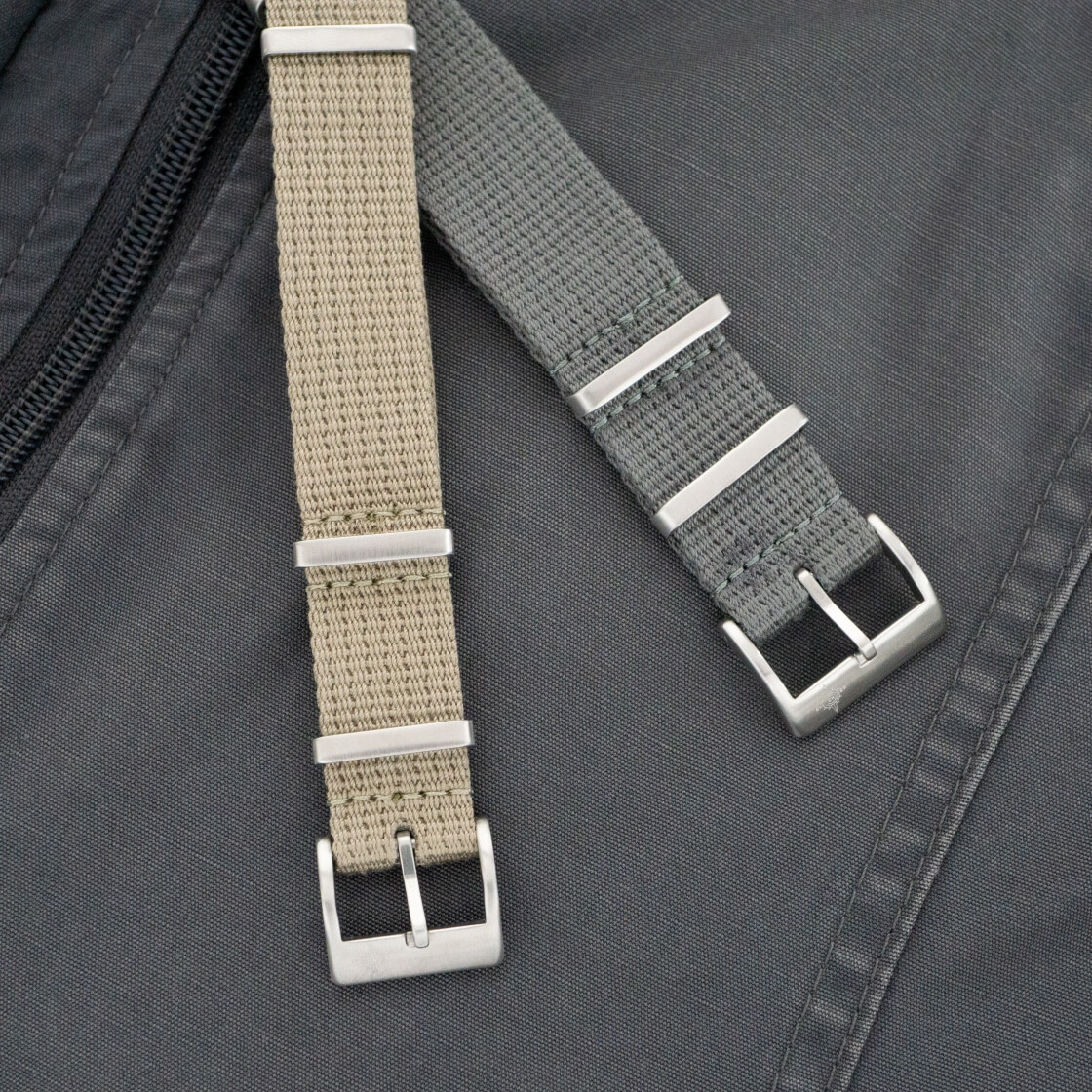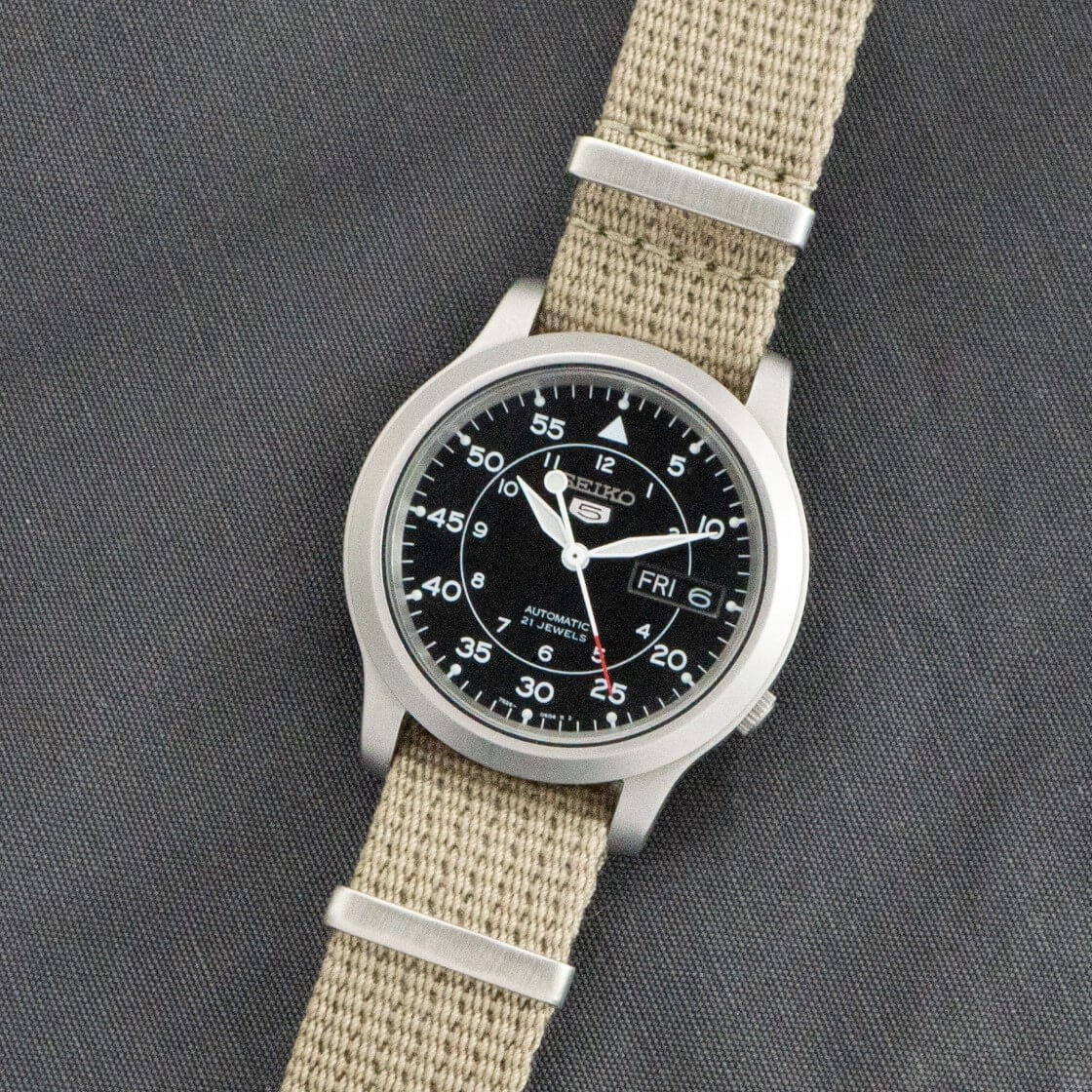 I've had it for two months and wore it occasionally during the summer. Although I didn't get much use out of it, I noticed that the hole for the buckle has stretched slightly. It's not overly dramatic, but still worth mentioning.
It is also worth noting that I took the strap in the water once. That wasn't a good decision on my part. When soaked, this material does stretch, and the strap becomes a bit looser. My watch was sliding on the wrist, so I had to readjust and tighten the strap by one hole.
Also, it took a while for the strap to dry once I got out of the pool. This is to be expected because cotton can absorb more water compared to nylon or other materials used in pass-through straps.
Initial Usage The strap has a nice matte color and a sturdy buckle. When I wear the strap, I do not need to fold and tuck in the excess part. The cotton-nylon blend is comfortable and breathable.
Two months of use One of the holes has stretched by one millimeter, but it's nothing to complain about. The color of the strap hasn't faded, and the edges are still without any fraying; they are as they were on the day I got the strap.
Compatibility and Pairing Recommendation
If you've ever put a standard nato strap on a watch, you can also use this cotton strap for that watch. The cotton strap pairs well with diver's, pilot's, military, field, and other sports watches.
The texture of the material is slightly more pronounced compared to other nylon straps, so it might not complement watches with textured dials.
Apart from that, I can't think of a watch that wouldn't look good with this strap. Even old vintage watches appear fine with this strap. It's an incredibly versatile accessory.
Here it is on various sports watches.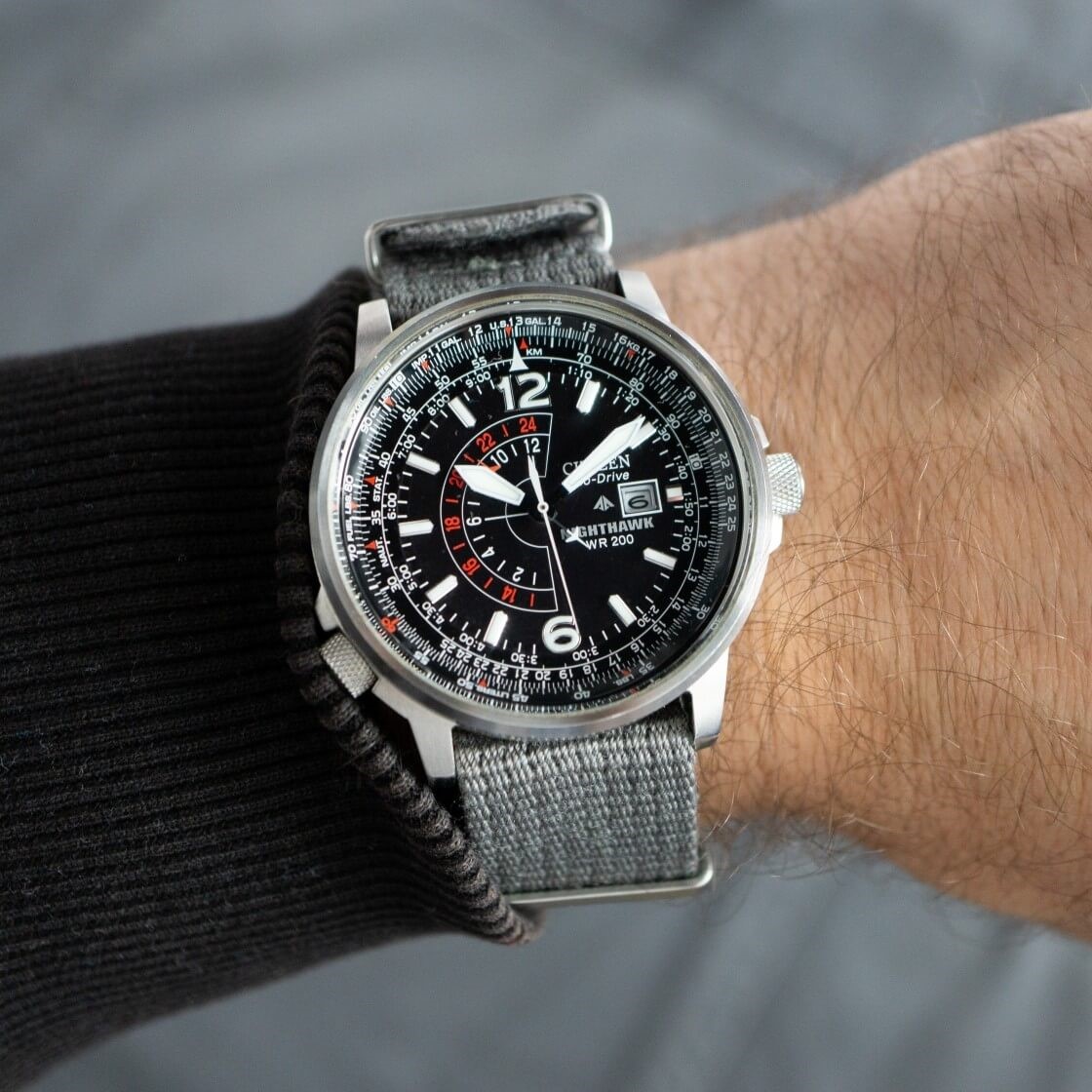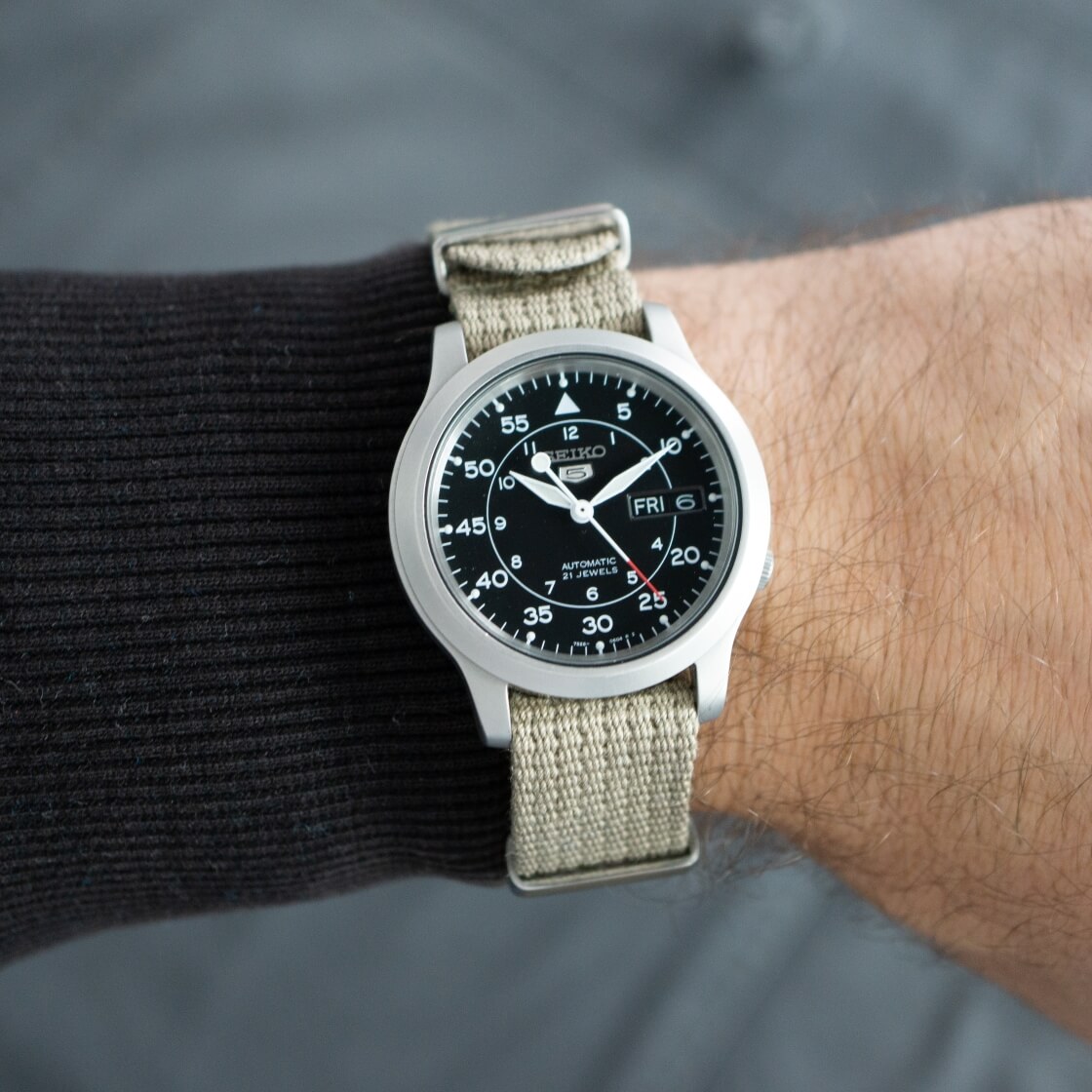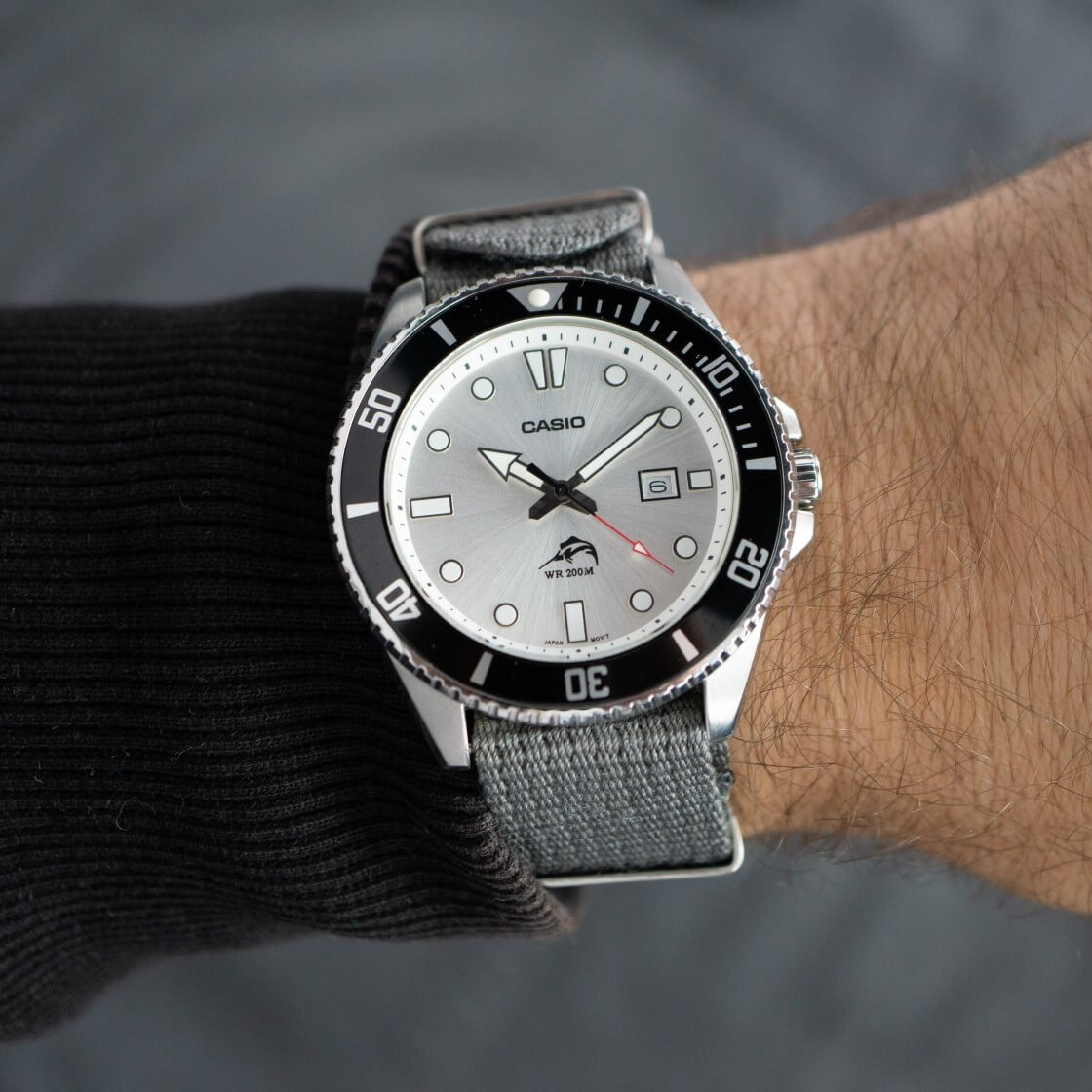 Price and Value
If you're interested in buying this watch strap, you can purchase it directly from the CNS Watch Bands' website. Just visit their Cotton Straps category page and choose the size and color that matches your watch and style.
The price is below $15, and there is often some kind of sale at the CNS store, so you'll likely pay less than that. At the time of writing this review, the price is $9.95.
The value is definitely there. As always with CNS, consider buying several straps in different colors and have fun.
Closing words
Congratulations to the CNS for once again pushing forward and introducing a product that looks nice, is comfortable to wear, and will last for several years of use.
I look forward to seeing what the company will do in the next few years. In the meantime, I'll enjoy strapping on these cotton straps and putting them into a more frequent rotation. They deserve it.
80
Cotton Strap by CNS Watch Bands
StrapHunter rating 80 out of 100