FKM Rubber Strap Review
Fluoroelastomer, aka FKM, came to the market as the game-changing ultra-cheap solution. Readily available, and boasting excellent properties. Could this material be the future of affordable two-piece rubber watch straps?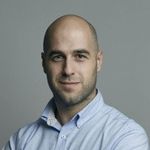 Nenad Pantelic • July 15, 2023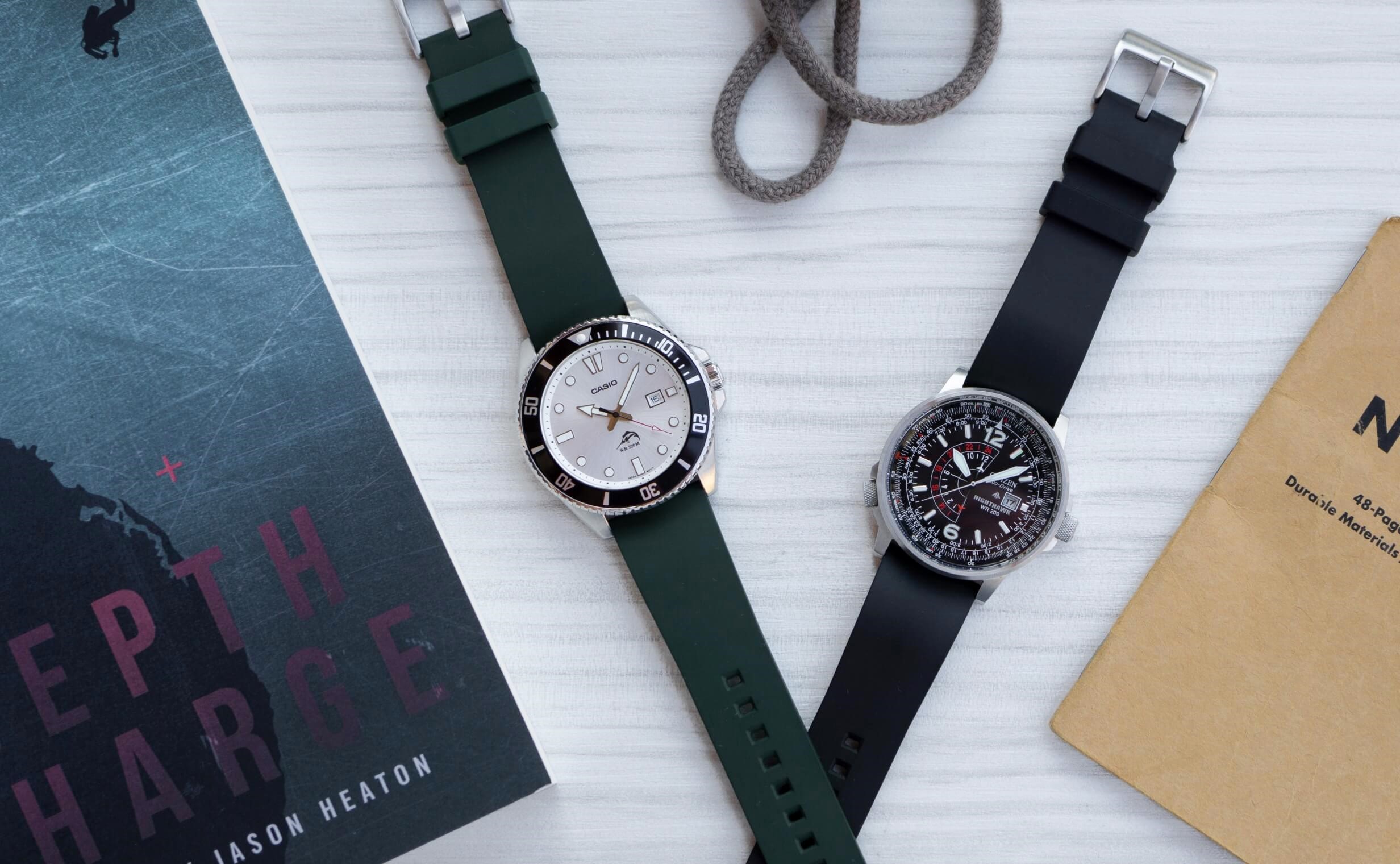 83
Smooth FKM Rubber Strap
StrapHunter rating 83 out of 100
| | |
| --- | --- |
| Quality | |
| Comfort | |
| Design | |
| Durability | |
The verdict: This FKM rubber strap is a high-quality option with excellent wearability and a price that undercuts the competition.
What we like?
Softness and pliability
Comfort
Dust-free & lint-free material
An integrated keeper holder
Quick-release spring bars
Ridges on the underside
What we don't like?
Thickness
Might get shiny patches after a few months of wear
Low-quality spring bars
Full review
I did not believe that I would be wearing a rubber strap the most this summer, but it has happened. The reason behind this change: I came across these new FKM rubber straps.
During my watch collecting journey I have had quite a few rubber straps, mostly in the price range up to $25. Also, I have experienced resin straps on my G-Shock watches. What they all have in common is that they were quite stiff.
I had also tried silicone straps, but they had more disadvantages than advantages. They were a true dust magnet, were quite soft, and felt chunky.
Buying the FKM rubber strap was a pleasant surprise, and with this review, I want to showcase all of its advantages. In short: a FKM strap is comfortable, durable, and looks nice.
But before getting into those details, let us kick things off with a look at the technical specifications:
Technical details
| | |
| --- | --- |
| Width | 22mm |
| Tapering | 2mm (22mm/20mm) |
| Length | 125mm + 75mm |
| Thickness | 3mm |
| Material | Soft FKM rubber |
| Keepers | 2 keepers / fixed + free keeper |
| Buckle | Standard solid tang buckle |
| Strap finishing | Matte |
| Buckle finishing | Brushed |
This model is also available in 18mm and 20mm widths. The choice of colors is extensive, and you can find this and similar FKM models in red, navy blue, orange, brown, and other popular colors.
Design and Materials
This is a standard two-piece rubber strap with a matte finish. The colors are not flashy but rather subdued.
Because of its monochromatic appearance and smooth texture, the strap does not stand out but allows the watch to be the main star.
The strap has a 2mm taper, which is the optimal measurement. For these 22mm wide straps, the width at the buckle side is 20mm.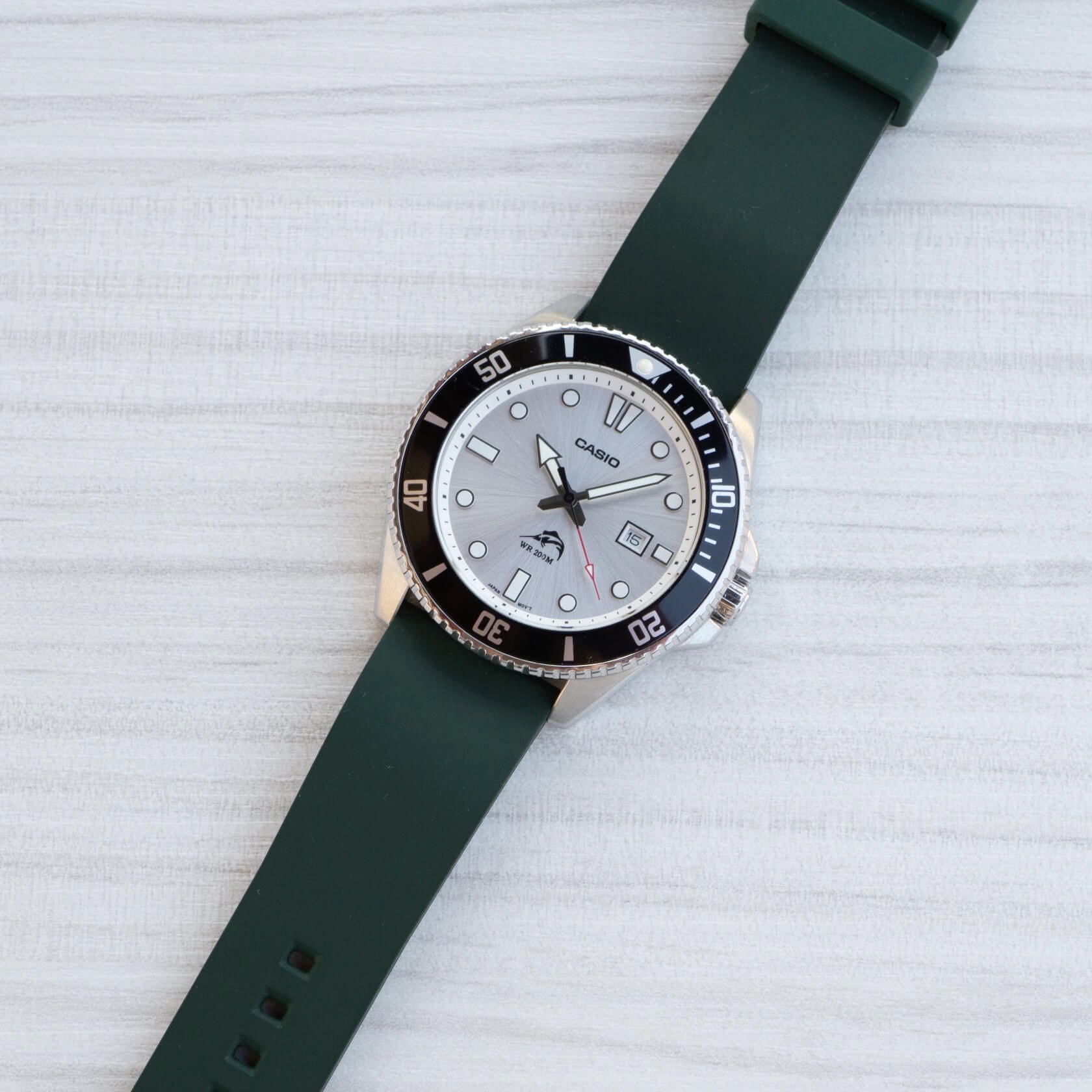 The length is excellent. The buckle side is 75mm, while the longer part is 125mm. When wearing, I don't have that long excess part that flares out of the keeper. Actually, the length is such that I didn't need a floating free keeper, so I removed it.
The buckle is good, solidly made, and fully brushed. But I didn't like it. The buckle that originally came with the strap had a flat underside. I prefer buckles that have an inset slot to receive the strap because then everything sits a bit flatter, with less bulk.
Note: All the photos of a strap in this review are not with the original buckle, but with the one I sourced and put on myself.
A very interesting feature is that the holes for the buckle on the longer piece are at a slight angle. This means that when you fasten the strap buckle, it slots perfectly into the hole and does not create additional bulk.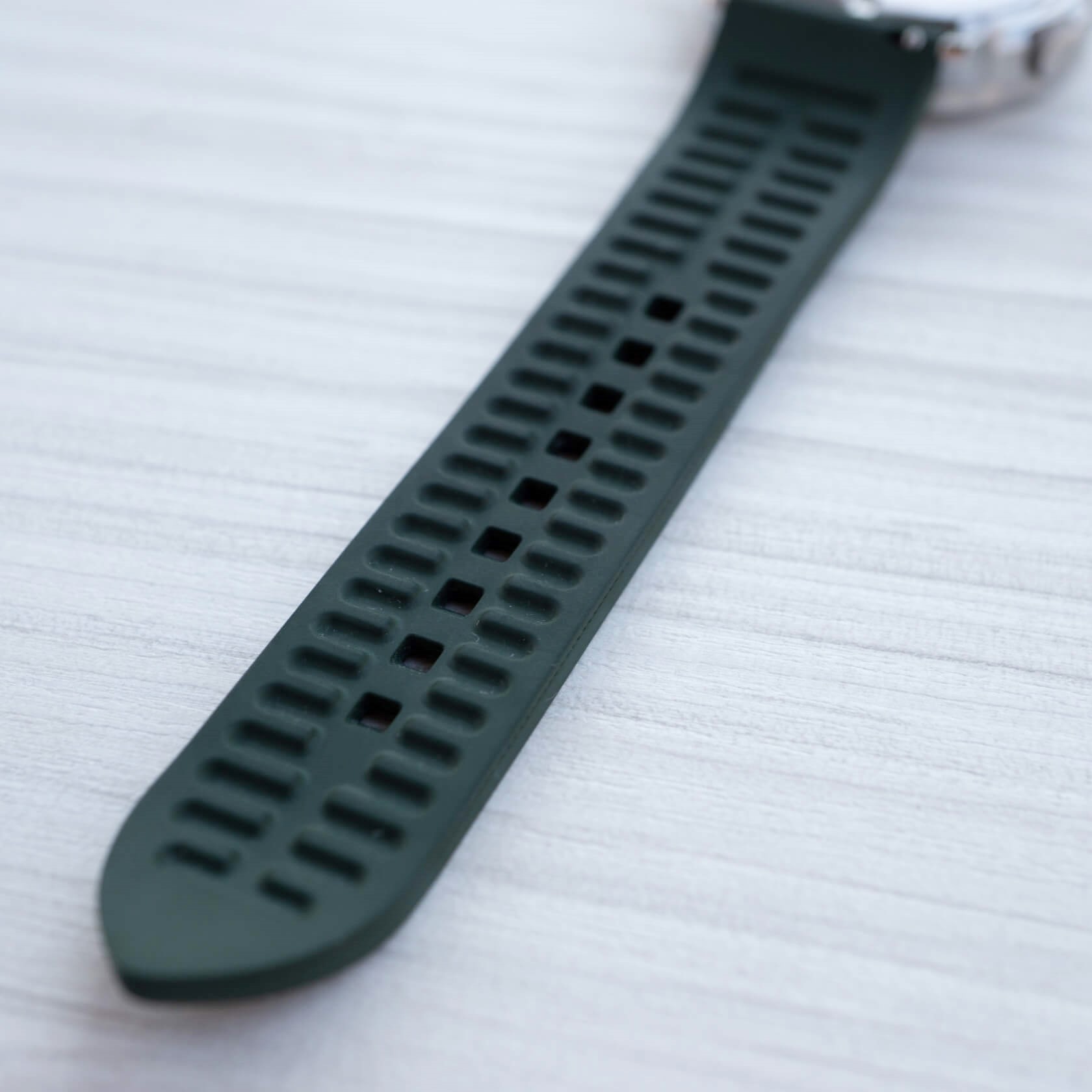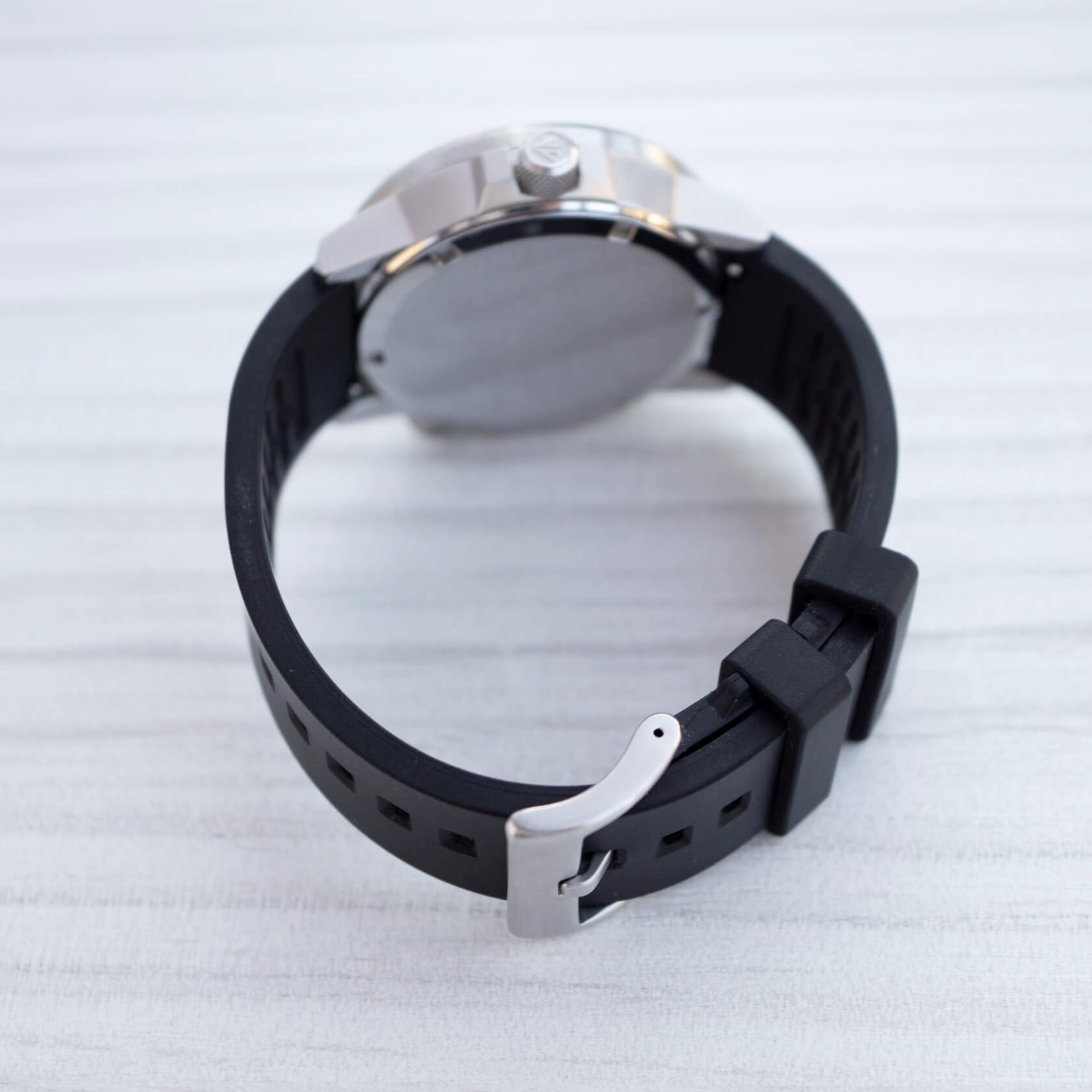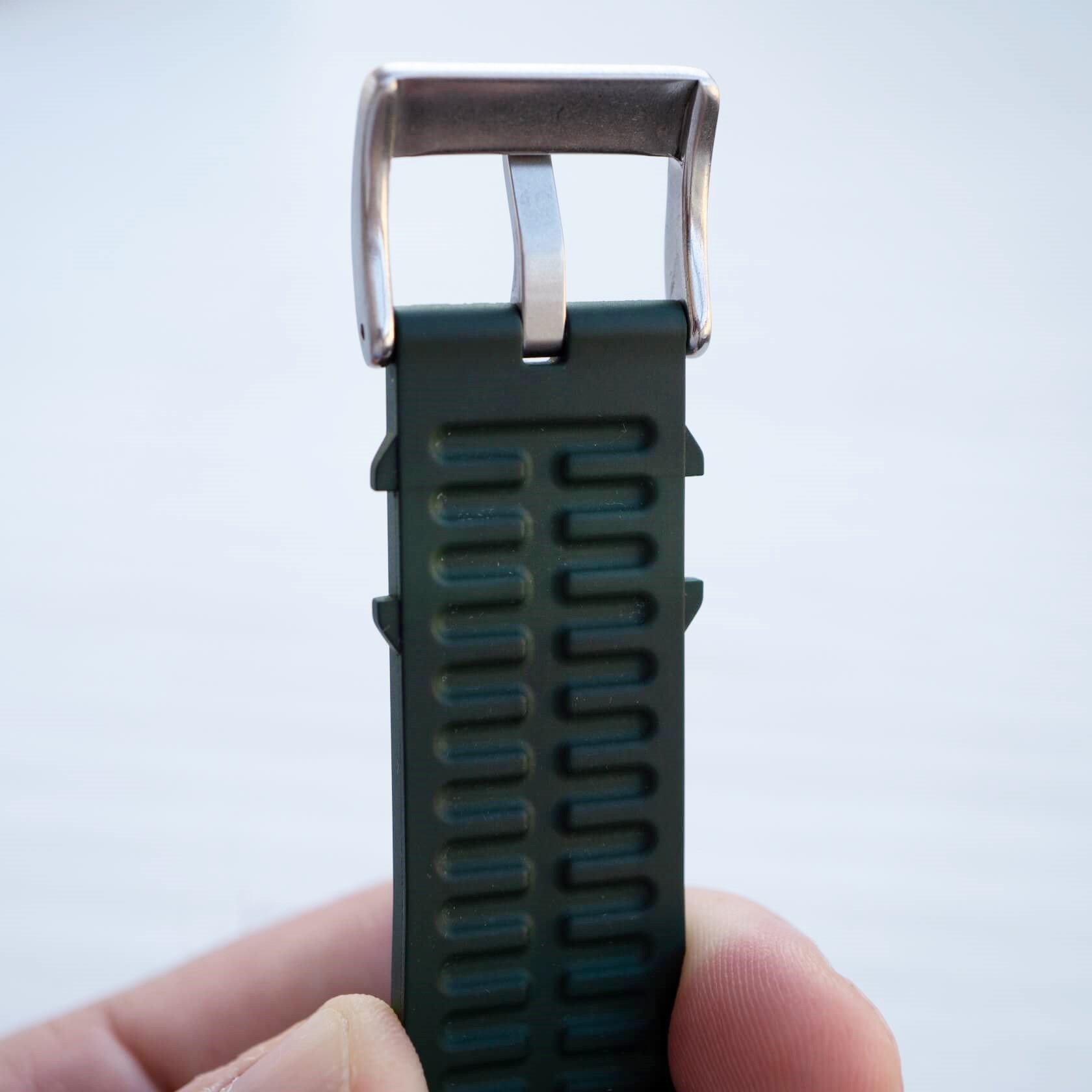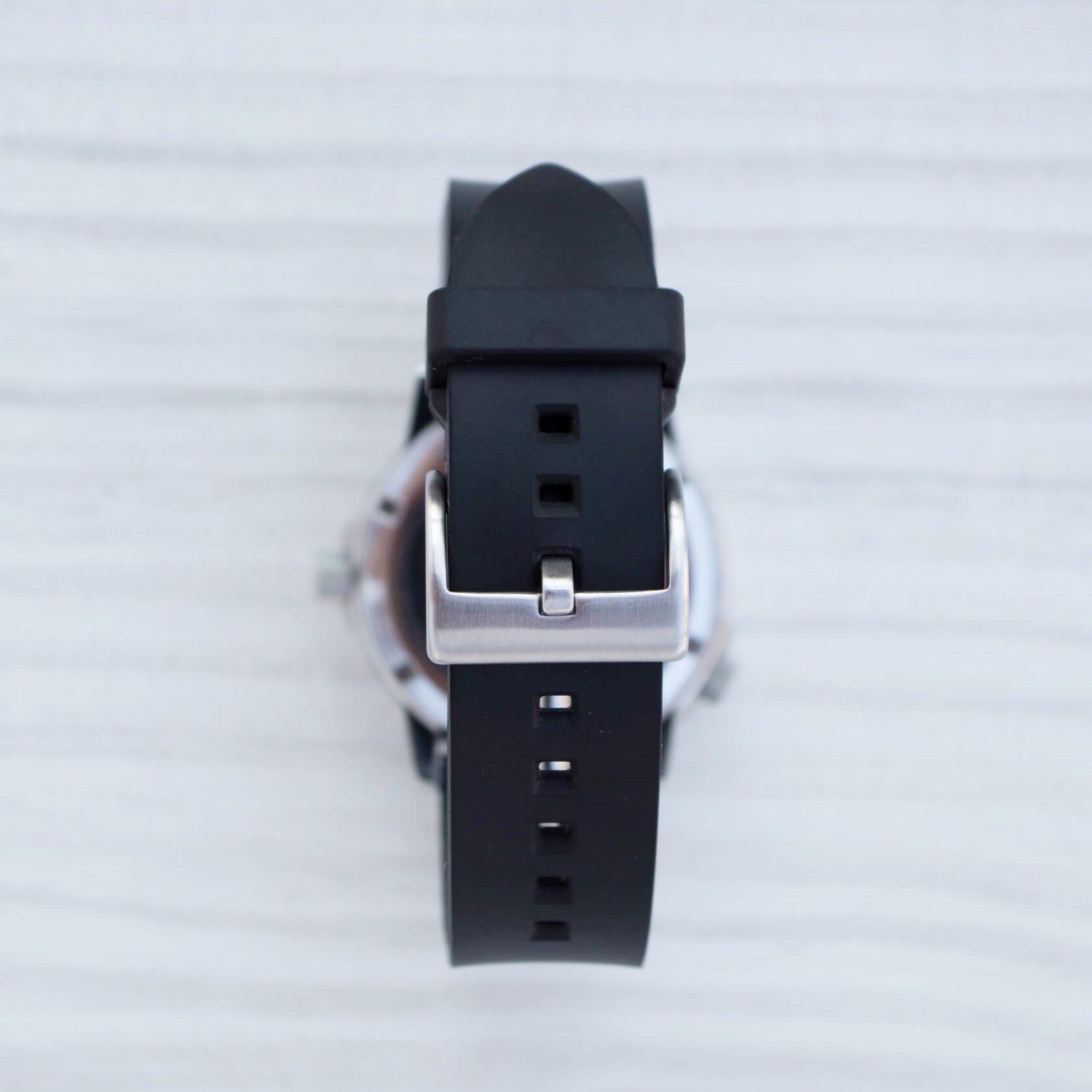 The main feature is the material. FKM stands for Fluoroelastomer. These watch straps are known for their durability and resistance to extreme temperatures, chemicals, and oil. They are also resistant to UV light, which makes them less likely to fade or become discolored over time.
What does this mean in practice? Rubber is soft, pliable, strong, and durable. It does not collect dust and lint, and even after long periods of wear, it still looks pristine.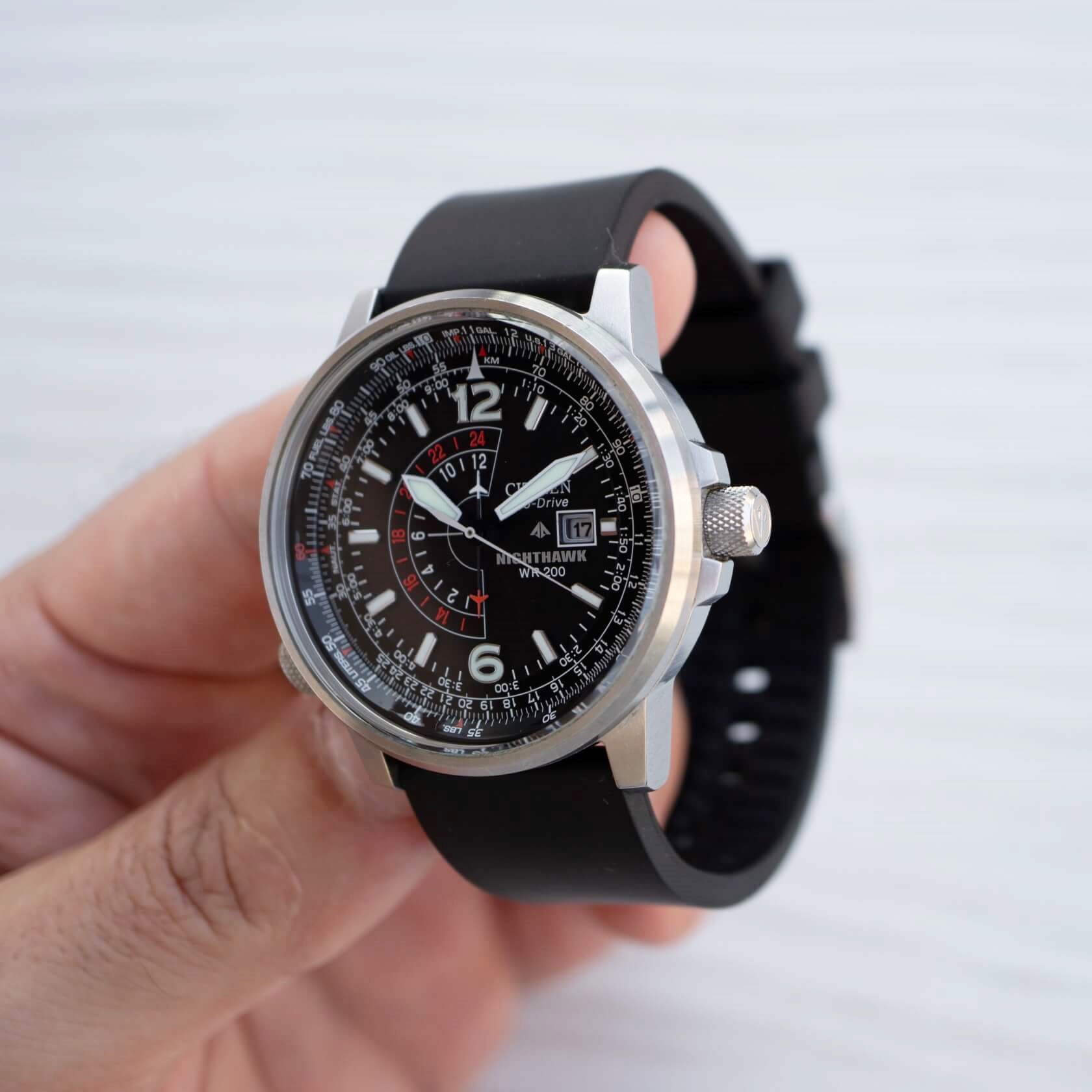 The underside of the strap has channels and ridges. I like this because it also helps with sweat dissipation and prevents the strap from sticking to the wrist. Ridges are non-abrasive and do not irritate the skin.
And finally, the FKMs I bought have quick-release spring bars. They are not of the highest quality but get the job done.
Comfort and Durability
The information that interests you the most: the strap is very comfortable. What is even more important is that it feels comfortable from the first time you put it on, requiring no break-in period.
The strap wraps nicely around the wrist, fits well, and does not move. Even with larger and heavier watches, I had no problems. The strap can support such watches.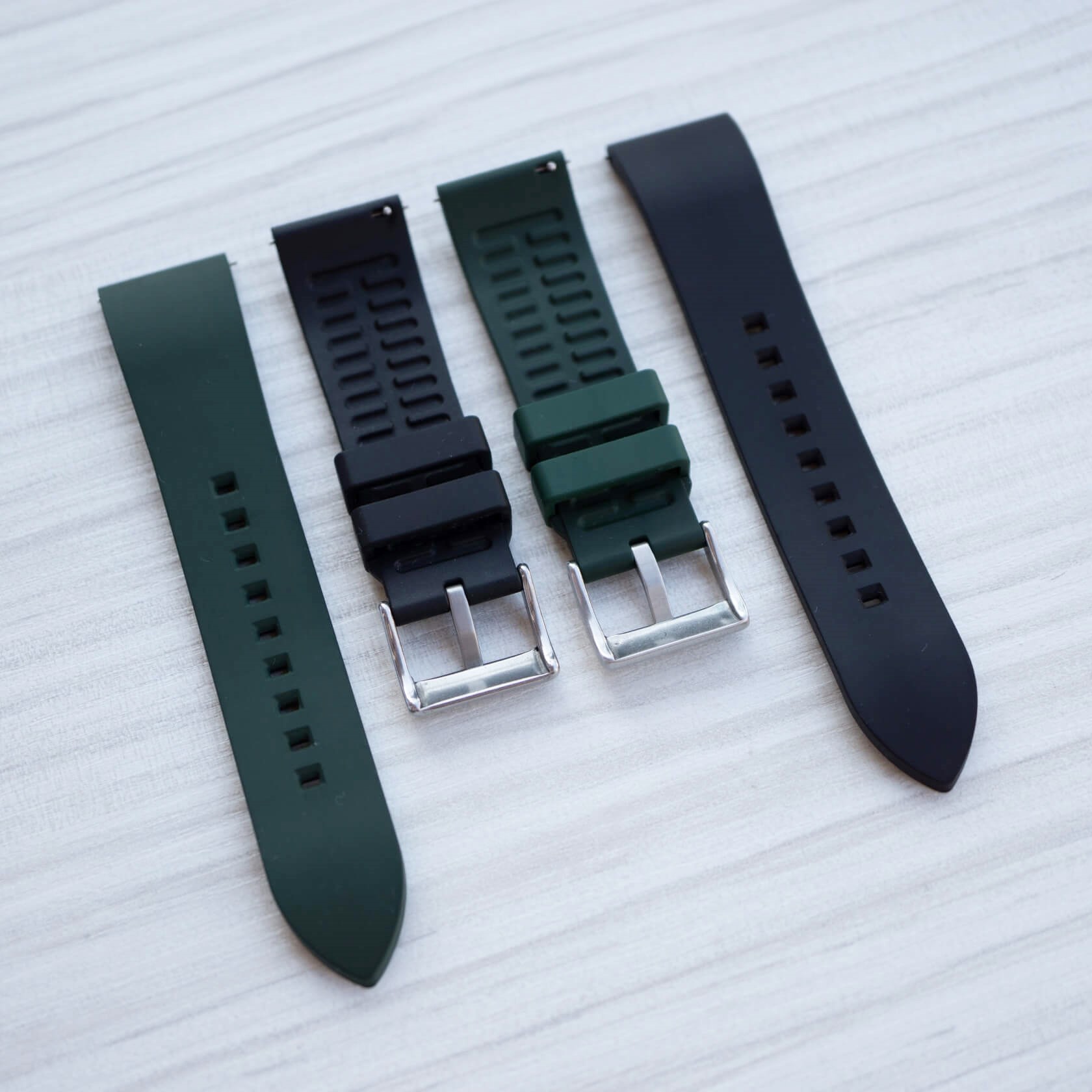 The length is good, and as I mentioned before, I don't need the free keeper, so I took it off.
The strap does not form a memory of your wrist. For example, canvas and leather watch straps tend to develop a slight curve over time when you take off the watch and lay it on a flat surface. This does not happen with this FKM rubber strap. The FKM strap always maintains its original form and shape.
As for durability, it has held up quite well. All the pictures you see in this review were taken after a couple of months of use.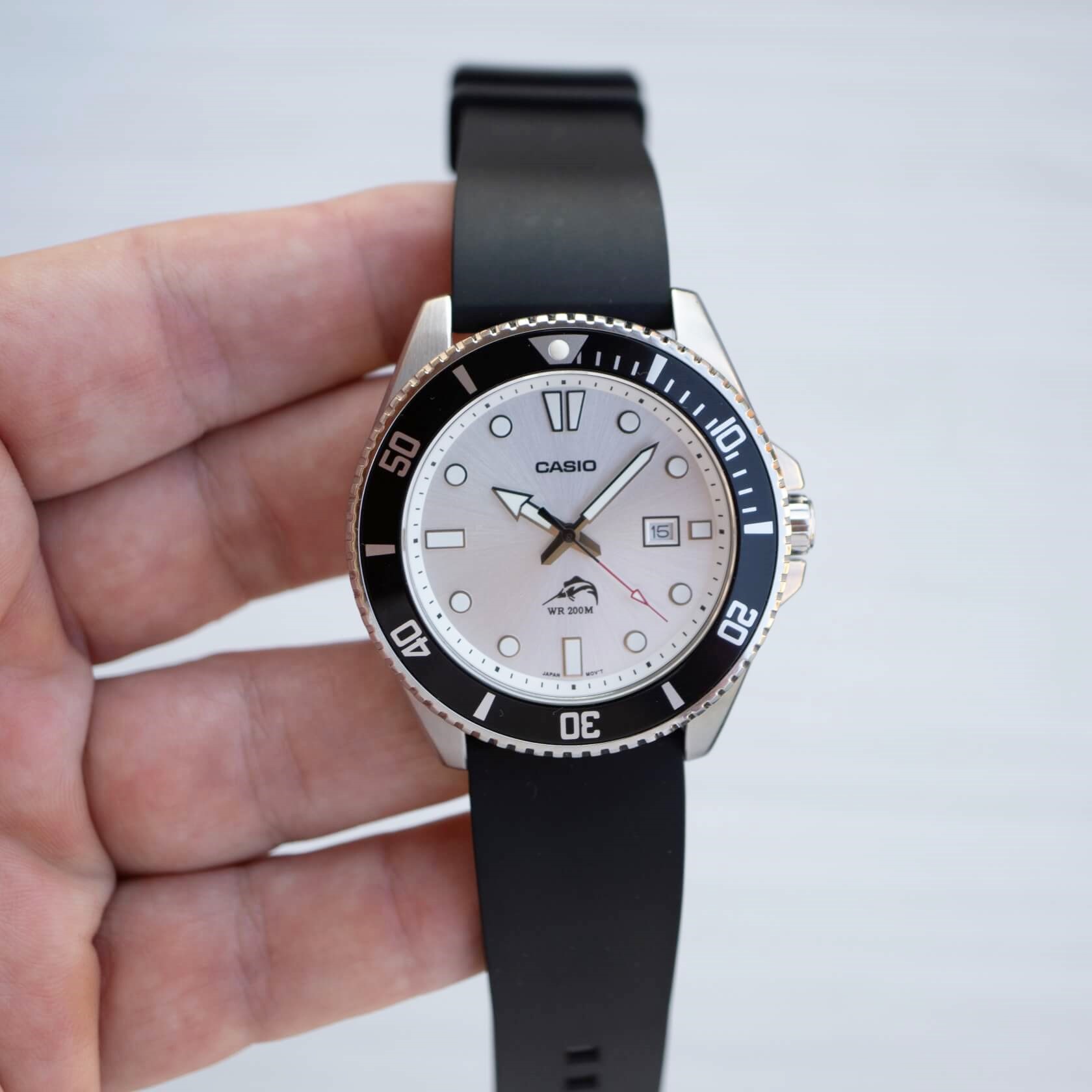 The material is water, dust, and UV light resistant. I believe it will last a long time. The weakest point might be the spring bars. They are thin and weak. But fortunately, it is not difficult to remove them and install better and stronger ones.
The only flaw I noticed is the appearance of shiny parts where two pieces overlap. A slight friction seems to remove the matte surface, resulting in the creation of a shiny patch. However, this is only noticeable when you take the watch off your wrist. While wearing it, that shiny part is covered with a buckle-side belt, so is not visible.
Also, don't expect to easily tuck this strap under a shirt cuff. Each piece of the strap has an above-average thickness of 3mm. When you put the strap on, the height at the buckle section can be quite substantial.
Initial Usage The strap feels sturdy, robust and well-constructed. It conforms beautifully to the shape of my wrist, causing no hot-spots or discomfort. Overall, it offers an excellent wearing experience.
Three months of use Despite wearing the strap outdoors in high temperatures and sunlight, and even submerging it in water a few times, the color has not faded. Also, the hole for the buckle pin still looks like new. Strap is still super comfortable.
Compatibility and Pairing Recommendation
The FKM's minimalistic design and neutral matte color make it suitable to pair with most watches (divers, pilot, field, chronograph...). It has a casual appearance, and does not draw too much attention to itself.
Maybe avoid putting this rubber strap on ultra-thin dress watches with polished cases since the whole package wouldn't be visually appealing.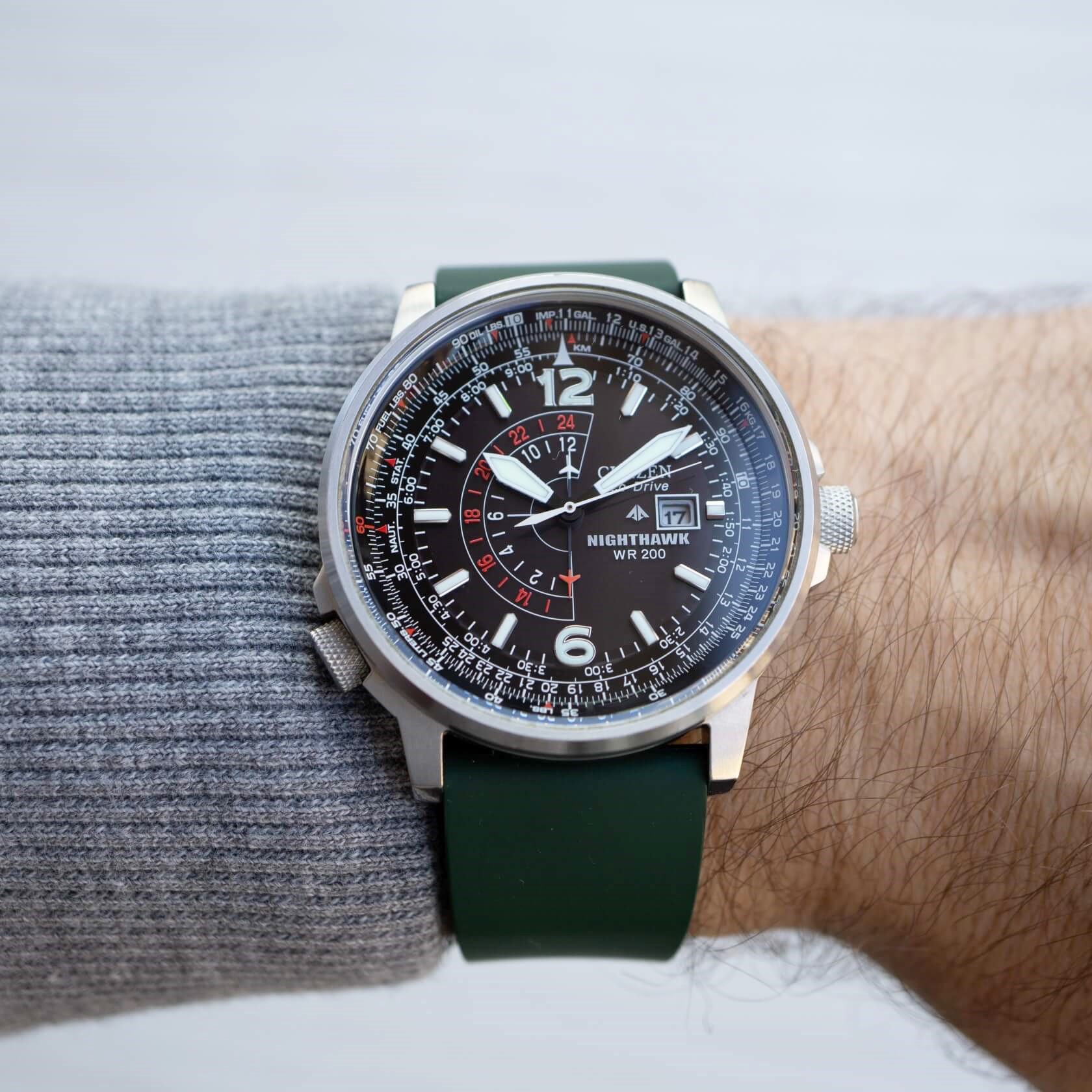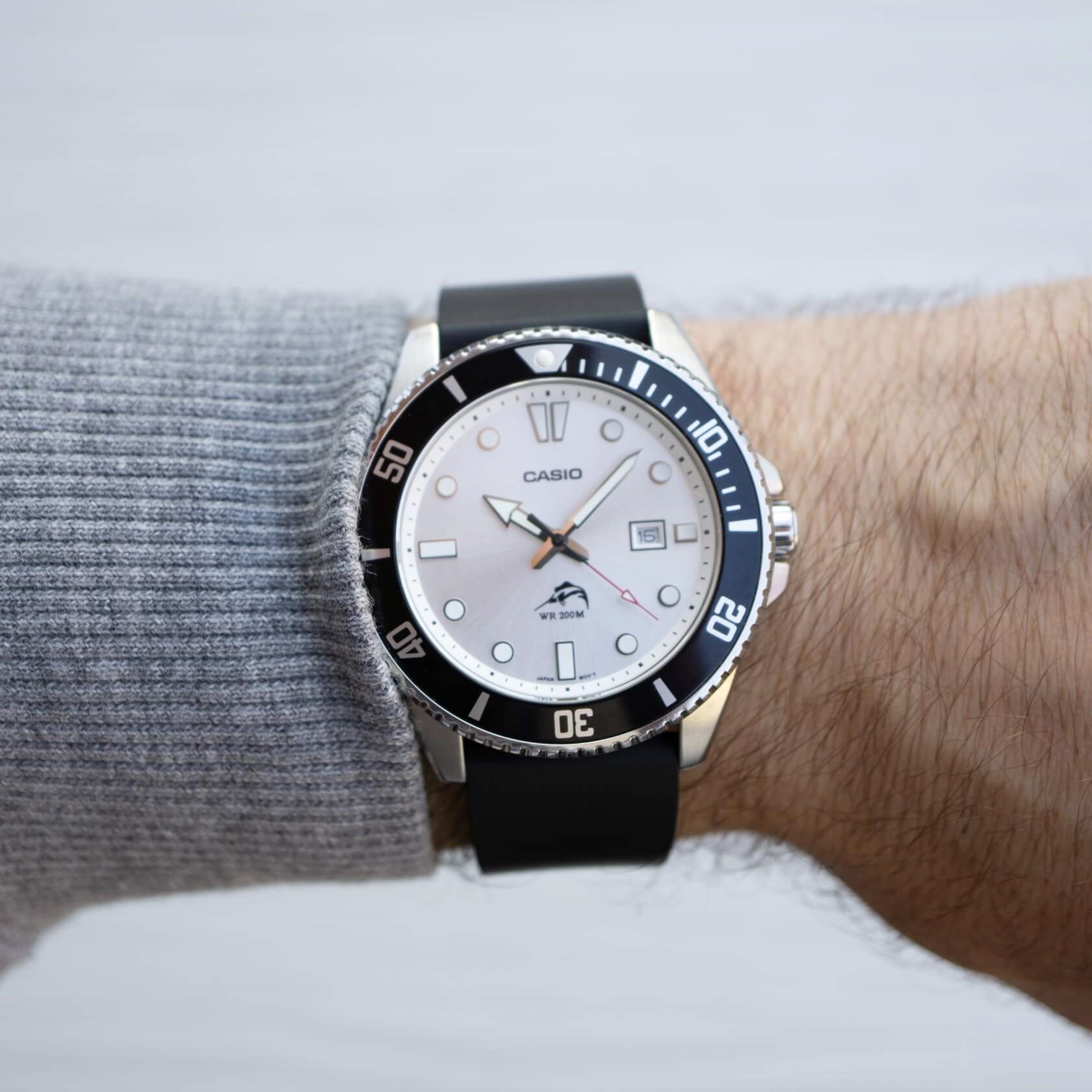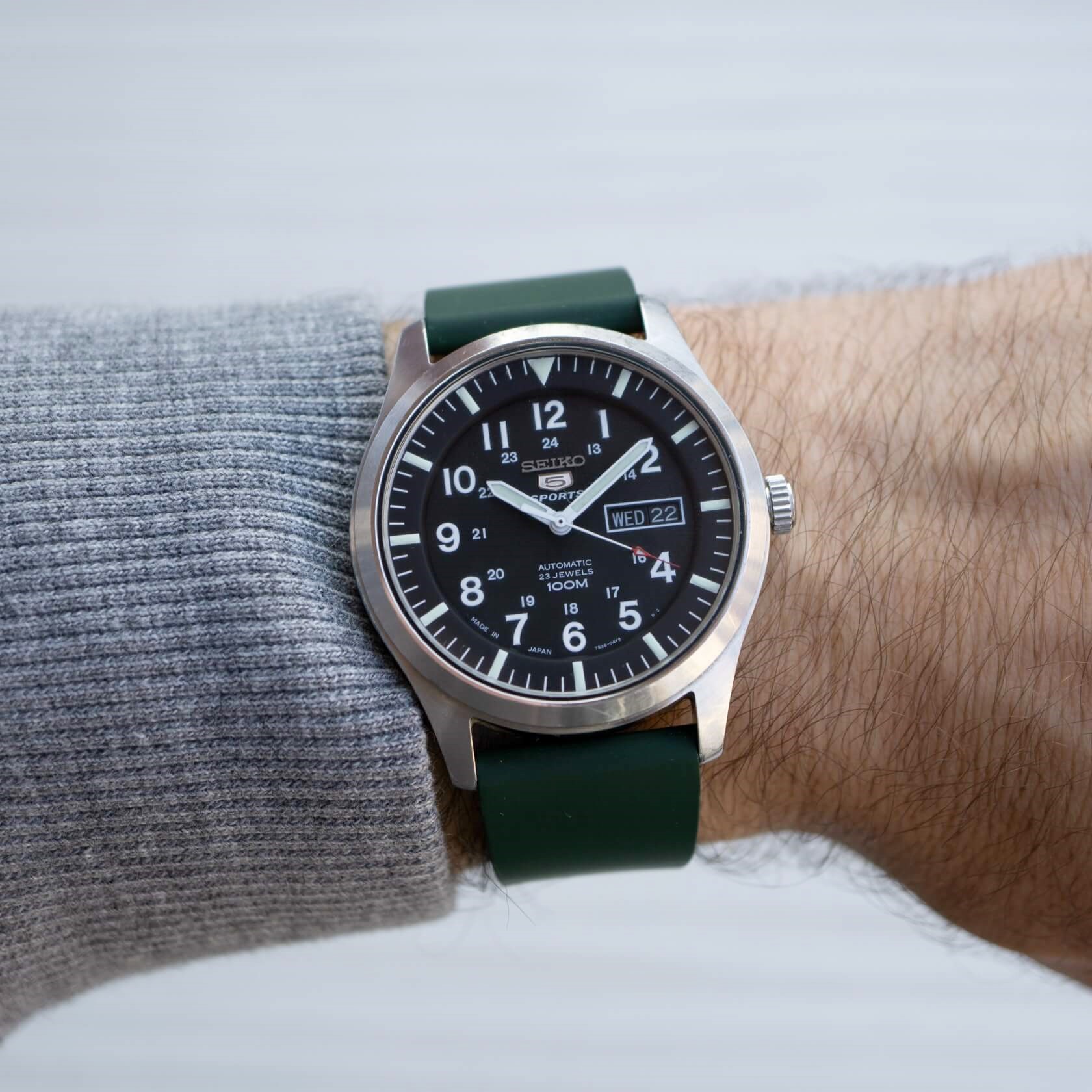 In my opinion, this strap is suitable for casual swimming, but I would not recommend it for professional use. It lacks the necessary length to be worn over a wetsuit, sleeve, or jacket. This FKM strap seems to cater more towards a lifestyle market rather than being designed for professional applications.
Where to buy?
These smooth FKM straps can be purchased at a large number of retailers. I believe that all of them order from a small number of manufacturers and only add slight customization, such as a stamped logo on the buckle and similar minor modifications.
From the companies currently listed in the StrapHunter catalog, FKM straps can be purchased in the following stores:
Prices range from $25 to $45. Choose the store that best suits you in terms of price, delivery time, and costs, and make your purchase from them.
Price and Value
As mentioned earlier, the prices of these straps range from $25 to $45. In my opinion, the sweet spot lies around $30. That's where the value is.
At this price point, you can easily afford to purchase multiple colors and sizes. In a bigger rotation they would last for a very long time.
When compared to similar two-piece options in the market, I find these FKM straps to be an excellent solution. Leather bands within this price range do not last long and lack the same level of comfort. Canvas straps may discolor or fray at the edges over time.
Vulcanized rubber straps do offer slightly better quality and longevity, but the difference is not substantial when compared to the FKM straps. Simply said the FKM undercuts the (vulcanized) competition.
If I had $30 and were looking to buy a strap for one of my sports watches, the FKM would undoubtedly be at the top of my list, along with a nato strap. FKM will last a long time and I would have no problems with comfort and wearing experience.
Strongly recommended.
Closing words
I love it when companies invest in R&D and bring new designs and materials to the market. That is how we came to have Cordura, sailcloth, elastic, and many other types of bands.
Until now, rubber was mostly reserved for resin, silicone, and synthetic rubber. High-end brands used natural rubber, but the prices were higher. The FKM material seems to be abundantly available and affordable. And more importantly, it has great properties and features for watch straps.
Finally, we have an ultra-cost-effective solution for quality rubber straps. As far as I am concerned, FKM is the go-to option in the category of two-piece rubber straps.
Try them out, you will be satisfied.
83
Smooth FKM Rubber Strap
StrapHunter rating 83 out of 100